From modern home designs to accessory dwelling units (ADUs), metal buildings are an increasingly popular real estate trend. Not only are they low-maintenance and affordable, but they're also extremely durable and fire-resistant. As multipurpose structures, there are plenty of ways you can use metal buildings to your advantage, especially if you have a large property or own a lot of land.
If you're looking for a long-lasting, versatile structure, you're in the right place. In this article, we'll show you several metal building ideas that not only add value to your home but can also be great investments.
Residential Metal Building Ideas
Home additions both boost your overall home value and complement your property. Here are a few metal buildings that serve as functional home additions.
1. Garage
You can never go wrong with a garage. They're a great way to add storage space and property value, and are a multipurpose space. When it comes to materials, metal garages are the most reliable. It's the most durable material for weather protection, keeping your cars and storage items safe.
Choosing the right garage size depends on your needs. For example, a 12×20 is great for a small compact car, or you could opt for a larger 24×30 size to park multiple vehicles and have additional storage space.
2. Home Office
Sometimes working from home can feel a bit claustrophobic in the house. Keep work and home separate by installing a metal building in the backyard as a contemporary home office.
Customize and decorate it to maximize productivity—consider large windows to brighten the space or bookshelves to create a studious backdrop. You can expect to spend at least $2,000 on metal building customizations like electricity and air conditioning, but it's definitely worth the investment.
3. Carport
For a cheaper garage alternative, you can park and shade your cars under a metal carport. As open-sided metal buildings, they're perfect solutions for storing boats, campers, and other large motor vehicles off season.
4. Garden Storage Shed
If you have a green thumb, a small metal building can function as a garden shed. From storing fertilizer and seeds to keeping gardening tools organized, you'll have a convenient backyard addition. Also, choosing a metal instead of a wood shed can help keep pesky insects out, especially those that feast on wood.
5. Barn
Consider a metal farm building to house your livestock, park tractors, and store all of your farm equipment. These durable structures are reliable for protecting your animals and tools during harsh winter months.
6. Home Gym
Skip the gym membership and set up a fitness studio at home that can pay for itself in the long run. Get creative by adding mirrors, mats, weight sets, and necessities for kickboxing, pilates, yoga, and more. You can even design one with a garage door to open and let in a fresh breeze after an intense workout.
7. Relaxing Retreat
Need a private, at-home space to relax and unwind? You can insulate a metal shed, paint the walls, and set up a cozy seating area for a hideaway hangout. Take it a step further by adding a kitchenette with a mini-fridge and snack station.
8. Home Theater
All you need is a wide-screen TV or projector and a few comfy recliners to transform your metal building into a snazzy home theater. You can decorate the walls with movie posters and even add in a popcorn machine.
9. Utility Room
Is your laundry room small and cramped? Use your metal building as a utility room adjacent to your home. As a separate structure, you'll have plenty of space for your washing machine, dryer, storage, and even a bathroom.
Commercial Metal Building Ideas
Next, here are a few ways to use your metal building to earn some extra cash and run a successful business.
10. Retail Shop
Do you sell clothes, crafts, or other merchandise? You can invest in building a shop right on your property, in walking distance from your house. The average cost to rent small business space is around $25 per square foot, or $60,000 per year for a 200-square-foot building. On the other hand, a larger detached garage costs a fraction of that, and will quickly pay for itself.
11. Warehouse
Having a large warehousing space is important for running and maintaining a productive supply chain. If you mass-produce your own products, a large steel building can make an excellent warehouse. Use your warehouse to store and manage inventory, prepare and ship orders, and more.
12. Auto Shop
Many mechanics choose prefabricated metal buildings as a low-cost auto shop. The large garage door openings, ample workspace, and fire-resistant framing makes them great options for repairing and painting cars.
13. Office Rental Space
With many companies switching to remote operation, co-working spaces are increasingly popular. Since metal building structures are energy-efficient and require minimal maintenance, you can invest in and decorate a metal building as a co-working office space to rent for use.
14. Self-Storage Units
Use a large metal building as rentable self-storage units for customers. You can differentiate each unit by painting the garage doors different colors, installing wall shelving, and more.
Recreational Metal Building Ideas
Functional spaces separate from the home come in handy for pets and entertaining guests. The possibilities are endless, but here are a few creative ideas to get you started.
15. Pet-Friendly Haven
We love our pets, but sometimes they can wreak havoc in the house. If you don't want to confine your dog or cat to a crate during the workday, metal buildings can serve as a space for them to roam free and play. Install windows for fresh air circulation and insulation to keep it comfortable. Make sure it's climate-controlled.
16. Hobby Workshop
From woodworking to crafting, many people enjoy a quiet, separate space for their favorite hobbies and DIY projects. You can design and organize a metal building as a custom workshop to do just that.
17. Art Gallery
Need a space to get creative? Metal buildings provide large open floor space to function as a modern studio. It can also double as an exhibit to display your artwork.
18. Aircraft Hangar
A private aircraft is a large investment, so finding a large-enough storage space is key. The durability and size flexibility of metal buildings makes them great aircraft hangars, protecting your airplane from weather damage and vandalism. You can even add metal building gutters to further increase weather protection.
19. Outdoor Lounge Area
With a custom metal building, you can create a shaded lounge area for your family and guests to relax in the summer. Install a carport in the backyard or poolside with comfy seating for barbecues and family gatherings.
20. Entertainment Space
Keep the house noise-free by converting your metal building into an entertainment or hangout space. Add a wet bar and a pool table to become a fun game room, or even vibrant décor and signage for your next party.
Ready to design a new steel building? Customize and order your metal garage, shed, workshop, and more with our easy-to-use 3D builder below. Our wide range of sizes, colors, and features allow you to design a unique building all while staying with your budget.
Get an instant price for your new metal building.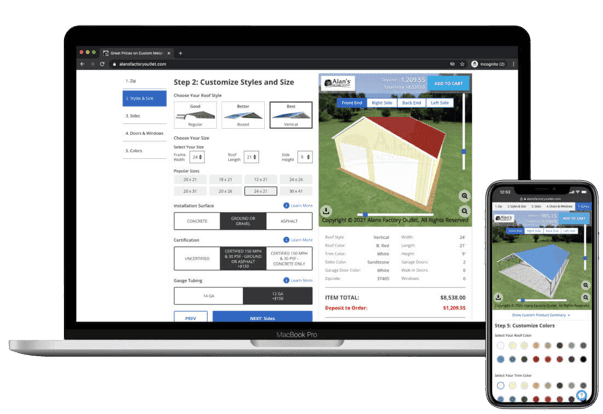 Price and Buy Online with Our 3D Builder Plus Free Shipping and Installation!
Select a size to meet your needs
Choose roof, side, and trim colors
Add garage doors, windows, and walk-in doors
Customize additional options
Customize Now