Our boat storage buildings (also called boat garages, boat shelters, boat carports, and boat sheds) are custom-made from quality American steel. Use our cost calculator to get the exact price of your custom boat storage structure.
Taking your boat out for some fishing and relaxation is always a great way to spend a day, but when winter comes, the cost of storing your boat can seem like a steep price to pay. However, when you own your own boat shelter, you won't have to pay storage fees, and you can feel confident that your boat will be safe and secure through the winter in your own boat storage shed.
At Alan's Factory Outlet, we have a wide selection of metal boat storage buildings that will protect your boat from the elements. Our prefab storage sheds, metal carports, and garages can easily be customized to make the perfect boat garage for protecting and storing your vessel during the off-season on your own property. Our carports and garages are also ideal for storing other large vehicles, like RVs. Order with us and see how easy it can be to make your boat carport ideas come to life!
Why Use a Covered Boat Storage Building?
Our boat storage buildings will protect your vessel from:
Sun
Rain
Snow
Hail
Theft
Vandalism
Wind
When faced with the dilemma of where to store your boat for the winter, you might choose to store it in the water or ashore. But if you leave it in the water, you're running the risk of damage from the elements as well as theft. Storing your boat on land in one of our boat sheds for sale is usually a better option, but you need to make sure to properly prepare it for the winter before you stow your vessel.
How to Winterize Your Boat and Prepare it for a Boat Shelter
Before storing your boat for the winter, follow these steps to winterize your boat:
Wash the top, bottom, and deck and let it dry.
Fix any blistering or other damage you find.
Flush out the cooling system.
Add fuel stabilizer to the fuel tank.
Coat the engine with an aerosol fogging solution.
Drain the engine.
Change the oil and filter.
Drain and change the gear-case lubricant.
You've Winterized Your Boat: Now What?
Off-site storage can be expensive, and storing a boat at home in the garage is typically not an option. You could always leave the boat out in the yard, but that can be unsightly (and might even violate HOA rules), and constant exposure to the elements can cause damage to your boat. While a stored boat should be covered with some form of tarp, the need to brush the snow off of the covering all winter can quickly become a nuisance. A good solution to this problem is to consider adding your own boat storage. Installing a carport for boat storage can not only protect these vessels from snow and other elements but also protect them from vandalism, trespassing, and even theft of parts. Metal boat storage sheds are also a more visually appealing option for stowing your boat.
What Type of Boat Storage Building Do You Need?
There are three types of boat storage ideas you can consider:
Build a carport-style storage structure that isn't fully enclosed
Install garage-style storage with four walls and a roof
Rent dry boat storage space
If you're short on boat shelter ideas, you may think that renting storage is the easiest option. It may be low-effort (or it may not, depending on the situation), but keep in mind that you'll have to keep paying rental fees every year. Those costs can really add up, but when you invest in your own garage or carport for boat storage once, you can use it for many seasons to come, saving yourself money in the long run. Building storage for your boat can also be a lot easier than you're imagining.
The type of boat storage cover that's best for your needs depends on the type of boat you own, what size it is, and what type of climate you live in. A carport-style covered boat storage area might suffice if you live in a warmer climate and you're placing the building in a spot that doesn't have high exposure to sun and wind. A fully enclosed boat garage is a better option if there's accumulating snow where you live, lots of direct sunlight, or heavy winds.
How to Build a Boat Shelter
The easiest way to build a boat shelter yourself is with our boat carport kits. Our kits are made for DIYers who have the tools and confidence to install their own garage or carport for boat storage. These kits will help you save some money on a boat shelter of your own. You'll need to prepare gravel or a cement surface for your carport, then build the frame and install the roof and/or walls according to the instructions we provide. This can be a big project, but it's simple for people who have little experience with installing sheds, garages, or other buildings. Of course, if you'd rather not take on this job, we'd be glad to send our installers to do it for you.
Frequently Asked Questions
How Much Does Dry Boat Storage Cost per Month on Average?
In most cases, you can expect to pay $200 to $300 a month for dry boat storage. The price can vary depending on your location and the size of your boat.
How Much Does Boat Storage Cost When You Buy Your Own Shelter?
Our boat carport prices range from around $1,500 for the smallest carport with a regular roof to more than $7,500 for the largest carport with a vertical-style roof. For garages used as boat storage, the smallest size with a regular roof is around $4,000, and the largest size with a vertical-style roof is typically more than $10,000.
How Wide and Tall Does the Door Need to Be for a Boat Storage Garage?
A typical small fishing boat will need a garage door that's at least 10 feet wide and 14 feet high. But since the sizes of boats can vary widely, it's a good idea to measure the dimensions of your boat, then add a few feet to the width and height to ensure adequate clearance.
Can a Pontoon Boat Fit in a Garage?
Yes! Pontoon boats come in many different sizes, but so do our garages. A pontoon boat can certainly fit in a garage if you measure the dimensions carefully to ensure that you're ordering the right size. Check our size and price guides to find what options might best suit your pontoon boat.
What Size Carport for a Pontoon Boat Is Best?
There isn't a singular best size carport for a pontoon boat, since these boats are produced in a wide variety of sizes. Fortunately, so are our carports! Explore our carport sizes to find the one that works best for your pontoon boat.
Can I Store a Boat in a Storage Unit?
You may be able to find an individual storage unit that is large enough to accommodate your boat. However, if you're looking for boat garage ideas, we don't recommend this option, as these units are not designed for boat storage. You might damage the boat just trying to get it inside and, even if it fits comfortably, if the unit isn't properly climate-controlled, your boat might not be in the same condition you left it when you return for it. In the long run, you'll save money and lower the risk of damage by installing your own boat storage building.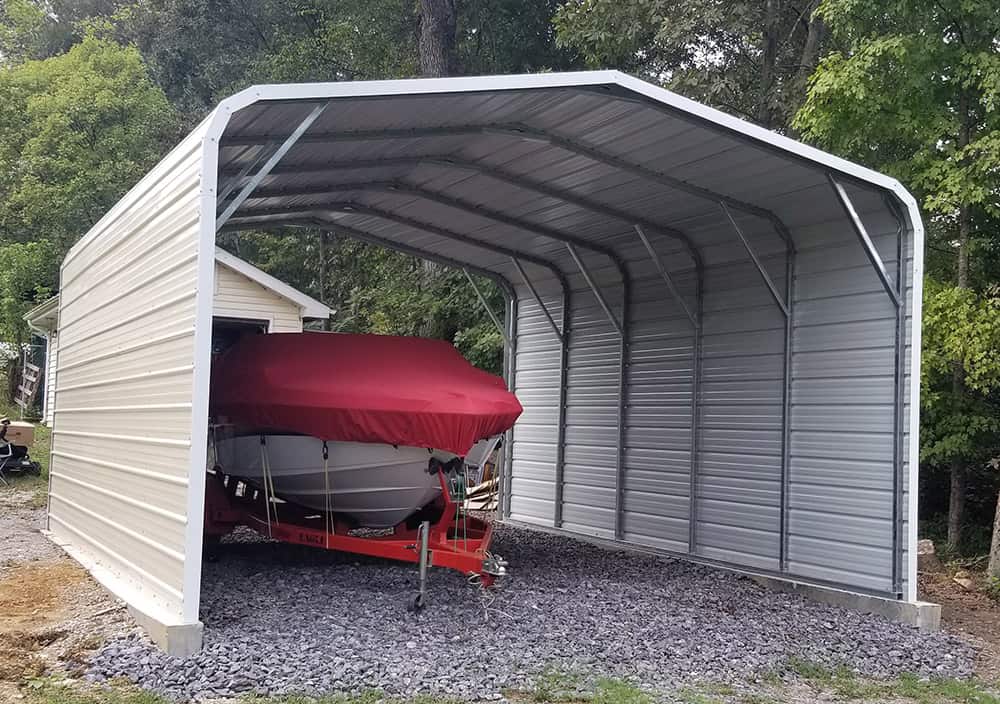 Create the Perfect Boat Garage or Carport for You and Save
When choosing what sort of boat shelter you need, you'll want to consider a few factors, including the size of your property, the size of your boat, and whether or not you'll want to store anything else in there, too. For instance, often, people who own an RV and a boat will often choose one structure that's big enough to house both, such as a large carport. Our metal carports offer protection from above, but they typically don't have walls, although you can partially enclose yours if you wish. Metal garages are another option for both boat and RV storage, and they might be a better choice for those who don't want their boat to be visible to passers-by. Our garages come in a host of colors and designs that can complement the look of any home.
When you are ready to buy shelter for your boat, you can trust Alan's Factory Outlet to help you find the right boat garage option for your needs. Our metal garages are high-quality structures and are perfect for use as a boat storage shed. If you have any questions about what type of building is best for your boat, we are here to answer any questions that you may have. Call us toll-free today and we can help you place your order!