We have two 6-car garage plans and one 5-car garage plan. Each design can be customized to meet your exact needs.
Tandem 6-Car Garage
Our tandem design has three garage doors on the front, allowing you to park six cars in tandem (double-deep). You can also add garage doors on the back of the garage if you want to be able to drive through the garage.
Your 6-car tandem garage should be a minimum of 30-feet wide. This width provides enough space to walk between cars, but the parking may be a little tight if your vehicles are large. We can build garages up to 60-feet wide, but garages that are more than 30-feet wide are more expensive because they require large, heavy-duty trusses to support the roof.
A typical 6-car tandem garage would be 40-feet deep. A typical sports car is 13-16 feet long, so 40 feet of depth provides plenty of space for parking two cars in tandem.
6-Bay, 6-Car Garage
Another configuration for a 6-car garage is to place 6 garage doors on the side of your garage. This way, each car has its own door. For this layout I recommend a garage with dimensions of at least 20×60. Our longest standard-size garages are 60-feet long, which is just right for a 6-bay garage. There isn't quite enough space for six 9×8 garage doors, so I recommend using four 9×8 doors and two 8×8 doors. The 8×8 doors are wide enough for a sports car, but for they are a bit tight for larger vehicles like trucks.
You might think that a 60×20 garage is just as good as a 20×60 garage, but it isn't. The reason is that a 60-foot-wide building has a high roof peak which requires large, reinforced metal trusses. This would make your garage really tall and awkward looking, and it would cost you a lot more too. So when you design your 6-car garage, make it narrow and deep, and put your garage doors on the side.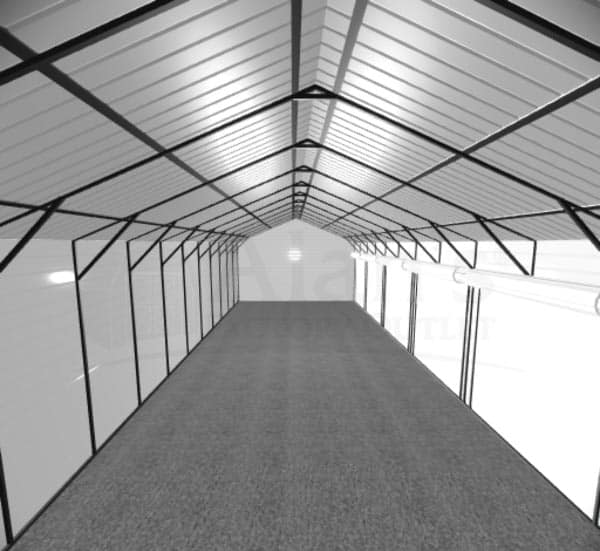 How Much Does a 6-Car Garage Cost?
A 30×40, 6-car garage is usually $14,500 or more, depending on your exact location and the options you select. Use our online garage designer to get an exact price for your custom 6-car garage design.
A 20×60 garage with six bays on the side will cost $16,500 or more, depending on your exact location and the custom options you choose. If you plan to park any large trucks inside, I would recommend making it 24-feet wide instead of 20-feet.
A 30×40 and a 20×60 garage both have 1200-square feet of space. A concrete foundation for a 1200-square-foot garage will probably cost $10,000 or more, depending on the local cost of labor and who you hire to pour the foundation.
5-Car Garage
Our smallest 5-car garage plan is a 20×50 design, with 5 garage doors on the side.
A 20×50 5-car garage starts at about $13,000, plus the cost of the foundation.
If you want more space for larger vehicles, or space to work on your cars, I recommend adding more length and width. If you can afford a 24×60 6-bay garage, you can use the extra bay for your work area, and you have one extra parking space in case you add to your car collection later.
About Our Metal Garages
Alan's Factory Outlet is a family-run business that provides high-quality, custom steel garages. The garages we sell are prefabricated in the USA and are delivered and installed for free.
Our online design tool allows you to choose from dozens of customization options and immediately see the exact price you need to pay for your garage. If you have an expensive car collection that you need to protect, here are a few ideas for you as you plan your 6-car garage:
Choose light colors for maximum energy efficiency. Light colors reflect heat and will keep your garage cooler.
Consider adding insulation to the roof or the whole garage. Insulation on the roof will help prevent water from condensing on the bottom side of the metal roof in cool weather. This will help keep your car collection dry.
Upgrade to 12-gauge steel tube framing if you live in an area with strong winds, or if you want the 20-year rust-through warranty on the frame.
Price & Design Your Metal Garage with Our Simple Garage-Builder Tool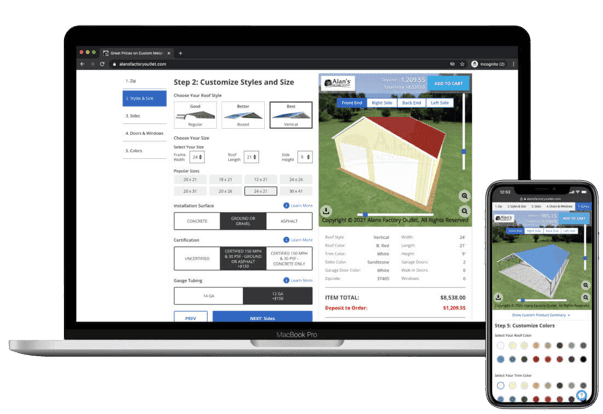 Customize Now