Many people choose to convert their carport into a garage so they have a more secure storage area and can better protect their vehicle from the elements. A carport-to-garage conversion is generally not too difficult, but preparation is key before beginning this project. You'll want to figure out what steps you need to take to add walls to your carport, which is essentially what you'll be doing, and you'll also need to add up materials costs and potentially labor costs as well. Also, make sure to check whether your current building regulations will require a permit to change your carport to a garage; if so, you'll need to have that before you go any further.
Materials Needed for a Garage Conversion
Some of the materials you might need for a carport-to-garage conversion project include:
Lumber
Insulation
Particle board
Drywall
Plywood
Nails
Screws
Excavation concrete
Gravel
Drain pipe
Siding
Door(s)
Metal conduit, insulated wire, electrical boxes, switches, and other materials to run electricity into the structure
Carport-to-Garage Conversion Steps
1. Planning
It's a good idea to work with a professional to get plans for a project like this so you'll have accurate measurements and schematics to work from. Carefully plan the project before purchasing materials. Respect your property line and setback distances when expanding a carport. And evaluate the condition of your carport to be sure that it's sturdy enough to upgrade.
2. Preparation
You will not need to dig a foundation for this project, but you will need to make sure that the ground is stable and that you have a good drainage system in place. You'll also have to remove whatever may be covering the joists and columns in the existing carport.
3. Build and Install the Walls
Construct the walls with pressure-treated bottom plate and wall framing 16 inches on center. Be sure to cover the bottom plate with plastic sheeting to keep away moisture from the ground. Attach the walls to the carport structure at the top and sides.
4. Install Windows and Access Doors
Windows are optional in your garage, but you will want at least one door to allow easy access to the space. The openings should be included in your building plans.
5. Install the Garage Door
Make sure there is a slope at the threshold of this door so that water drains toward the street. Installing the garage door is one of the trickier steps in the process, and you may need a contractor's help.
6. Add Electricity and Insulation
Once all of the windows and doors are installed, you can run electrical service to your garage, if desired. If you're not experienced with electrical work, hire an electrician for this: It's not safe to leave it to amateurs. However, just about anyone can install insulation, the next step in the process. This will help prevent loss of heat. The type of insulation you select will probably depend on what materials were used to build your garage.
7. Complete the Garage
Install drywall on the inside of your garage, and add siding to the outside. Then, you can add things like paint or decorative moldings to make it your own.
How Much Does Converting a Carport to a Garage Cost?
The standard cost of materials for this project is between $8,000 and $10,000, but your carport-to-garage cost will vary depending on the size of the structure and the materials used as well as how much you have to modify the area to ensure proper drainage. However, this does not include labor, which can add thousands more to the total cost if you hire someone to convert your carport into a garage. You might actually find that it's cheaper to relocate or remove your carport and buy a new garage instead, especially if your existing carport isn't in great shape.
Carport to Garage: Before and After
Regular Roof
The regular roof style has a bow that gives it a unique shape while still allowing it to be the most economical roofing option.
Boxed Eave Roof
Boxed-eave roofs have an A-frame style with panels that run horizontally from front to back.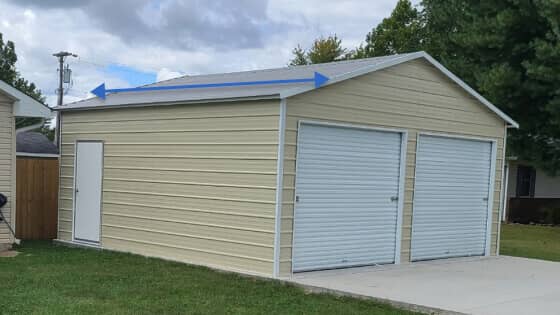 Vertical Roof
A vertical-style roof uses panels in a vertical orientation in order to add a layer of strength.
If you compare carport to garage before and after photos, the most significant difference you'll see is a structure that now has four walls. They often have a large garage door or two, too.