Many people choose to convert their carport into a garage so they have a more secure storage area and can better protect their vehicle from the elements. A carport-to-garage conversion is generally not too difficult, but preparation is key before beginning this project.
You'll want to figure out what steps you need to take to modify your carport, and you'll also need to add up material costs and maybe even labor costs if you don't do the project yourself.
Materials Needed to Convert a Carport to a Garage
Some of the materials you might need for a carport-to-garage conversion project include:
Lumber
Insulation
Particle board
Drywall
Plywood
Nails
Screws
Concrete
Gravel
Drain pipe
Siding
Door(s)
Metal conduit, insulated wire, electrical boxes, switches, and other materials to run electricity into the structure
Step 1: Check Local Codes and Regulations Before You Start
Permits may be required for a carport-to-garage conversion depending on where you live and the zoning regulations that are in place.
Respect your property line and setback distances when expanding a carport. If the existing structure is close to a neighbor's property, you might need to contact a land surveyor to assess your conversion plans.
Step 2: Create a Plan Based on Your Existing Carport
Carefully plan the project before purchasing materials. You should also evaluate your carport's condition to be sure that it's sturdy enough to upgrade.
Working with a professional to get plans for a project like this is a good idea so you'll have accurate measurements to work from. For example, you'll want to consider the carport's height to ensure a garage door has adequate space. If not, a conversion probably isn't your best solution, and you might need to consider an entirely new garage instead.
Step 3: Prepare the Carport
You will not need to dig a foundation for a carport conversion, but you will need to ensure that the ground is stable and that you have a good drainage system in place.
You'll also have to remove anything covering the joists and columns in the existing carport.
Step 4: Build and Attach the Walls
Construct the walls with a pressure-treated bottom plate and wood studs spaced 16 inches on center.
Be sure to cover the bottom plate with plastic sheeting to keep away moisture from the ground. Attach the walls to the carport structure at the top and sides.
Step 5: Install Access Doors and Windows
Windows are optional in your garage, but you will want at least one door to allow easy access to the space. Your building plans should include the openings.
If your existing carport is attached to your house, you'll need to ensure the entrance door meets any fire-safe requirements required where you live.
Step 6: Install the Garage Door
Make sure there is a slope at the door's threshold so that water drains toward the street.
Installing the garage door is one of the trickier steps in the process, and you may want a garage door installer to do it for you to avoid injury.
Step 7: Add Electricity and Insulation
Once all windows and doors are installed, you can run electrical service to your garage. If you're not experienced with electrical work, hire an electrician for this: It's not safe to leave it to amateurs.
However, just about anyone can install garage insulation, the next step in the process. This will help regulate the temperature inside your garage. The type of insulation you select will probably depend on the materials you use to build your garage.
Step 8: Finish the Conversion
Now, you're ready to put the finishing touches on your garage conversion.
Install drywall inside your garage, and add siding to the outside. Then, you can add garage design touches like paint or decorative moldings to make it your own.
How Much Does Converting a Carport to a Garage Cost?
The standard cost for materials to convert a carport to a garage is between $8,000 and $10,000. However, your carport-to-garage cost will vary depending on the:
Size of your carport.
Materials you choose.
Modifications to the area.
Labor needed for the job.
You may need to modify the surrounding area to ensure proper drainage. If you hire someone to convert your carport into a garage, it can add thousands of dollars to the total cost.
You might find that it's cheaper to relocate or remove your carport and buy a new garage instead, especially if your existing carport isn't in great shape.
Before and After: Carport Conversion Examples
If you need a little inspiration for your carport-to-garage conversion, check out these examples below.
Regular Roof
The regular roof style has a bow that gives it a unique shape while still allowing it to be the most economical roofing option.
Boxed Eave Roof
Boxed-eave roofs have an A-frame style with panels that run horizontally from front to back.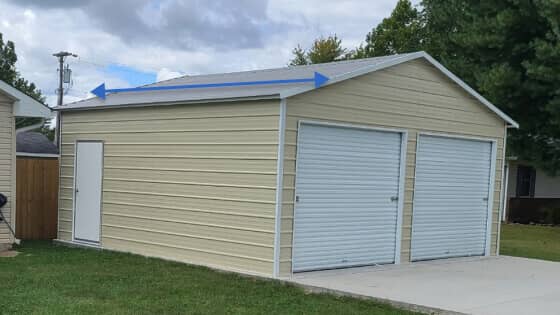 Vertical Roof
A vertical-style roof uses panels in a vertical orientation in order to add a layer of strength.
If you compare carport to garage before and after photos, the most significant difference you'll see is a structure that now has four walls and a garage door.
Design a Custom Metal Garage
Whether or not your carport is ready for a garage conversion, you can opt for an entirely new garage instead that's custom-designed to your needs and specifications. Try the 3D builder below to see what your garage will look like.
Professionals with Alan's Factory Outlet will deliver and install your new garage for free, so you can skip the installation process and start enjoying your new metal building.
Design a Custom Metal Garage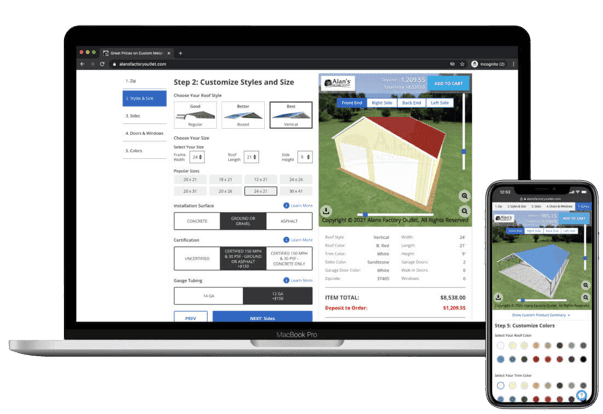 Customize Now