If you're looking to build a garage, you're probably wondering whether a wood garage or a metal garage is better for you. That depends.
Here is a list of pros and cons for both wood and metal garages.
Cost: Prefab metal garages often cost half or less than a comparable stick-built garage. If you need a low-cost solution, a metal garage is probably better for you.
Attached vs. Detached: Most metal garages are designed as freestanding outbuildings. If you need a garage that is attached to your house, a wood garage is probably better.
Installation Time: Prefab metal garages are manufactured in a factory, delivered, and can be installed on-site in less than a day. Stick-build wood garages take more time to build and may require more permits.
Insulation, Heating, and Cooling: Wood garages are somewhat easier to insulate, heat, and cool. However, there are also a number of options for insulating a metal building.
Environmental Considerations: Since prefabricated metal garages are made in a factory, almost no material is wasted in the construction process. On the other hand, there is a considerable amount of material wasted in the process of building a wood garage.
Condensation: In some climates, water sometimes condenses on the inside roof panels or walls of an uninsulated metal garage. Wood garages do not have this issue.
Termites and Rodents: Wood garages are susceptible to damage from termites, rodents, and other pests. Metal garages are termite-proof.
Fire Danger: Fire can damage both wood and metal garages, but metal garages are mostly fire-proof.
Rust and Rot: A properly-maintained metal garage can last well over 100 years without any problems with rust. But an unmaintained metal garage can rust. A wood garage may be susceptible to rot in a damp climate.
Aesthetics: Some people prefer the look of a wood garage.
If you're ready to buy your own custom garage, let us help you customize one that's exactly right for your needs. You can count on Alan's Factory Outlet for great service and great prices!
Design and Price Your Dream Garage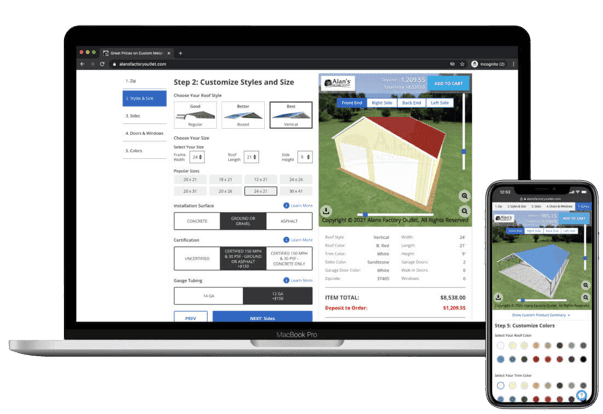 Go to Cost Calculator