You will likely keep important things in your garage, so a new garage needs to be up to the task of meeting your storage, size, and price needs.
While you can build a garage with many different materials, two of the most common choices are high-strength steel and wood. Each material has pros and cons, so it's best to explore both options to see which works best for you. In this article, we'll examine a metal vs. wood garage and what makes each choice stand out.
Key Considerations for Metal and Wood Garages
The most common type of wood garage is a stick-built garage, meaning that the wooden frame is put together "stick by stick" so that the frame resembles a popsicle stick house. These take far more time to put together than prefab metal buildings, which builders can install in less than a day.
Let's take a closer look at steel vs. wood garages and their differences side by side.
Durability
Metal garages have a few advantages over wood ones. One of the best advantages is that they're more durable, meaning you don't need to replace them as soon as you'd need to replace a stick-built one. Of course, this leads to more money in your pocket in the long run.
Metal does have vulnerabilities, though. In some climates, water can condense on the inside roof panels or walls of an uninsulated metal garage. Wood doesn't have this issue.
A properly-maintained metal garage can last well over 100 years without any rust problems. Fortunately, there are many ways to control and prevent rust.
Wood garages are susceptible to damage from termites, rodents, and other pests, while metal garages aren't. The same is true for rot in damp climates—this isn't a problem that affects metal garages.
Cost
In most cases, metal garages are cheaper to build than wood ones. Steel garages cost around $5 and up per square foot, compared to $7 and up for wood garages. Plus, when you purchase a prefab metal garage from Alan's Factory Outlet, it comes with free delivery and installation. In fact, prefab metal garages often cost half or less than a comparable stick-built garage.
You'll also need to obtain permits, prepare the construction site, and lay a concrete foundation. While these add to the cost, you'll need the same prep for a wood garage—and permits for wood garages might cost more depending on where you live.
Installation
Prefab metal garages are manufactured in a factory, delivered, and can be installed on-site in less than a day. This makes them a great option if you need a storage solution quickly. Stick-built and other wood garages take longer to build and may require more permits and inspections, depending on where you live.
Appearance
You can also customize your metal garage to the specifications that best suit your property and storage needs—that means size, color, and features like doors and windows. While you can certainly build a wood garage of any size, the difference in material costs can mean that large wood garages are much more expensive.
Many people think that wood garages have a nicer look than metal ones. For instance, you might be able to build a wood garage that looks like a natural extension of your home, complete with trim and even featuring a second story for a guest space or extra storage.
Maintenance
Over time, wood requires more maintenance than metal, like regular pest control to keep away carpenter ants, rodents, and termites (which are one of the most difficult pests to get rid of).
Wood also doesn't like wet weather and can easily develop mold, mildew, or rot without proper upkeep. You should also winterize your wood garage if you live in a cold climate. All of these measures should ideally involve inspections to ensure they're done correctly for the longevity of your garage.
A downside of metal garages is that they can rust. You can prevent long-term wear from rust by inspecting the garage once a year, keeping it clean, and quickly treating any rust spots. However, metal garages are relatively low maintenance compared to wood.
Insulation, Heating, and Cooling
Depending on the type of wood you use, wood garages can be easier to insulate, heat, and cool. You can insulate a stick-built garage with fiberglass insulation.
At the same time, there are several ways to efficiently insulate your metal garage.
Environmental Impact
Prefab metal garages are made in a factory, so there's almost no material waste during construction. There's a much larger amount of waste in building a wood garage.
Attached or Detached
Most metal garages are freestanding buildings. If you need a garage attached to your home, a wood garage is likely the better choice. If a detached garage will work for you, metal is cheaper, quicker to build, and more durable.
Choose the Best Garage for Your Needs
Ultimately, the choice between a metal garage vs. wood comes down to your garage needs, your budget, and the climate you live in. The "best" option overall is the one that works for you.
If you're ready to buy a custom garage, let us help you customize the one that's exactly right for your needs. Visit our 3D builder below to get started visualizing your new metal garage.
If you're ready to buy your own custom garage, let us help you customize one that's exactly right for your needs. You can count on Alan's Factory Outlet for great service and great prices!
Design and Price Your Dream Garage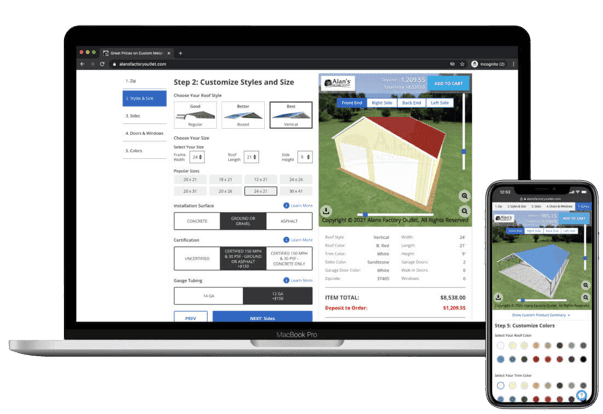 Go to Cost Calculator