Thinking of building a detached garage? If so, you'll need to know all that goes into the construction process. The cost to build a detached garage can range from $40–$70 per square foot, or an average of $28,000, according to The Spruce. This, however, depends on materials, labor, and customizations. 
Fortunately, there are many benefits to having a detached garage over an attached one or a garage alternative. There are also more affordable detached options, such as prefabricated metal garages, which we'll include in cost comparisons.
Read on for a thorough breakdown of materials and factors to consider when pricing a detached garage for your home.
Detached Garage Cost by Size and Dimensions
Before you can calculate the cost of a detached garage, you first need to consider the best size for your needs. Here are some standard garage sizes based on the number of cars you own, as well as an approximate cost for each.
One-Car
The standard size of a small, one-car detached garage is 12 feet wide by 20 feet deep. This is enough for a car, van, or truck to open doors on both sides without hitting the walls.
The cost of a one-car, stick-built garage ranges from $9,600 to $16,800.
The base price of a 12×20 detached metal garage, including the cost of foundation, ranges $6,700–$8,600. 
If you need room for storage space, in addition to a vehicle, a garage with 18×25 dimensions may be a better option. This will allow several feet of space on the side and back of your garage for storage. The cost of a detached, 18×25 metal garage will start at about $5,500, but ranges from $9,500 to $12,900 with a concrete foundation.
Two-Car
A standard two-car detached garage is 20×20, with costs ranging from $16,000 to $28,000. However, a garage of that size is pretty tight for larger vehicles. Two-car garage dimensions of at least 24×25 would be ideal, reducing the possibility of scratching or denting the vehicle's doors when open. It also provides more storage space in the back.
Here are approximate starting costs for two-car prefab metal garages (foundation not included):
20×20: about $6,500
24×25: about $8,000
24×30: about $9,000
Three-Car
For a three-car detached garage, you can opt for a 30×20 size, parking your cars side by side. This size costs between $24,000 and $42,000 for a stick-built-garage.
Another option is a metal garage with 24×35 dimensions, starting at about $9,000 (plus the cost of a foundation). With this size of garage you can have either two garage doors on the front of the garage or three garage doors on the side. 
Four-Car
For a four-car detached garage, it's best to have 24×45 dimensions, adding four garage doors on the side. The cost of a 24×45 detached, stick-built garage will range from $43,200 to $75,600. However, a prefab metal garage of the same dimensions starts as low as $12,500 plus the cost of the foundation.
Cost Factors
To accurately estimate the cost to build a garage, detached or attached, you must take all materials and labor into account. Here's an overview of factors to consider.
Foundation
A concrete foundation, crucial for supporting the structure, usually costs about $8 per square foot. The biggest factor is the local cost of labor, which may be lower in some areas compared to others. You can cut costs by pouring your own foundation and purchasing only the concrete and any tools and supplies that you need.
Here are some rough cost estimates for a concrete slab for detached metal garages by size:
| Garage Dimensions (ft.) | Approx. Cost of Concrete Slab |
| --- | --- |
| 12×20 | $2,000+ |
| 18×25 | $4,000+ |
| 20×20 | $3,500+ |
| 24×25 | $5,000+ |
| 24×30 | $6,000+ |
| 24×30 | $6,000+ |
| 24×40 | $8,000+ |
Framing
As the infrastructure of the garage, it's essential for the framing to be of good quality. Traditional lumber can cost around $35–$65 per square foot, not including labor. On the other hand, steel is a durable and more affordable option, costing around $12–25 per square foot.
Electric Wiring
Adding electricity, such as for garage lighting and outlets, costs at least an additional $1,000. It does, however, come in handy for detached garages, especially if you plan to use the space as a workshop.
Plumbing
Though plumbing is not a common addition for detached garages, some people find a sink area helpful for cleaning and handwashing. Pipe installations for plumbing cost between $600 and $1,600 per fixture, according to HomeAdvisor.
Insulation
If you'll be spending a lot of time in your detached garage, or plan to add heating, consider adding insulation. Three main types of insulation include batting, blown-in, and spray foam, which all cost between $1 and $5 per square foot. Insulation works for any type of garage, including metal garages.
Roofing
There are a few roof styles available for detached garages, including regular, vertical, and boxed-eave. Roof installation can cost around $10,000, but depends on the size and style. For example, the regular roof style opens up the ceiling area, creating extra vertical space.
Detached Garage Variations: Kits vs. Prefab vs. On-Site
Keeping a budget in mind, there are different detached garage styles that vary in expenses. Below are three variations to consider.
Garage Kits
As the name suggests, this garage type comes in a "kit," which people purchase in pieces and parts and come with assembly plans. Garage kits costs range from $3,000 to $15,000, including delivery. This garage option usually cannot be customized.
Prefab
Short for "prefabricated," this type of garage has its critical framework prebuilt in a factory and is later delivered to the customer. Prefab garages cost an average of $15,000, including customizations, and are cheaper alternatives to building them from scratch. Also, providers can install and assemble them within a day.
On-Site
Another name for the traditional, build-from-scratch garages, on-site styles are the most expensive option when planning a detached garage. The overall price factors in all materials, tools, labor, and installation, as well as customizations.
Hiring a local builder is much more expensive than having a prefabricated metal garage installed, which eliminates the cost for extra material and labor. If you're on a budget, prefab metal garages are a great and durable alternative.
Attached vs. Detached Garage: Which Is Cheaper?
While both garage types add value to your home, detached garages have cheaper variations. Attached garages are usually made of wood, but you can purchase a detached metal garage for half the price. These make great additions to mobile homes, and can also double as a workshop. Also, since detached garages don't share walls with the home, they're easier to customize and get more return on investment.
Try Our Garage Cost Estimator
If you have plans to get a detached garage, check out our Metal Garage Buyer's Guide. It has plenty of helpful ideas and tips on choosing the best option.
When you're ready to purchase, you can use our dual customization and cost estimation tool below to design your dream garage and calculate the exact costs.
Get an instant price for your new carport or metal garage.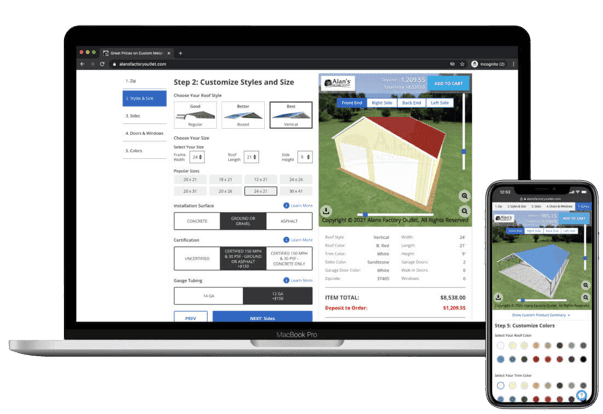 Price and Buy Online with Our 3D Builder Plus Free Shipping and Installation!
Select a size to meet your needs
Choose roof, side, and trim colors
Add garage doors, windows, and walk-in doors
Customize additional options
Customize Now