Although they're tried and true, garages are just one parking and storage solution among many available. If a garage doesn't make sense for your property or budget, there are several budget-friendly garage alternatives with their own unique pros and cons. The most popular garage alternatives are carports, sheds, Quonset huts, awnings, and car covers.
To figure out which garage alternative will best suit your property, your lifestyle, and your budget, take a look at this guide with pros, cons, and average pricing for each.
1. Carport
One of the most common garage alternatives is a carport. A carport's full overhead coverage protects your car, truck, or boat from getting drenched in rain, covered with snow, or pelted with hail. In fact, parking under a carport can even prevent or reduce the amount of ice that builds up on your windshield overnight in the winter.
Carport sizes vary widely to suit all of your needs, and carports are typically less expensive than garages. You can even customize your carport's colors to fit the style of your home.
You can build a carport with some basic carpentry knowledge, even customizing it with solar panels as a backup energy source. However, if DIY isn't for you, we offer free delivery and installation on carports.
Price range: $1,295–$4,995 [1]
2. Shed
If you want a garage alternative primarily for storage, then a shed is a great option. If you're looking to match the versatility and size of a garage, however, then a shed may not work for you, as most vehicles besides ATVs won't fit inside.
Ready-made sheds are widely available and typically less expensive than the cost of a garage. However, many ready-made sheds are made from wood and can be susceptible to termites, weather erosion, and fungi; these are not optimal for wetter climates like those in the southeastern US.
Price range: $500–$1,500+ [1]
3. Quonset Hut
The name may not ring a bell, but you've likely seen a Quonset hut before. These semicircular metal structures date back to World War II and can be open-ended or closed. Quonset huts typically come in DIY kits and are assembled by sliding the pieces together like a puzzle.
There aren't many differences between Quonset huts and garages, except that Quonset huts are less expensive and don't offer the same roof clearance with their rounded sides.
Price range: $1,500–$15,000+ [1]
4. Awning
Permanent or retractable awnings can be nifty garage solutions for properties with tight spaces or ground that needs to be leveled for construction. They're more often used as shade options for patios and backyards, but they can function as a parking solution in many cases.
Awnings protect vehicles from precipitation like carports, but unlike carports, awnings are not standalone structures. They don't provide as much cover as carports, and will leave your vehicle fairly vulnerable to the elements. They don't radiate heat as well as carports either, meaning you'll have to scrape your windows in icy weather.
5. Car Cover
A car cover is one of the simplest and least-expensive garage alternatives available. Car covers can be custom-ordered to fit your exact vehicle. They help keep away dust and debris, and they can block UV rays that may damage your paint job. However, they don't come without their drawbacks.
Car covers are painstaking to put on, especially in bad weather. They also don't cover the undercarriage of your vehicle, leaving it susceptible to damage and even theft. And car covers can even damage your paint job if you don't wash your car every time you use one. You should consider whether the price difference is worth the lack of pros compared to other solutions.
Price range: $20–$1,000+ [1]
Find Budget-Friendly Garage Alternatives
When a regular garage won't cut it, opt for a garage alternative that offers flexibility and protection from the elements. A metal carport will resist wear and tear while protecting your vehicle from weather better than most other choices.
Check out our 3D carport designer to fully customize your own carport and envision what it'll look like on your property before we deliver and install it for free.
Get an instant price for your new carport or metal garage.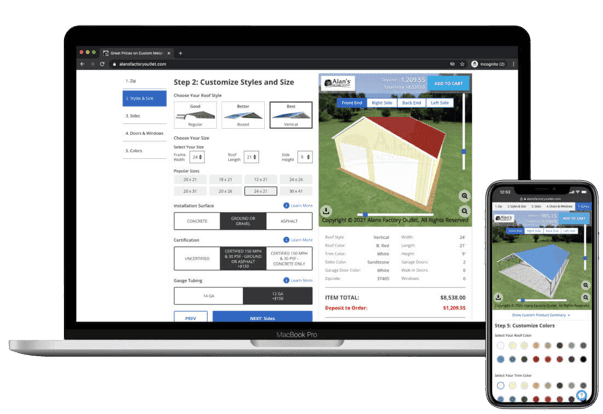 Price and Buy Online with Our 3D Builder Plus Free Shipping and Installation!
Select a size to meet your needs
Choose roof, side, and trim colors
Add garage doors, windows, and walk-in doors
Customize additional options
Customize Now