Are you designing your dream garage? If so, it's important to know the ideal dimensions for your custom garage. The standard garage size for one car is 12 feet wide by 20 feet long (12×20), but this may not be suitable for you.
Since the ideal garage size will vary person to person, there are several factors to take into consideration, including the number and type of vehicles you have, how much storage space you need, and more.
In this article, we'll show you several different sizes and dimensions to help you discover the perfect garage size for your not-so-standard cars.
Garage Dimensions at a Glance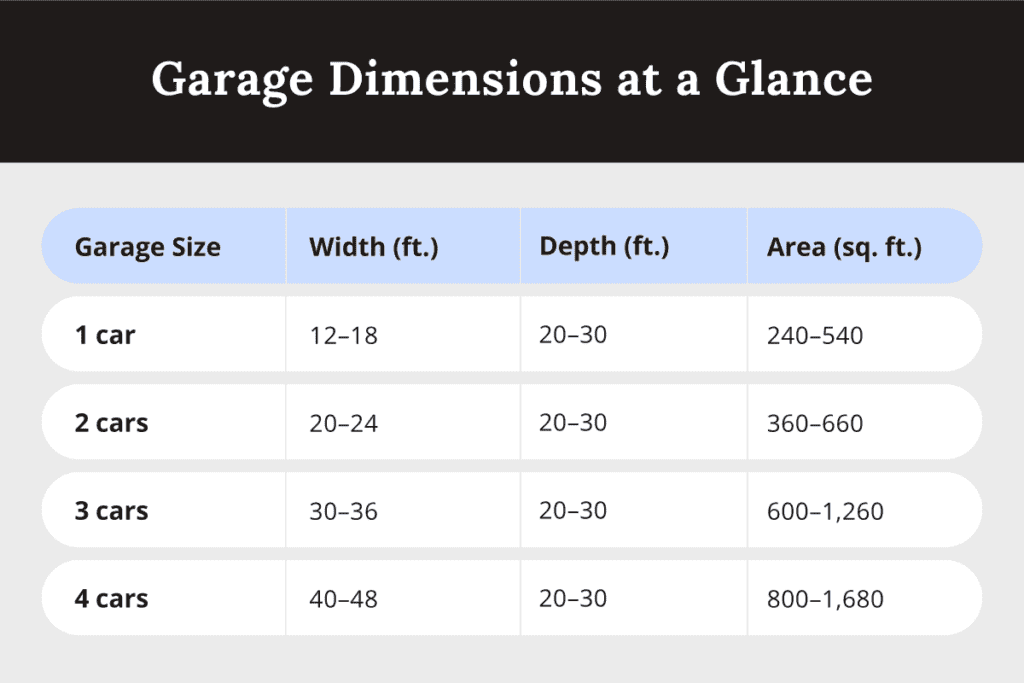 The garage widths above generally provide enough space to open your car doors without scratching your paint or hitting the walls.
One-Car Garage Size
The average one-car garage size is 12 feet wide and 20 feet deep (12×20). This size is just large enough to fit one full-size car, minivan, or SUV. A single-car garage usually has a 9-foot-wide garage door.
If you plan to store tools, lawnmowers, and other equipment in a one-car garage, you should opt for an 18-foot-wide garage (a "one-and-a-half-car" garage). You may also want to consider a garage that is deeper than 20 feet, which provides extra storage space. Additional sizes for a one-car garage include 12×25, 12×30, 18×25, and 18×30.
Width: 12 feet or more
Depth: 20 feet or more
Door Width: 8 to 10-foot wide
Two-Car Garage Size
A standard two-car garage size is a minimum 20 feet wide by 20 feet deep (20×20). Depending on the type of car you have, a standard 20×20 garage can be a bit cramped for two cars. You'll want to ensure you can open car doors without hitting the other car or the wall.
A 22-foot-wide garage is a more comfortable fit for two average-sized cars, and a 24-foot-wide garage allows two larger vehicles to park side-by-side. These vehicles can fit in a garage that is 20 feet deep, but a deeper garage will provide ample space. Other common sizes include 20×30, 24×25, and 24×30.
Width: 20 feet or more
Depth: 20 feet or more
Door Width: two 8 to 10-foot wide doors or one 16-foot wide door
Two-and-a-half-car garage
A standard two-and-a-half-car garage is generally 26 feet wide and at least 20 feet deep (26×20). This is a little larger than the usual two-car garage, but smaller than a three-car sized version. The extra space is ideal if you have additional vehicles such as a motorcycle, or for a storage or workshop area.
Additional two-and-a-half-car garages dimensions include 26×25, 26×30, and 28×30.
Three-Car Garage Size
While the standard size for a three-car garage is 32 feet wide and 22 feet deep (32×22), a more ideal size is 36×24. The larger dimensions create additional room for trucks or storage.
Other popular dimensions for detached three-car garages include 32×24, 34×24, and 36×28.
To cut costs on this particular garage size, placing three garage doors on the side of your garage is less expensive than placing doors on the front (gable) end.
Width: 30 feet or more
Depth: 20 feet or more
Door Width: one 8 to 10-foot wide door and one 16-foot wide door
Four-Car Garage Size
The average four-car garage size is at least 40 feet wide and 20 feet deep (40×20), but a 24×45 garage is a more spacious size to park four cars comfortably. This allows you to park the less frequently used cars in the back of the garage and your daily drivers in the front. You can also explore drive-through garages for easy vehicle access.
While a four-car garage isn't as common as the others, many people who purchase this size use their garage as a workshop.
Similar to the three-car size, if you want to park all your cars in parallel, it's more affordable to place four garage doors on the side of your garage as opposed to the front (gable) end, because this design has a shorter, less-expensive roof.
Width: 40 feet or more
Depth: 20 feet or more
Door Width: four 8 to 10-foot wide doors, or two 16-foot wide doors
Garage Door Dimensions
As for garage doors, the standard height is seven to eight feet. The height, also referred to as the length, measures from the threshold to the door top. Door lengths are generally the same for all garage sizes unless you have an unusually tall vehicle like an RV.
Garage door widths, on the other hand, vary by garage size:
One-Car: 8–10 feet wide
Two-Car: Two 8–10 feet wide or one 12–16 feet wide
Three-Car: One 8–10 feet wide and one 12–16 feet wide
Four-Car: Two 12–16 feet wide
Choosing a Garage Size: Factors to Consider
Now that you have an understanding of different garage sizes, the next step is to consider your intended use and needs. Below are a few factors to keep in mind while customizing your space.
Number of Vehicles
How many vehicles do you own? Aside from cars, you may also need space for bikes, motorcycles, golf carts, scooters, and ATVs.
Size of Vehicles
It's also ideal to know the average sizes of your vehicles, since some cars are small, and some are very big. A full-size car, minivan, or SUV is typically 14 to 17 feet long and at least 6 feet wide. In this case, a garage size at least 24 feet deep is ideal.
Attached vs. Detached Garage
To decide on the type of garage, consider the pros and cons of each.
If you have an attached garage, it is really easy to get into your house after parking. However, attached garages must be custom-built on-site to connect to the house, and hiring a builder will be more expensive than buying a prefabricated (pre-built) detached garage.
As for detached garages, a metal garage is the most affordable option. Since they're prefabricated, they waste less material and help cut costs on labor. Additionally, detached garages offer more privacy.
Storage Space
If you need additional storage space for lawn and gardening tools, off-season decorations, and other recreational items, opt for a garage with more square footage than the average size. This will allow enough space between storage items and the parked cars inside.
Additional Uses
Many people use their garage for more than parking and storage. It can serve as a workshop for your DIY projects, a lounge area during the warmer seasons, and more. With this in mind, some people may prefer a two- or three-car garage size even if they only own one car.
Which Garage Size Is Best for You?
The best garage size will be the one with the right amount of space for your needs. What better way to achieve this than creating a custom metal garage? It's affordable, sustainable, and quick to install.
Designing your dream garage is only one click away.
Get an instant price for your new carport or metal garage.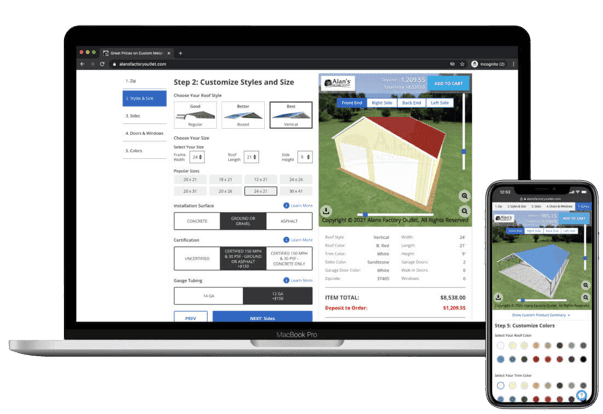 Price and Buy Online with Our 3D Builder Plus Free Shipping and Installation!
Select a size to meet your needs
Choose roof, side, and trim colors
Add garage doors, windows, and walk-in doors
Customize additional options
Customize Now