Do you need a carport-shed combo? We sell custom steel utility carports with storage sheds in the back, and these prefab carport-shed combo kits are installed for free.
Our carport-shed combo units come in two styles. The first style is a metal carport with storage shed in the back. It is like a storage shed with a porch. The other style is a shed with a lean-to carport on the side.
The utility carport style, with the shed at the back, is essentially a long carport with the back portion of the carport enclosed to make a utility shed. Because it has a single roof, you don't need to worry about leaks where the carport and shed meet. This makes our carport-shed combos better than two separate structures that are attached to each other.
Design Your Own Carport-Shed Combo
In our 3D design tool, select the Combo option to start building your carport-shed combo:
Then you can select you size, doors, windows, roof styles, height, and colors, and get an instant preview of your utility carport.
Most of our carports have poles spaced five feet apart. You can add the front wall of your utility shed anywhere where you see a pole. For example, if you have a 12×30 carport, you can turn the back 5, 10, or 15 feet into a shed by enclosing it.
Carport Shed Prices
Carports with attached sheds start at about $3,400. That is for a 12×20 carport with a regular roof, the back five feet enclosed, and a 6×6 roll-up door.
Use our 3D Builder to get the exact price for the carport-shed combo you need.
Carport-Shed Combo Designs and Ideas
If you want to make your own carport shed plans, here are some ideas to inspire you.
What Kind of Door Do You Need?
You have two different options for doors for your shed: walk-in doors for people, and roll-up garage doors for equipment like lawnmowers.
If you plan on storing any type of large equipment, you will need a roll-up door. A roll-up door can also provide access for you to go in and out of your shed, but if you need to open your shed frequently to grab small tools, a walk-in door is more convenient and will save you time.
Side Door or Back of Carport?
Many people place a roll-up door centered at the back of the carport. The advantage of having a door under the carport cover is that it is fully protected from the rain, so you won't have to worry about water getting into your shed.
The disadvantage of placing a door at the back of the carport is that you might have to move your car in order to have enough space to get large equipment out of your shed. There are two ways to solve this problem.
Place a roll-up door on the side of your shed
Mark your carport a little longer so there is plenty of extra space at the back.
An average-size car is about 15 or 16 feet long. This will fit fine under a 20-foot carport, but there won't be much space left at the back. So if you place a door at the back of your carport, you should probably leave at least 25 feet of covered space for parking your car.
Natural Light, Electric, or Both?
How do you plan to see inside your shed? If your shed door is under the carport, it will be pretty dark inside your shed even when the door is open. Adding a window to the back or side can provide some natural light.
Another option is to add electric lights after your carport shed is installed. A shed without windows is a little more secure, since potential thieves can't see what is inside and can't break a window to get in. Also, with electric lighting you can easily find things in your shed at night. You can find lots of inexpensive LED lighting solutions for sheds at your local home improvement store and at online retailers like Amazon.
Storage Shed with a Porch
If you don't need a carport to part a car, consider adding a short front porch to your storage shed. Storage sheds with a porch make it easier to stay out of the rain when you need to grab a tool from your shed.
Why Put a Shed in the Back of your Carport?
There are many reasons you might prefer a shed-carport combination rather than a carport or metal garage.
A carport with a shed at the back has a secure area for storing your tools and equipment. While it is hard to steel a car that is protected by a modern alarm system, it is pretty easy for some tools, a bike, or your lawnmower to disappear when you're not around if they aren't locked up.
A shed also provides a lot more storage space for your stuff, since you can hang things on the wall or install shelves.
A full metal garage is a great option for protecting your equipment and cars, but there are two big reasons you might prefer a carport-shed combination instead.
First, a carport with attached shed is a cheaper than a garage. The difference for the structure isn't huge—you'll probably save $500 to $1000. Where you can save a lot is on the foundation. In many areas, local building codes require a concrete foundation for garages. But a gravel foundation is usually acceptable for a carport-garage combo. This alone could save you thousands of dollars.
Second, you might find parking under a carport to be more convenient than a garage. Many people never park their cars in the garage, because they don't like the hassle of opening and closing garage doors, or because they prefer to use their garage space for storage. With a carport-shed combo you get the convenience of a carport together with a separate storage area that doesn't have a car parked in the middle of it.
If you're interested in getting a carport with a shed in the back, use our 3D design tool to design it and place your order. With over 75,000 satisfied customers, we are known for great customer service and great prices. You won't be disappointed.
Design and Price Your Carport-Shed Combo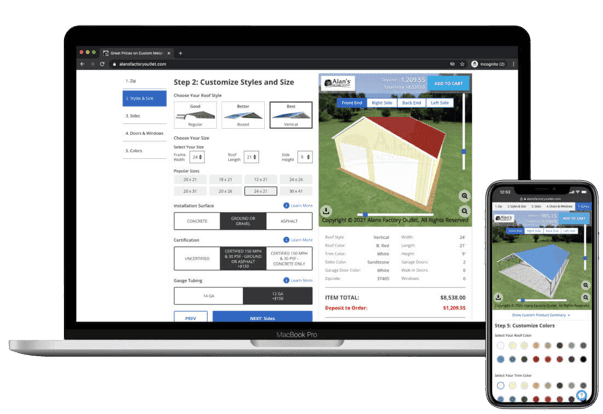 Design and Price Now