Here at Alan's Factory Outlet you can get:
Our extra-wide carports are made with a high-quality steel frame that is reinforced to withstand rain, wind, and snow. A large metal carport is good for covering large equipment, and is suitable for a variety of residential, commercial, and industrial uses.
Why Buy a Large Carport from Alan's?
Get free delivery and free installation
Order now, pay later (only a small deposit is required)
Get a quality carport that is built to last and made in the USA
Design your large carport in minutes with my 3D design tool
Large Metal Carport Options
An extra-large carport is built with a very strong frame made from 14- or 12-gauge steel tubing. You can preview the metal framing of your carport with my 3D design tool.
The large carports come with a metal roof made from 29- or 26-gauge steel sheeting. The roof color can be customized at no extra cost. You can add sides to your large carport to enclose it. Several other customization options are available in my online design tool.
Large Carport Prices
A large 32x32x8 carport starts at a little more than $10,000, including free delivery and installation.
An extra-large 60x300x20 carport starts at about $200,000, including free delivery and installation.
If you want to install your carport on a gravel, asphalt, or concrete foundation, the cost of the foundation is separate (we are not able to do the foundation work).
Who Is Alan?
Hi, I'm Alan, and Alan's Factory Outlet is my family-owned business. I've been helping individuals and businesses find and customize the perfect carport for their needs for more than 20 years. Even though I have more than 75,000 satisfied customers, my team still provides each customer the personal service you expect from a small, customer-focused business.
Questions?
If you have any questions about buying or customizing a large metal carport, my friendly support staff will be glad to help. You can contact us by phone or email.
Design and Price Your Custom Carport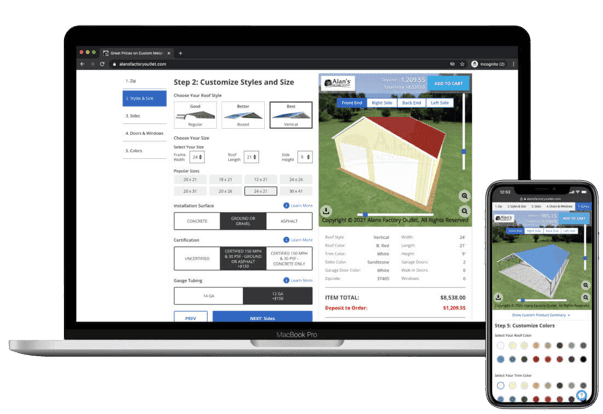 Go to Cost Calculator