Get a quality, 2-car garage at a great price, with free shipping and installation.
Get a 2-Car Garage the Easy Way
Have you been spending hours searching the net for an affordable 2-car garage?
Buying a garage doesn't have to be that complicated.
My team and I have spent thousands of hours to make it as easy as possible for you to design and order your custom garage.
Just go to my online garage designer, select your size and options, pay a deposit, and you're done! It's that easy.
Here is a what a 24×25 2-car garage looks like in my garage designer: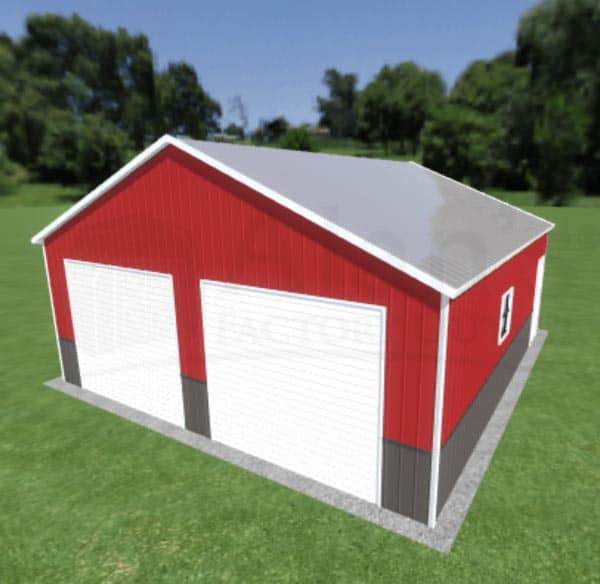 As you select each option, the preview will automatically update. You also see the exact price of your garage update with every change you make.
No surprises. No high-pressure sales. No sorting through dozens of models that don't fit your needs. Design the exact garage you need and buy it for a fair price.
Why Our Garages Are Cheaper Than 2-Car Garage Kits
If you've been looking at 2-car garage kits, you may have noticed that the garages I sell are less expensive than almost all of the garage kits out there.
You may be wondering how I can offer free delivery and free installation, and still be more affordable than my competitors who sell kits.
Are the building I sell inferior? Not at all. I recently saw a detailed review from a guy who bought one the models I sell and later bought a DIY carport kit from a competitor. The kit was more expensive, but he wanted to connect the carport to the garage. All of the buildings I sell are detached, stand-alone structures, so this guy decided to get the kit and set it up himself.
His conclusion? The competitor's kit was a lot of work to set up, didn't seem to be as stable and well-built as the buildings I sell, and it was more expensive.
He was certainly right on all of those points. My customers are very satisfied with the quality of the garages I sell. They are solid, well-built buildings.
So how can I sell these garages for less than a kit, and offer free installation?
Here's our secret: Our deliveries are grouped into local routes. Instead of making you pay a lot of money for a truck to make a special trip to deliver your garage, a crew will deliver and install your garage on a multi-day route, saving you a lot of money.
So don't break you back trying to install a 2-car garage kit yourself. Take advantage of our free installation, and save money too.
What Is the Average Size of a Two-Car Garage?
The average size of a two-car metal garage is 24 feet by 24 feet. These dimensions give enough space for two cars to fit inside with some room between them so you can get in and out comfortably. Of course, if you want some extra storage space, you'll want to go bigger than that.
What Is the Minimum Size for a Two-Car Garage?
The minimum dimensions of a two-car garage are 20 feet wide by 20 feet long, which will give you just enough room to park two small vehicles and be able to get in and out of them. If you have at least one larger car or want to be able to fit anything else in your detached two-car garage, though, you may not have enough space.
How Are Your 2-Car Garages Built?
Our metal garages are framed with 14-gauge steel tubing, usually spaced five feet apart. You can upgrade to a thicker 12-gauge tubing for a 20-year rust-through warranty. Our garage doors are roll up style and have optional chain hoists. You can install automatic garage door openers if you want after the building is set up.
The sides and roof are made from 29-gauge steel sheeting, which can be upgraded to 26-gauge sheeting if you want.
If you want a concrete foundation for your garage, you will need to get the foundation poured by a local contractor before the building is installed, our pour the concrete slab yourself.
Avoid Buyer's Remorse!
Get a free buyer's guide to help you plan the perfect garage for your needs.
Find out:
How to save a lot of money
If a metal garage is right for you
How to choose the right size
What you need to know about foundations
And much more...
How Much Does a Two-Car Garage Cost?
The cost of a prefab two-car garage starts around $8,000 for a 24×25 garage with a regular style roof. Your price may vary based on how big you want your customizable two-car metal garage to be and any options you choose to add, like extra doors and windows.
Find a Two-Car Garage That Fits Your Needs
When you shop with Alan's Factory Outlet, it's easy to buy a prefab two-car garage. You can design your own steel garage building any way you like. Use a double door or make a two bay garage. Add windows, walk-in doors, and custom colors without breaking the bank.
Use our garage-builder tool to design a structure to your specifications, whether you want a 24-by-25 building with a red boxed-eave roof and sandstone siding or a 36-foot-wide garage with three garage doors. Then, place your order and take advantage of free delivery and installation. It's simple to get a detached two-car garage that's functional, durable, attractive, and affordable with Alan's Factory Outlet!