Our metal carport barns (also called barn-style carports) have lean-to carports attached to one or both sides. We also sell metal buildings with lean-tos.
Carport Barn Ideas
Adding a barn-style lean-to to a carport is ideal if you need to cover an extra-large vehicle like an RV or tractor, and also have smaller vehicles that need protection. You can design the tall middle section to have enough clearance for your largest vehicle. Shorter vehicles and equipment benefit from the lower roof of the lean-to, which provides the ideal amount of protection from the weather.
Barn style carports also serve well as multi-purpose farm buildings. One section can be used as a livestock shelter, and another section can be used for storing hay, feed, or equipment. You can also enclose any of the sections you want to create fully-sheltered and secure storage areas.
A carport barn can serve as a cost-effective outdoor pavilion for selling wares in areas where the weather is mild most of the year.
You can also create an extra-large covered picnic shelter by attaching lean-tos to a wide carport.
Service Area
Free Delivery and Installation on lean to carport prices in Alabama (AL), Arkansas (AR), Florida (FL), Georgia (GA), Illinois (IL), Indiana (IN), Kansas (KS), Kentucky (KY), Louisiana (LA), Maryland (MD), Mississippi (MS), Missouri (MO), North Carolina (NC), Ohio (OH), Oklahoma (OK), Pennsylvania (PA), South Carolina (SC), Tennessee (TN), Texas (TX), Virginia (VA) and West Virginia (WV). The carports and metal buildings come standard certified 35 psf and 140 mph.
Prices subject to change without notice
Eagle Barn
Eagle Carport Color Chart
Colors may vary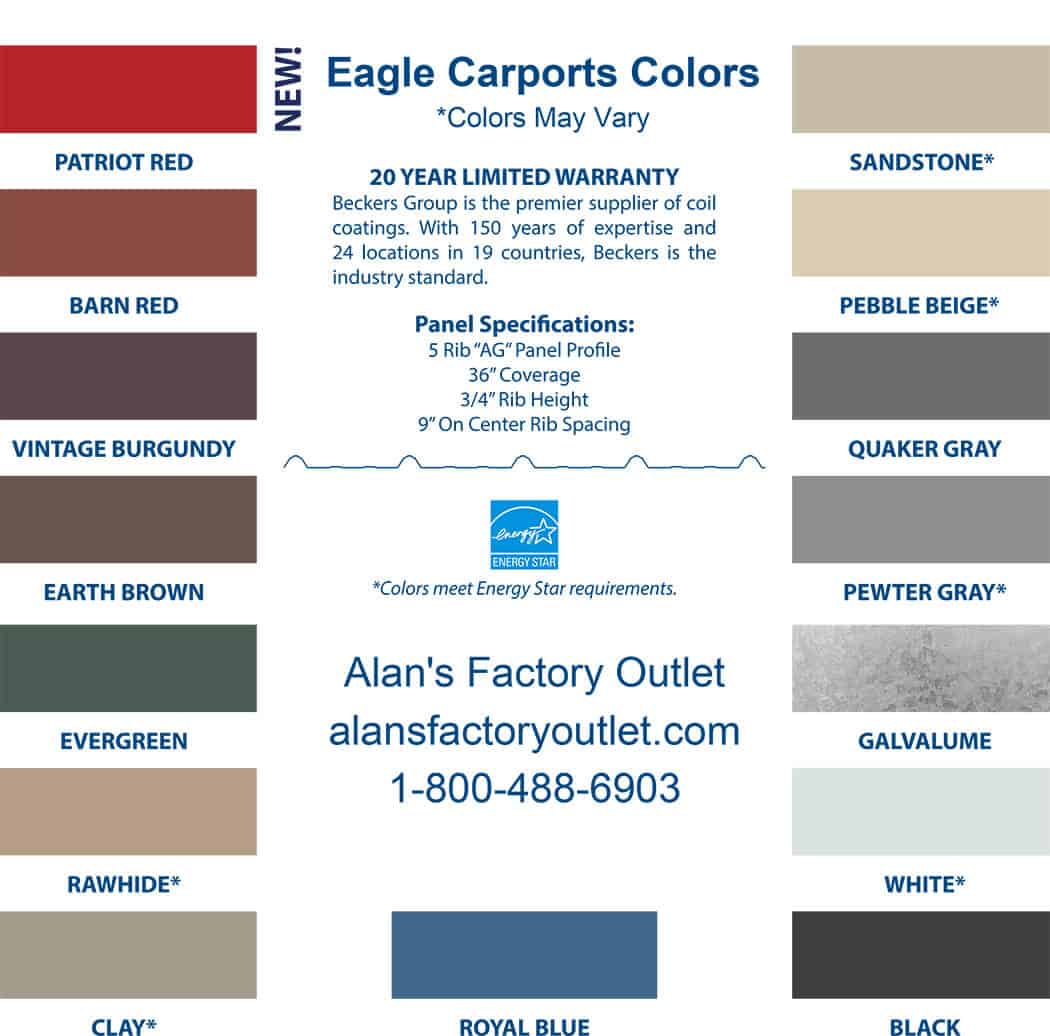 Estimated Delivery Time for Carports and Metal Garages