If you're thinking about buying a metal building, here is what you should know first.
Cost
Are metal buildings cheaper than wood?
Yes. Metal buildings are cheaper than wood. The exact price difference depends on the current cost of steel versus lumber. You can generally expect the shell of a wood building to cost about twice as much as a metal building.
Price Your Metal Building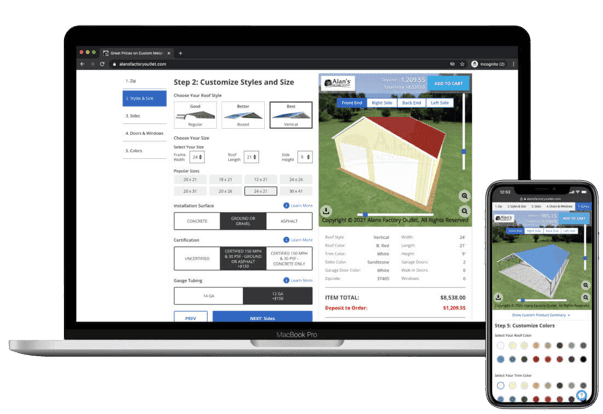 Go to Cost Calculator
Are metal buildings cheap?
Metal buildings are cheaper than buildings made out of wood or other materials. But that doesn't mean they are of poor quality.
Are repossessed buildings cheaper than new buildings?
We did our own study to find out if repo storage buildings were cheaper than new storage buildings. We found that the average discount on a used building was only 12%, and that the used buildings we found were on average 42% more expensive than the new buildings we sell.
Are metal buildings worth it?
Metal buildings are usually a good investment because of their low cost to build, their long lifespan, and their low cost of maintenance. Adding a metal garage or shop to your home will usually increase the value of your property more than the amount you pay for the building.
How much do metal buildings cost?
Prefab metal buildings cost anywhere between $8 and $30 per square foot. This includes the price of delivery and installation, but not the cost of permits, site preparation, and a concrete foundation. The total cost will usually fall between $14 to $45 per square foot.
How much does a concrete foundation cost?
A concrete foundation will usually cost at least $8 per square foot. In some areas the price will be lower, but usually it will be higher. The biggest factor is the local cost of labor. If you pour your own foundation, you only need to pay for the cost of the concrete and any tools and supplies that you need.
Can you finance metal buildings?
Some manufacturers offer financing for metal buildings. Some lenders like New Century Bank and Acorn Finance specialize in financing metal buildings. A metal garage can be financed with a second mortgage, a cash-out refinance, or a home equity line of credit.
Who finances metal buildings?
Banks and credit unions (via a mortgage, second mortgage, cash-our-refinance, home equity line of credit, or personal loan)
Peer-to-peer lenders
Construction and Installation
What metal is used in buildings?
Steel and aluminum are both used for prefabricated metal buildings. Aluminum is softer and is more likely to scratch and dent. Steel is stronger and more durable, so it is more commonly used to construct metal buildings.
What is the best metal for buildings?
Steel is stronger and more durable than aluminum, so it is a better material than aluminum for metal buildings. Large metal buildings are often made out of red iron I-beams. Red iron is actually steel that is coated with iron oxide. Smaller buildings are typically made with galvanized steel framing and panels.
What are pre-engineered metal buildings?
Pre-engineered metal buildings are buildings that are designed and manufactured in a factory, and then transported and installed at the building site. Pre-engineered metal buildings are more cost effective than buildings constructed on-site because there is almost no material or labor wasted in the construction process.
How are metal buildings installed?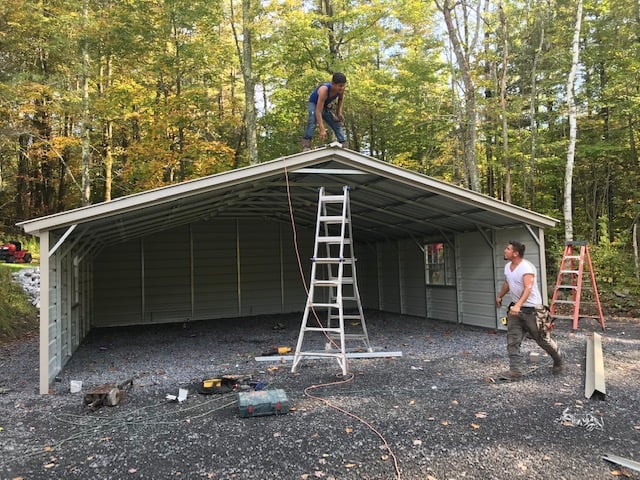 A permit is obtained
The building site is prepared
A foundation is poured
The building is manufactured at a factory
The building components are delivered
The installation crew assembles the metal building at the site
Who sells and installs metal buildings and garages near me?
Alan's Factory Outlet sells metal buildings and metal garages in Alabama, Arkansas, Florida, Georgia, Illinois, Indiana, Kansas, Kentucky, Louisiana, Maryland, Mississippi, Missouri, North Carolina, Ohio, Oklahoma, Pennsylvania, South Carolina, Tennessee, Texas, Virginia and West Virginia.
Quality
How long do metal buildings last?
Most steel building will last at least 50 years, with minimal maintenance. With regular annual inspection and care, metal buildings can last more than 100 years. Metal builds can withstand many extreme weather conditions without incurring any damage.
What are the best quality metal buildings?
Those who want the highest quality metal building should select the following features:
Vertical style roof
12-gauge steel tubing for the frame
26-gauge sheet metal
170 MPH wind upgrade
Woven R-17 insulation
Weather stripping around windows
Safety
Are metal buildings hurricane proof?
Metal buildings can be designed and built to withstand hurricane-force winds. The strongest hurricanes are class 5 hurricanes, with sustained winds that are at least 157 mph. You can get a metal building with a certification for winds up to 170 mph, which can survive most hurricanes.
Are metal buildings safe in a tornado?
About 1% of tornadoes are violent EF4 or EF5 tornadoes, with wind speeds above 207 mph, sometimes reaching speeds above 300 mph. Very few buildings will survive a direct hit from these violent storms. Metal buildings can be certified for 170 mph winds. These buildings are safe in most tornadoes.
Are metal buildings grounded?
Metal buildings can be grounded with metal rods driven into the ground that are bonded to the metal frame of the building. If lightning strikes the building, the electricity simply passes through the metal framing and into the ground.
Are metal buildings safe from lightning?
A properly grounded metal building is safe during a lighting storm, provided no one is touching the metal frame, metal siding, or any conductive material that is attached to the metal shell of the building. Like any building, nearby lightning strikes may disrupt electrical systems that are not equipped with surge protectors.
Use as a Home
Note: Buildings sold by Alan's Factory Outlet are not designed or intended to be used as homes.
Are metal buildings safe to live in?
Metal buildings can be safe to live in. However, they should be designed and built as a home and properly insulated. Metal buildings that are designed as garages are not air-tight, and are not designed for use as a home.
Is it legal to live in a metal building?
Laws vary widely between locations. The fastest way to find the laws in your area is to call the zoning planning department for the city or county that you live in.
Can a metal building be used as a house?
Yes. A metal building may be used as a house if it is constructed to local codes for residential structures. Barndominiums are metal homes that have been gaining in popularity in recent years.
Customization & Insulation
Can metal buildings be moved?
Metal buildings can be disassembled and moved more easily than most other types of buildings. However, moving a metal building is still a complex operation. Obviously, the foundation of the building cannot be moved. A new foundation will need to be poured before moving the metal building.
Can metal buildings be painted?
The metal buildings we sell have the colors baked on. These colors last a long time and do not easily fade. If you want to paint your metal building a different color, you can use a metal specific paint, or paint the building with a metal primer before using an exterior paint.
Can metal buildings be insulated?
Yes. There are several ways to insulate a metal building:
Double bubble insulation
Woven insulation
Spray foam insulation
Fiberglass insulation
Foam boards
Insulated Panels
At Alan's Factory Outlet we offer double bubble and woven R-17 insulation.
Do I need to insulate my metal building?
Insulation is optional, but offers several benefits:
Moisture control. Insulation prevents water from condensing on the inside walls and roof.
Temperature control. Insulation with a high enough R-value can help keep your metal building warmer in the winter and cooler in the summer. If anyone will be spending long hours in your metal building, insulation is ideal.
How are metal buildings insulated?
Metal buildings are insulated by attaching insulation to the inner walls and ceiling of the building.
Have more questions?
Check out our Metal Garage Buyer's Guide if you're shopping for a metal garage.
Use our free 3D metal building designer if you're ready to design and price a metal building or garage.
Price and Design Your Metal Building or Garage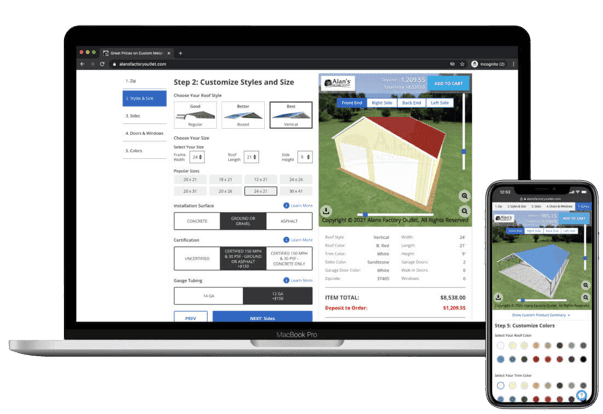 Customize Now