20×30 Metal Building, Shed, Barn, or Shop [+ Slab Cost]
Get a custom prefab 20×30 metal building to use as a shed, barn, shop, or similar purpose. Our buildings are delivered and installed for less than the cost of hiring a builder. In fact, they even cost less than a kit!
Factory Direct Prices
Our 20×30 building prices come directly from the factory, saving you thousands.
Reasonable Lead Times
Most of our large metal buildings are installed within one to two months from the time the site is ready. Delivery and installation are free.
Certified Metal Buildings
Our 20×30 steel buildings come with a 20-year warranty on roofing and 12-gauge frames.
Risk-Free Guarantee
We guarantee a 100% refund of your deposit until the day your building is delivered. We don't know anyone who will match our guarantee.
20×30 Metal Building Cost
The cost of your building depends on your location and the options you choose. The prices below are approximate and include 3 garage doors. You should use our online cost calculator to get an exact price.
| | |
| --- | --- |
| Size | Approx. Base Price* |
| 20x30x9 Metal Building | $6,500 |
| 20x30x10 Metal Building | $7,000 |
| 20x30x12 Metal Building | $9,000 |
| 20x30x14 Metal Building | $9,500 |
* Prices for vertical-roof buildings. Regular-roof buildings are less expensive.
20×30 Metal Building with Concrete Slab Cost
If you plan to use your building as a barn, you may be able to anchor it directly to the ground or a gravel foundation. But for most other uses you will need a concrete foundation.
A 20×30 building has 600 square feet of space. A foundation for this size of building may cost between $3 to $12 per square foot, depending on whether you pour it yourself or hire a local contractor to prepare the foundation for you. So expect to pay at least $1,800 for a DIY foundation, and at least $4,800 to have a concrete slab poured for you.
Here's Our Simple, Clear Process
Order online with a refundable deposit
Get free delivery and installation
Reasonable Lead Times
Most 20×30 buildings are delivered within two months after the building permit is approved and the foundation is ready. For current lead times in your area, see our estimated lead times.
Installation is free and usually takes about 1-2 days.
Lifespan and Warranties
Steel buildings can last for well over 50 years with proper annual maintenance, making them a cost-effective long-term investment. Our 20×30 steel buildings come with a 1-year craftsmanship warranty and a 20-year warranty on roofing and 12-gauge frames.
20×30 Metal Building with Lean-To
We can add barn-style lean-tos to one or both sides of your 20×30 building. These lean-tos can be open or enclosed. If you don't see the option you are looking for in our 3D design tool, give us a call for details.
Thousands of Happy Customers
"I am really happy with my metal Building from Alan's Factory Outlet. After shopping around I found that Alan's had the best product for the best price. The build your own building program on the website was easy to navigate. After purchase I was contacted by the Alan's team to verify the details. They were courteous and very helpful, they wanted to ensure the details were right. Once delivery was set up the building was fully erected in about 12 hours. I love my new building"

– Michael, Alabama, 24×35 Metal Building
"This will be my third building from Alan's. They are great. It may take two months to get your building but it's worth the wait when necessary. Very good quality, installed exactly as desired."

– Donna R., Georgia
"We love our new metal building from Alans! It took us awhile to decide what we wanted … I called Alans many times and each time they were super friendly and helpful! The installation crew was great! Even in 100 degree weather they got the job done!"

– Faith L., Arkansas
Great Support from Real People
Hi, I'm Alan. My goal is to help you get the exact building you need for the best possible price, without the stress and headaches that often come with a large purchase.
If you have any questions or need any help as you design your building, don't hesitate to contact us by phone or email. I have a small team of incredibly kind building specialists who can help you with just about anything. We are all friendly, down-to-earth people who will treat you right.
Metal Building Uses
20×30 Shed
A 20×30 shed has plenty of space to store lawnmowers, tools, and other equipment you use in the backyard or farm.
20×30 Barn
Farmers often use prefab metal buildings for storing equipment, storing hay, and sheltering animals.
20×30 Shop
A 20×30 shop has almost 600 square feet of floor space. If you will be working in your shop, you will probably want to add insulation to help regulate the temperature. Another good idea is to choose a light-colored roof (like white) to maximize the energy efficiency of your shop building.
Design Options
Custom Colors
You can choose from 16 color options for the roof, sides, and trim of your 20×30 metal building. There isn't any extra charge for your custom color selections.
Roof Styles
Your 20×30 metal building is available in three roof styles:
The vertical roof style has vertical panels that run from the ridge to the eaves. These roof panels allow rain, snow, leaves, and other debris to slide off your roof. The vertical roof is also the strongest option.
The regular roof style has rounded corners at the eaves and uses horizontal panels that run from the front of the building to the back. This is our least expensive roof style, but you need to be sure to clean off leaves so they don't build up on the ridges of the horizontal panels.
The boxed-eave style is between the other two styles. It has a traditional A-frame look like the vertical style, but it uses horizontal roof panels like the regular roof style.
Most of our customers who buy a 20×30 metal building choose the vertical roof style.
Doors and Windows
We have many options for roll-up garage doors. You can also choose between two styles of walk-in doors and windows.
If you want to add your own doors, windows, or other openings, we can add custom frame-outs for a small fee.
Insulation
You have three options for insulation:
No insulation
Double-bubble insulation to control condensation ($1.50 per square foot)
R-17 insulation for temperature and moisture control ($3.00 per square foot)
Advantages of 20×30 Metal Buildings
Durability and Strength
Our metal buildings are designed to withstand the unique weather patterns of each region we operate in. In northern states our buildings are certified for heavy snow loads, and down in Florida our buildings are designed to withstand hurricane-force winds. In the Southeast and other central states our buildings are certified for a balance of wind and snow conditions. You can choose to upgrade your certifications for even more peace of mind. You can also choose to get thicker steel frames, roofing, and siding as optional upgrades.
Low Maintenance Requirements
Metal buildings require very little maintenance. We recommend an annual inspection, cleaning, and quickly treating any small rust spots that you see in your annual inspection. A well-maintained metal building can last well over 50 years and rarely require expensive repairs that are typically associated with a wood building with a shingle roof.
Quick Construction Time
Most of our 20×30 metal buildings are erected in one or two days, and the installation crew carries all the required insurance to protect you from liability during the construction process. Ordering a metal building from Alan's Factory Outlet can be a relatively simple way to get a metal building installed without the usual headaches of a large construction project.
More Info
For more information about our metal buildings, see our main Metal Buildings page.
Design and Price Your Metal Building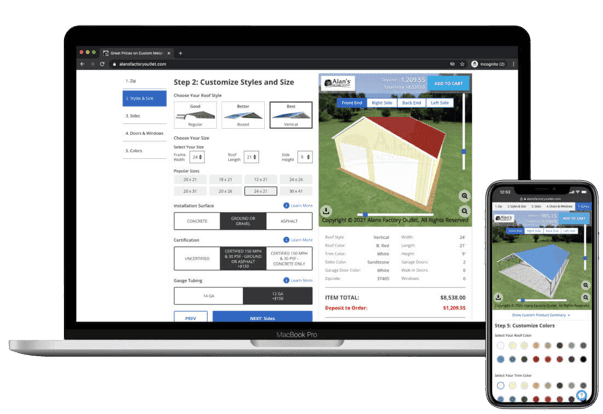 Select Options to Get Your Price