If your current garage size lacks space for another vehicle, carports are a great investment. A carport can improve the overall property value of a home as well as provide weather protection for cars, boats, and other vehicles.
While they're great to have, building a carport from scratch can be a challenge for people with little to no construction experience. In this guide, we'll show you how to install a carport and share a few helpful assembly tips.
Carport Installation Instructions
If you're skilled in building or home projects, a do-it-yourself installation can be a smooth process. Let's walk through a few key steps below.
What You'll Need
Before starting any work, it's good to make a checklist of everything you need to successfully install your carport. Here are a few tools and materials you'll most likely use:
Tools and Equipment
Safety Gear
• Ladder
• Hammer and nails
• Power drill and screws
• Shovel
• Pencil/Marker
• Tape measure
• Safety goggles
• Protective gloves




Step 1: Obtain a Building Permit (If Necessary)
Before buying and installing a prefabricated metal carport, you'll want to check with your local township or city clerk's office to see if you need a building permit.
Some jurisdictions have special regulations for permanent structures added to a residence. This may include the requirement of licensed builders or carport installers.
Step 2: Prepare the Site
After checking regulations and receiving the necessary permits, you can begin the site preparation. Choose a location on your property close to your house for easy access. Make sure the spot is away from large trees to avoid potential damage.
The location should be properly leveled and in an area with excellent drainage. Doing so ensures the spot is ready for your foundation of choice.
Once the ground is ready, the next step is to pour a concrete slab as the foundation for the carport. Make sure that it has been properly hardened before installing the carport. You can also use a gravel pad, asphalt, or your existing driveway as an alternative base.
Step 3: Follow the Assembly Instructions
Prefab carports come in kits where all pieces of the structure are pre-cut for precise fit. They should also include in-depth instructions for assembling your carport from the manufacturer.
You will most likely need common household tools like power drills and screws to secure fastenings and anchor the carport to the foundation.
Do's and Don'ts of Metal Carport Installation
To avoid hazards and ensure safe set up, here are a few assembly tips to keep in mind.
Don't install your carport on rainy or windy days. Strong winds and damp areas can result in slips and injuries, as well as affect the soil conditions.
Do wear protective gloves, eyewear, and clothing during the installation process. Metal will heat up when exposed to direct sunlight, and certain parts have sharp edges.
Don't forget about power lines, underground cables, and other power sources. Metal is a conductor of electricity and can be dangerous when it contacts an electric current.
Do consider hiring a professional to help install your carport if you're unsure or need assistance.
Frequently Asked Questions
How much does it cost to add a carport?
Prefab carports can range anywhere from $1,200 to $5,000 depending on the size, style, and if you're handling installation yourself. Some manufacturers may charge an additional installation fee.
How do you attach a carport to an existing house?
Unfortunately, prefab carports are designed as standalones and cannot be attached to homes or any other structure. You would have to custom build a carport from scratch to attach it.
Do I need a foundation to install a carport?
Although carport foundations aren't required, they are highly recommended. While you can use a dirt base to install a carport, it may not be as secure.
Professional Carport Installation and Delivery
If you don't have building experience or feel overwhelmed by the process, Alan's Factory Outlet will give you peace of mind. Our professional installers can have your carport installed in a matter of hours, saving you time and headaches.
With the best selection of metal carports on the market, we pride ourselves in providing several shapes and styles to complement your home.

Using our 3D design tool below, you can easily customize and order your carport in one sitting. Once purchased, our team will deliver, assemble, and install your custom carport for free.
Get an instant price for your new carport or metal garage.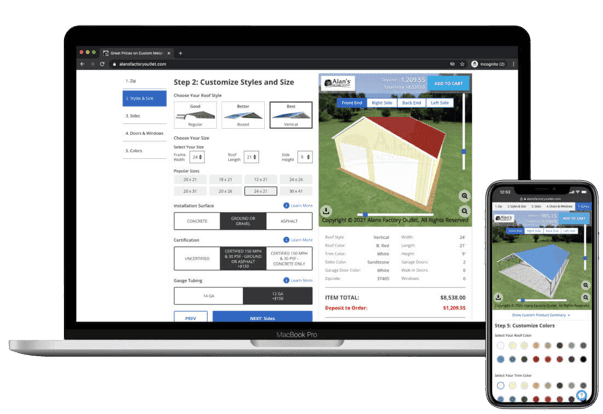 Price and Buy Online with Our 3D Builder Plus Free Shipping and Installation!
Select a size to meet your needs
Choose roof, side, and trim colors
Add garage doors, windows, and walk-in doors
Customize additional options
Customize Now