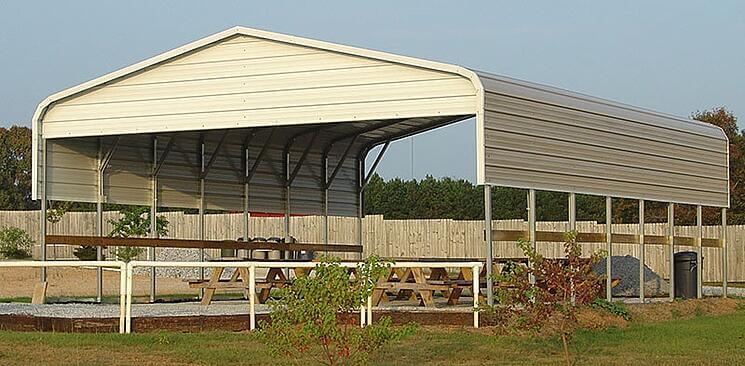 When you build your own carport, you have free rein to make it just the size you need to fit a car, truck, RV, or even boat. Beyond vehicle storage, carports have a variety of other uses. Some customers buy carport building plans to design an at-home gym or a picnic area to gather with friends. A DIY carport also provides excellent shade where you can sit and enjoy the outdoors without too much exposure to the sun.
Alan's Factory Outlet has a range of attractive and sturdy metal carport. The metal carport comes in 3 different styles to suite your needs.
We provide free delivery of our carports to dozens of states, and our capable installers are happy to help you build your own carport.
At Alan's Factory Outlet we do not offer DYI Carport Kits or Carport Plans but only provide delivery and installation of the steel carports in 27 states in the USA.
Here are some reasons you may want to go the DIY Carport Kits VS Our Installed Carports:
Work on Your DIY Skills by Learning How to Build a Carport
For some people, purchasing a carport from us means a chance to improve their DIY skills and learn how to build a carport. While our expert installers would be delighted to build your homemade carport for you.
Building Your Own Carport: A Satisfying Project
For some people buying steel carport kits, do-it-yourself is the way to go. Putting a carport together brings the satisfaction of a job well done. When you follow our plans to build a carport yourself, you can look out your window at your masterpiece and say, "I did that." Everyone in our business truly understands that feeling, so we won't be offended if you want to DIY.
Involving Family and Friends
Some of the DIYers want to learn how to build a metal carport frame themselves recruit family and friends in the construction process, whether to create the concrete pad and level gravel foundation or to participate in the building of the actual structure. Younger children can watch with fascination as the idea of a metal carport becomes reality. Just like that, following metal DIY carport plans turns into a family affair!
Gaining the Confidence to Take on the Next Project
After following and completing the carport designs, DIY enthusiasts can be emboldened to take on the next challenge. Building a quality DIY metal carport often helps people realize what they can accomplish.
If you want to get a carport that our professional installers build, we at Alan's Factory Outlet have metal carports available. Roof and color customization options allow you to design your carport to match your style, making it a welcome addition to your property. Feel free to explore our carports; give us a call or contact us online if you want to learn more about our versatile carport.