Our DIY carport kits are perfect if you want to build your own metal carport for your RV or car and save money. We also offer free installation if you don't want to do it yourself. Use our cost calculator to get the exact price of the carport kit you need.
When you build your own metal carport, you have free rein to make it just the size you need to fit a car, truck, RV, or even boat. Beyond vehicle storage, carports can also have a variety of other uses. Some people buy a carport with plans to create an at-home gym or a picnic area to gather with friends. A DIY carport is a great investment, but creating your own carport plans can be a challenge. Thankfully, Alan's Factory Outlet makes it easy to make your carport ideas a reality! With our help, you can customize an attractive, sturdy, and inexpensive metal carport that's exactly what you're looking for. We also provide free delivery of our prefab and DIY carport kits, and our capable installers would be glad to build your carport for you if you prefer. Let us help you bring your carport plans to life!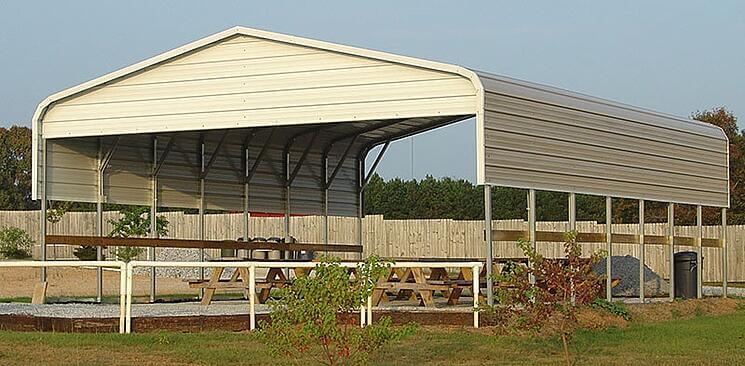 Why Choose to Buy DIY Carport Kits?
Work on Your DIY Skills: Each DIY carport kit includes all of the pieces and hardware you'll need to build your own carport. If you opt for a certified package, we can also include carport blueprints for your local building department.
Get the Satisfaction of Doing it Yourself: When you follow the plans to build a carport yourself, you can look at your new carport and feel a special sense of pride. We understand that feeling, so we won't be offended if you want to install your own shelter.
Build Your Own Carport Kit to Your Specifications
Whether you want to create a unique carport with a garage door or an oversize RV carport, our 3D builder tool makes it easy to design a homemade carport from high-quality materials. Just choose the size, roof-style, and color of your new DIY carport, shed, or garage, place your order, and we'll deliver your carport kit to your doorstep for free. We also offer free professional installation: Let us set up your new metal carport and we'll also cover our work with a one-year workmanship warranty. Whether you leave the work to our installers or order steel carport kits and do it yourself, at Alan's Factory Outlet, we make it easy to bring your DIY carport ideas to life. Call now or order yours online today to get started!