This model is available in Alabama, Arkansas, Georgia, southern Illinois, Indiana, eastern Kansas, Kentucky, Louisiana, Mississippi, Missouri, North Carolina, Oklahoma, South Carolina, Tennessee, Texas, Virginia, and West Virginia.
If you need a building in Florida, Maryland, Ohio, or Pennsylvania, use our 3D Builder to customize and order your carport.
Unfortunately we are not able to ship to any areas outside of our service area.
How to Order your Carport
Once you know the size of carport you need for your vehicle, the rest is simple:
Place your order with a small, refundable deposit
Get free delivery and installation
How We Save You Money
The first way we save you money is by giving you factory-direct pricing on our carports.
The second way we save you money is with a cost-saving delivery method.
Some manufacturers send a whole truck to your house just to deliver a single carport kit. That adds a lot to the price of their carports! Our carports are delivered and installed on cost-effective local delivery routes. This allows us to pass on big savings to you and offer free delivery and installation. As a trade-off, you will need to wait until there are enough orders in your general area to schedule a delivery route. Most customers find the wait is well worth the extra savings.
How Long Does It Take?
Because deliveries are scheduled in batches to save you a lot of money, it could take anywhere from several weeks to several months after your site is ready before your carport is installed.
We wish we could give you a specific date in advance, but the only way we can keep our prices so low and offer free delivery and installation is to have our deliveries done in groups.
In order to get your carport as soon as possible, it is best to place your order and apply for a permit as soon as you can, so your order can get into the next delivery group. After you place your order, you can cancel for any reason before your carport has been delivered and get a full refund of your deposit. If you need a carport soon, you can get the ball rolling now, knowing that you can always change your mind later and get a quick and hassle-free refund.
More than 51,783 Satisfied Customers
best price best product. Could not be more satisfied. You will not be sorry with any product you buy from this company.

I compared your metal carport to others and no one comes close in price or quality. Completely satisfied customer. Thank you very much.

checked lots of places but Alan's prices beat the rest

…$400 to $600 less than local merchants for a similar product.
Why Get Your 12×20 Carport from Alan?
Factory-Direct Prices
When we say "factory-direct," we mean it. The carports we sell come straight from the factory to your house, and we don't add any extra fees to the factory prices. Since there aren't any unnecessary layers of people in the middle between you and the factory, our prices are as low as they can be.
Free Delivery and Installation on All Orders
You heard it right! We don't charge anything for delivery or installation. The price you see when you check out is the price you pay for your carport.
Simple Online Process
If you have been shopping for a carport for a while, you know that a lot of sellers require you to call them in order to get pricing information or to place an order. We let you shop the way you want. If you like to do everything online, you can do everything online. If you prefer to call us, that is fine too.
Real Customer Service
Hi! I'm Alan, the owner of Alan's Factory Outlet. My goal is to help you get the carport you need at a great price, without any worries or headaches.
If you need any assistance at all, I have a wonderful team that is happy to answer any questions you have.
There are two easy ways to get in touch. You can use our contact form to send us a message, and we will reply by email or phone as soon as we can. Or you can call us Monday to Friday, 9 Am to 5 PM Eastern at 1-800-488-6903.
About Your 12×20 Carport
This 12×20 carport can cover most cars, SUVs, trucks, and similar vehicles. The roof extends an extra six inches on the front and back of the carport, giving your vehicle a little extra protection from the weather.
If you have a truck that is more than 17 feet long, we recommend choosing a longer carport.
How to Choose Your Height
You will probably want to make your side height about one foot taller than your tallest vehicle. That way you will have plenty of clearance for parking, and your car will also get the maximum protection from the weather. Don't forget to consider antennae, car-top carriers, future vehicle purchases, and clearance for your head too!
12×20 Carport with Sides
For additional protection from rain, wind, and snow, you can add side panels to your carport. We have several options from three-foot side panels to full-length panels.
Colors
We have 16 different colors available.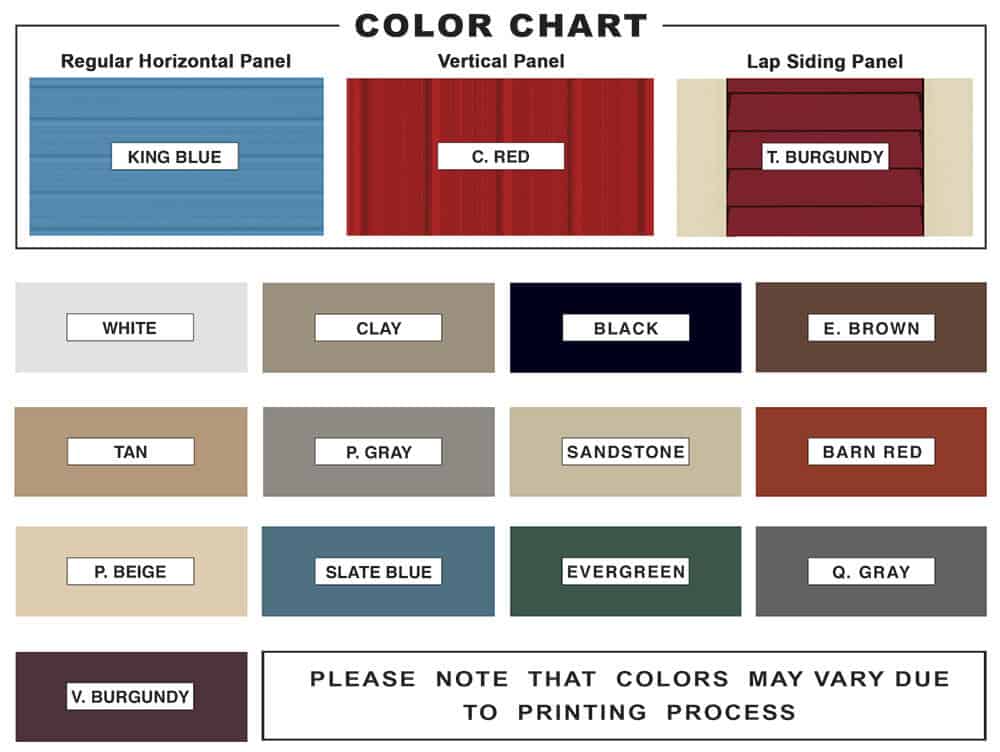 Specifications
| | |
| --- | --- |
| Width (including frame) | 12' |
| Length (including frame) | 20' (roof overhangs an additional 6" in front and back) |
| Height | Custom, up to 16' |
| Frame | 14 or 12 gauge steel studs |
| Frame width | 2.5" (14 gauge), 2.25" (12 gauge) |
| Roofing and Siding | 29 or 26 gauge steel sheeting |
| Roof Pitch | 3:12 |
| Center Brace Clearance (approx.) | 2' 3" above side height |
| Gabel clearance (for closed gables) | About 3" less than the side height |
| Peak Height (approx.) | 2' 9" above side height |
Certifications
Wind: 140 miles per hour
Snow: 35 pounds per square foot
Warranties
1-year craftsmanship warranty
20-year rust-through warranty on 12-gauge frames
20-year rust-through warranty on roof panels
Installation
Free installation and delivery on all orders.
Common Questions about a 12×20 Carport
Can you make it shorter or smaller?
Yes. We can make this carport shorter or narrower for free. Please let us know what size you need it to be after you order.
Can this be attached to my house?
No. We need at least three feet of space on every side of the carport in order to install it.
What kind of foundation do I need?
You can install it on the ground, gravel, asphalt, or concrete. Most people use gravel because it is very affordable.
We need to know what your foundation will be so we can bring the right kind of anchors (we will provide the anchors, you don't need to). If you choose to pour a concrete foundation, the foundation should be a foot longer and a foot wider than the carport, so the concrete bolts we use to attach the carport to the concrete won't crack the edges of your foundation.
Your foundation needs to be within three inches of level for us to install the carport without cutting the legs. If you can't make your site level, please contact us to discuss it before placing your order.
My country requires plans for a permit, can you provide them?
Yes, we can provide you with standard engineered plans within a few days after you place your order. If you have any trouble getting a permit, we can give you a full refund of your deposit.
Benefits of a 12×20 Carport
A 12×20 carport is great for car owners, because it provides a lot of protection for your vehicles at a fraction of the cost of a garage. During the day, the roof of your carport protects your vehicle from constant exposure to the sun, especially during the middle of the day when the sun is most intense. This helps keep your paint job looking nice. During rainstorms and snowstorms, a 12×20 carport can keep most of the moisture away from your vehicles. During hailstorms, your carport will protect your cars and trucks from damage too.
At night, the roof of your carport traps warm air, which helps prevent frost from developing on your windshield. One of the biggest benefits of a carport is not having to scrape your windows and warm up your car on cold winter mornings.
A 12×20 carport can also be used for many other purposes. Some people like to sit under the shade of a carport on hot summer days or use it as an outdoor pavilion or picnic shelter when entertaining guests in the backyard. A 12×20 carport can also be used as an outdoor workspace that is dry and shaded.
Another benefit of our 12×20 carports is how little maintenance is required. Other than an annual inspection, there isn't much to do. If you have a regular-roof carport under a tree, you'll also want to clear leaves from the roof periodically with a broom.
More Questions?
If you have any questions we didn't answer on this page, please visit our FAQ page to get answers or to contact us for help.
Back to Building Configuration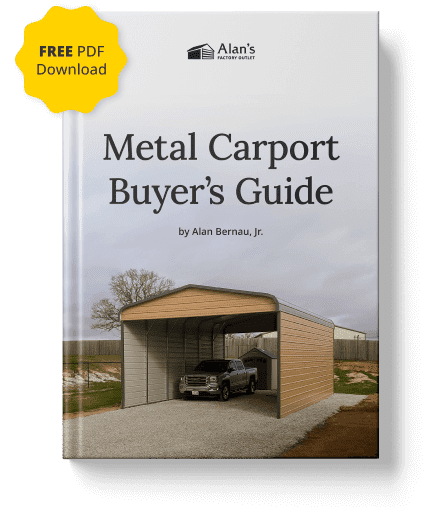 Not Ready to Buy?
Get our free Carport Buyer's Guide and find out everything you need to know before you buy a metal carport.