A mobile home carport is an affordable parking solution for your mobile home. Best of all, you can save hundreds of dollars with our factory-direct prices and free installation.
Use our simple online designer to select your style, size, and color. Order online with a small deposit. If you cancel for any reason before delivery, we'll give you a full refund of your deposit.
At Alan's Factory Outlet, we have affordable mobile home carports for sale in a wide range of sizes, styles, and colors. Our carports are also completely customizable. We'll build a carport to your exact specifications to ensure that your vehicles are well-protected from the rain, snow, and sun.
How Much Does a Carport for a Mobile Home Cost?
The prices of our standard metal carports range between $1,295 and $4,995. The price for your mobile home carport will depend on the size you need and the customizations you choose. All carports come with free shipping and installation.
How Can You Customize a Carport for a Mobile Home?
Size: Our carport sizes start at 12 feet wide by 20 feet long, but we can custom-build a carport in almost any height, width, or length.
Roof Style: Regular, boxed-eave, and vertical roof styles are available.
Sides: You can choose to leave your carport's sides open, or we can partially enclose them for you.
Color: We offer a wide selection of different colors for your carport's roof and trim.
Installation: A very efficient team of installers will set up your carport for you.
When you use our easy 3D carport builder, you can explore all of the options and watch as your new carport takes shape. You'll also be able to get a price estimate that changes in real-time depending on the options you choose.
With the ability to order online 24/7, fast delivery, and great prices, it's easy to see why Alan's Factory Outlet is the nation's best supplier of metal carports for mobile homes. Place your order online today, or give us a call and let one of our helpful associates walk you through the options to create the perfect carport for your mobile home.
Design and Price a Mobile Home Carport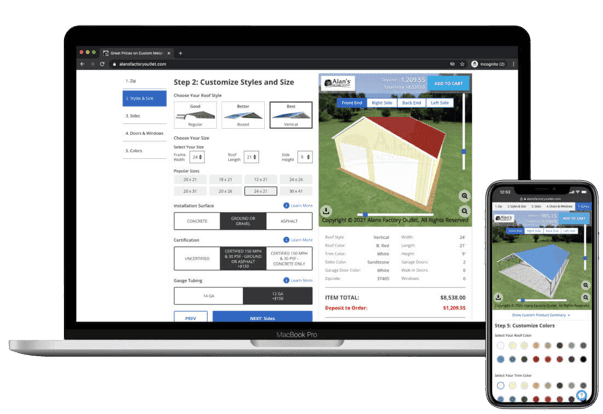 Got to Cost Calculator