Alan's Factory Outlet is a family-run business owned and operated by Alan Bernau Jr and his wife Julie Bernau.
Our goal has always been to give you a fair price on the highest quality buildings while providing the finest customer service possible. We have had the honor of serving more than 75,000 wonderful customers in the last 20 years, and we look forward to serving you too!
About Alan and Julie
With everything online these days, it's still nice to see the faces behind the businesses you buy from, especially when you're considering making a significant purchase. So here is a little background about my wife and I.
I left my job as a Maryland State Trooper to relocate to Luray, Virginia, where my future wife Julie was working in the Telecommunication Industry. Here is a picture of my wife and I on our wedding day back in 2003. A few weeks after this we opened up Alan's Factory Outlet.
In 2011 we were blessed with a daughter, and in 2014 we were blessed again with a son.
Here is a picture of us after 15 years of marriage and business.
Now, after more than 20 years, we are still in business together, and we look forward to helping you get a great deal on the carport or metal garage you need.
God Bless You,
Alan Bernau Jr
Here's What Some of Our Customers Think About Alan's Factory Outlet
"Best site for all of your Carport/Metal Building needs! Very easy to navigate the site and perfect for customizing exactly what you want. HIGHLY recommend this site to anyone in need of these services!"
— Richard E.
"The process for customizing our metal garage was so easy! The site walks you step by step. We are looking forward to working with Alan's Factory Outlet!"
— Lauren H.
"I Love my carport and metal building."
— Larry
"Staff was very helpful sent me pictures of different colors for metal carport made my choice of color easy to choose"
— Sharon W.
"Site made picking out my building simple. The 3D garage builder was great for getting an idea of how it would look. All of my questions were pretty much answered on the Q&A from the site. I was getting updates from sales people along the way and got any questions I had taken care of. I highly recommend Alan's Factory Outlet for your metal building needs."
— Corey B.
Get an instant price for your new carport or metal garage.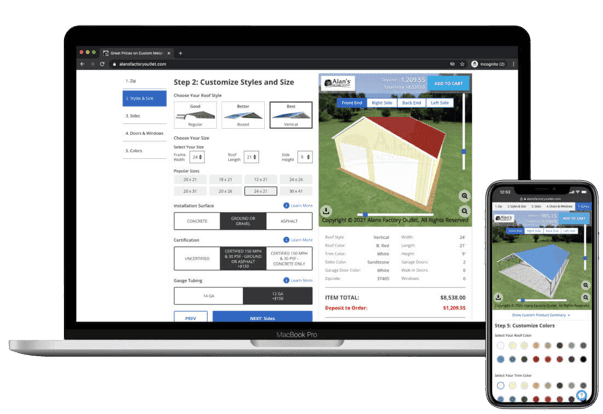 Price and Buy Online with Our 3D Builder Plus Free Shipping and Installation!
Select a size to meet your needs
Choose roof, side, and trim colors
Add garage doors, windows, and walk-in doors
Customize additional options
Customize Now