Get your custom garage and get our best prices plus Free Shipping and Installation!
Get a Custom Lean-To Barn, Building, or Garage at Factory-Direct Prices
Built to Last
Certified Engineered Plans
Transparent Pricing
Friendly Building Specialists
4.8 Stars from over 13,000 Customers
Based on more than 13,241 unfiltered reviews on the independent, Shopper Approved website.
The two installers did a nice job putting up my new carport. It looks great and is made of very sturdy materials.
Customer service was great
At 7:30 am the crew of three arrived and did a fantastic job, working very efficiently. At 12 noon they were done, had the work site cleaned up of all scrap and were heading out of the driveway. Many thanks.
I have not received my carport as yet but was impressed with the order process and pricing for this style of carport.
The website is great, I love the visual aid when selecting the carport and options. The carport itself I am totally satisfied with as well as the installation. A large crew was in and out in under 3 hours, cleaned up all their mess and just operated like a well oiled machine.
Easy to order. Hadn't actually got the carport yet, but so excited for it to get here. Best price around!!
This is exactly what I was wanting, the price was less than I expected and delivery was prompt and FAST!!! They weren't playing around when they went to work on it!! Thanks for the great shopping experience!!!
Design your own metal building with lean-tos and get free delivery, free installation, and a risk-free money-back guarantee.
Here's Our Lean-To Building Process
Design your barn, building, or garage with our easy online tool (optional)
Design your lean-tos and calculate your approximate total cost (optional)
Call us to confirm your design and price
Secure your order with a refundable deposit
Get a permit and prepare your site
Get free delivery and installation
Three Styles for Your Barn with Lean-To
Carolina Barn
The Carolina Barn has a tall main section with shorter lean-tos on the left and/or right side of the main structure. Each section of the barn can be open, closed, or partially closed. If you fully enclose the main section it becomes a traditional-looking barn.
The Carolina Barn is a good choice if you need a carport for an RV or tractor and one or more smaller vehicles.
The roof pitch on the main building is 3:12. The lean-tos have a 2:12 pitch. So if you have a 12-foot wide lean-to, it will connect to the main building two feet higher than the lean-to leg height. For example, if your 12-foot-wide lean-to has a leg height of 7 feet, the other side of the lean-to will connect to the main building at 9 feet above the ground. So the main building would need to have a leg height of at least 10 feet. In other words, the leg height of the main building should be at least three feet taller than the leg height of the lean-tos.
Horse Barn
The Horse Barn style has a roof that is curved at the edges, which makes it a little more cost-effective than our other barn styles. The side height of the main structure should be at least three feet taller than the side height of the lean-tos on either side. Like the Carolina Barn, each section can be open or closed, completely or partially.
Seneca Barn
The Seneca Barn has a continuous roof with a 3:12 pitch. That means if you have a 12-foot lean-to, the side height of the lean to will be three feet shorter than the main building. If you have an 8-foot lean-to, the side height of the lean to must be two feet shorter than the main building.
Lean-To Barn Prices
One of our most popular designs is a 30×40 barn with lean-tos on both sides. Typically this would have an enclosed 30×40 main section with 10-foot sides, and two 12-foot-wide lean-tos on each side with 7-foot sides. The total size of this building would be 54×40, with almost 2,160 feet of covered space.
The price of a 30×40 barn with 12-foot open lean-tos on each side can cost less than $20,000. That is about $9000 less than a 54×40 building.
How To Make Your Lean-To Plans
Our 3D Design Tool doesn't support lean-tos yet, so you'll need to call us to order your building. But if you want to design and price your building online before you call, here is how to do it:
Design Your Main Building
First, use our 3D Design Tool to design the main (center) section of your building. When you select your height, remember that the main building must typically be at least three feet taller than the lean-tos. Once you have the main building configured, save your design. We recommend using the option to email the design to yourself, so you can easily make changes to it later. You can also add it to your cart while you design your lean-tos.
Design Your Lean-Tos
A lean-to is just half of a carport or garage that will be connected to your main building. For example, if you want a 12-foot porch on both sides of your main building, you should design a 24-foot wide carport. This will be split in half, with half attached to the left side of your building, and the other half attached to the right side of the building.
After you have saved the design for your main building, open the building tool again and start a new design. Try to select the right leg-height for the lean-tos so that the top of the structure will connect to the main building in the right place. If you aren't sure what height to use, make your best guess.
Once you have finished designing your lean-tos, you can save this design also. If you added the first design to the cart, you can add this design also to get an approximate total cost. There will also be a fee for connecting the lean-tos to the main building, so expect the total price to be a little higher than the combined cost of the two structures that you designed.
Call Us to Confirm Your Design and Price
Once you have figured out a rough design and an approximate cost, give us a call to confirm your design and get a firm price. Even if you aren't sure exactly what you want, our building specialists can help you design your building on the phone.
Our number is 1-800-488-6903. We're open Monday to Friday, 9 AM to 5 PM Eastern Time.
If you prefer to communicate via email, use our contact form to describe your design and we will get back to you with a quote.
Common Lean-To Uses
Metal Building with Lean-To Porch
Once common use for a lean-to is to add an open or partially-enclosed porch to one or both sides of a building. These lean-to porches can be used to park vehicles or store equipment that needs to be protected from the weather, but that doesn't need to be locked up inside your garage or barn.
Lean-To Garage (Metal Garage with Lean-To)
If you need a three or four-car garage, consider adding a lean-to to each side of your garage instead of designing an extra-wide clear-span garage. A Garage with a lean-to works especially well if you have an RV, since you can make the middle section much taller than the lean-to.
Lean-To Horse Shelter
A lean-to barn makes a good horse shelter, with plenty of space for sheltering horses and storing feed and hay. An open-sided lean-to allows horses to wander in and out at their leisure. By purchasing a lean-to barn, a horse owner can provide shelter for horses without needing to build an elaborate stable with all of the trimmings. For more detailed information about how to create a lean-to horse shelter, see our page about horse shelters.
Common Questions
A lean-to is a simple way to add another structure to an existing building. It's made by "leaning" rafters against a wall to form an extra roof. Free-standing lean-tos also exist, but these are generally simple structures used as shelter at a camp.
We deliver lean-to buildings to Alabama, Arkansas, most of Florida, Georgia, southern Illinois, Indiana, eastern Kansas, Kentucky, Louisiana, Maryland, Mississippi, Missouri, North Carolina, Ohio, Oklahoma, Pennsylvania, South Carolina, Tennessee, Texas, Virginia, and West Virginia.
Unfortunately we can only add a lean-to to a building at the time it is installed. If you need to attach a lean-to to an existing building, you will need to build it yourself or buy a lean-to kit from a different seller.
Yes. You can add a lean-to to just one side or both sides.
Yes. The lean-tos do not need to be the same width, length, or height.
We can't add a lean-to on the back, but we can extend the main roof to create a porch on the front or back of your building.
In most areas a 12-foot lean to is the widest option we offer.
Customize, Preview, and Order Your Metal Building Online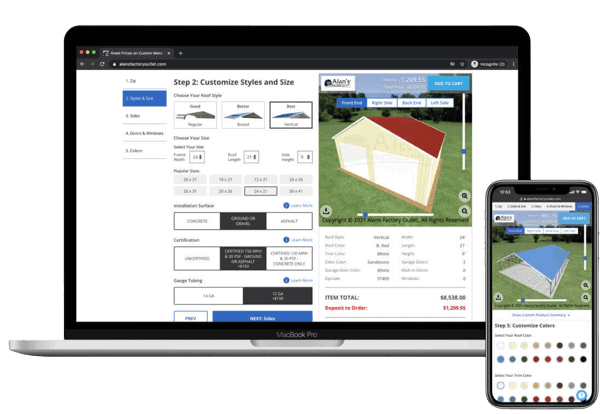 Price and Buy Online with Our 3D Builder Plus Free Shipping and Installation!
Select a size to meet your needs
Choose roof, side, and trim colors
Add garage doors, windows, and walk-in doors
Customize additional options