Get your custom garage and get our best prices plus Free Shipping and Installation!
Custom Garages – Design Your Dream
Get a custom garage built to your specs.
Use our simple garage designer to customize a detached metal garage into a luxury workshop or a multi-car garage to house your prized possessions.
4.8 Stars from Over 17,000 Customers
Based on more than 17,046 unfiltered reviews on Shopper Approved, an independent website.
For everything to be customized to exactly what I wanted, delivered and installed at the amazing price I got is phenomenal! We are so excited for our new garage!
Great Product! Fast Installation! Hassle Free Ordering! Easy Customization! Love my new building!
You have an easy-to-use website and the most options for customization I've seen in garages…plus the best prices.
Easy to navigate. Simple customization. Great experience from purchase to installation. Excellent customer service.
Get a Quality Custom Car Garage
When you are shopping for a custom garage, there are four things that matter: options, quality, price, and customer service. When you order your custom garage from Alan's Factory Outlet, you get it all. But don't believe us. See what our customers have to say:
Custom Garage Builders Near You
Our custom garage builders erect custom garages in these locations: Alabama, Arkansas, most of Florida, Georgia, southern Illinois, Indiana, eastern Kansas, Kentucky, Louisiana, Maryland, Mississippi, Missouri, North Carolina, Ohio, Oklahoma, Pennsylvania, South Carolina, Tennessee, Texas, Virginia, and West Virginia.
Custom Garage Options
Here are a few of the ways you can customize your garage:
Custom Garage Size
You can choose the exact dimensions of your custom car garage. We offer custom garages from 12 to 60 feet wide and as long as you want. If you don't see the specific size you need in our design tool, just order the next larger size and we will match your custom dimensions for free.
Custom Garage Doors and Windows
Place garage doors, walk-in doors, and windows where you need them. We offer many sizes of quality roll-up style garage doors. If you don't like our doors or windows, just design custom openings, and have your own doors installed after the building is erected.
See Our Window and Door Options
Custom Garage Colors
Choose from 16 different color options to make your detached garage match or compliment the colors of your house.
Roof Style
We have three roof styles to choose from. We recommend the premium vertical roof style for everyone who wants the best quality and lowest maintenance option.
Upgrade Options
Want your building to last for decades to come? Upgrade to 12-gauge steel framing and 26-gauge steel sheeting for extra strength and durability.
Insulation Options
If you'll be spending time in your garage, it's best to invest in our woven fiberglass insulation to keep the temperatures in your custom garage reasonable. You can add your own garage AC or heating units later if you plan to use your custom garage as a workshop during hot summers or cold winters.
Benefits of Custom Garages
Increase the Value of Your Home
With a custom garage, you can make your garage match the colors of your home and the personality of your property. If you decide to sell your property, an ugly garage with a cookie-cutter design could scare away potential buyers, but a thoughtfully designed garage can increase the value of the property. In fact, since our custom garages are so affordable, they often boost the resale value of your home by a greater amount than the cost of the garage.
Optimize Your Storage Space
With a custom garage, you can design the layout of your building to fit your exact storage needs. Whether you have an RV, boat, bikes, tools, or something else, you can place doors exactly where you need them for easy access, and you can build out the interior of your garage any way you like. Some of our customers build shelves and lofts to maximize their storage space. Dream it, design it, build it.
Protect Your Vehicles and Belongings
Lock up your trusted tools and valuable vehicles out of sight, so they grow legs and walk away when you're not around. If you have ever had items of value stolen from your yard, you know that money invested in your garage is money saved replacing belongings.
Even if you live in a quiet community where no one locks their doors, the sun, wind, and rain make their slow, silent marks on your cars, trucks, and tools. So building a custom garage to house your stuff is a smart strategy.
How Much Does a Custom Car Garage Cost?
If you hire a custom garage builder in your area, it will probably cost you a small fortune to build your custom garage.
The custom metal garages we sell are prefabricated in a factory and are usually built on-site in 4 to 14 hours. That means you save hundreds of hours on labor costs. As a result, a custom-built garage from Alan's often costs half of what you would normally pay. So you can afford to make your custom garage much larger or more luxurious for the same exact budget.
It only takes a few moments to get the exact cost of your dream design. Just open our Garage Designer, select your options, and see your price.
Customize, Preview, and Order Your Metal Building Online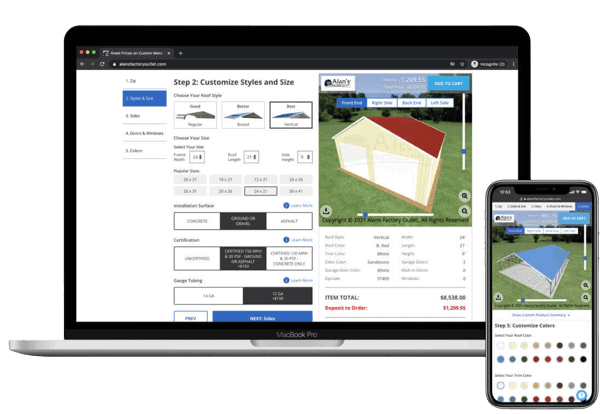 Price and Buy Online with Our 3D Builder Plus Free Shipping and Installation!
Select a size to meet your needs
Choose roof, side, and trim colors
Add garage doors, windows, and walk-in doors
Customize additional options