Get your custom garage and get our best prices plus Free Shipping and Installation!
Affordable Metal Buildings – Arkansas
Use our 3D Building Designer to get instant pricing for your custom metal building or garage.
Sizes
We sell buildings up to 60 feet wide and 300 feet long. Here are some popular sizes of steel buildings we sell (click for details and pricing):
If you plan to get a metal garage, our Ultimate Garage Buyer's Guide will show you how to calculate the perfect size of garage for your needs.
More than 75,000 Satisfied Customers
"We love our new metal building from Alans! It took us awhile to decide what we wanted … I called Alans many times and each time they were super friendly and helpful! The installation crew was great! Even in 100 degree weather they got the job done!"

Faith L., Arkansas, 18×20 Vertical Roof Metal Garage
"Well worth it! Love the building! Patience pays off! Great company! Wonderful folks to work with. Helped out whenever I needed it."

Craig E., Arkansas
Make a Great Decision with Our Garage Buyer's Guide
Get our free Garage Buyer's Guide and find out everything you need to know before you buy a metal garage.
Thank You!
Your guide should arrive in your inbox in about 5 minutes.

Alan Bernau Jr., Owner
Do You Install Metal Buildings Near Me?
Yes! We install metal carports in all parts of Arkansas.
The cities, towns, and rural areas we deliver and install in include Arkadelphia, Batesville, Bella Vista, Benton, Bentonville, Blytheville, Bryant, Cabot, Camden, Centerton, Conway, El Dorado, Fayetteville, Forrest City, Fort Smith, Harrison, Hot Springs, Hot Springs Village, Jacksonville, Jonesboro, Little Rock, Magnolia, Malvern, Marion, Maumelle, Mountain Home, North Little Rock, Paragould, Pine Bluff, Rogers, Russellville, Searcy, Sherwood, Siloam Springs, Springdale, Texarkana, Van Buren, West Memphis, and more.
Alan's Factory Outlet
Alan's Factory Outlet is proud to serve customers in Fayetteville, Fort Smith, and Little Rock, Arkansas.
When it's time to invest in metal buildings, Arkansas residents can find plenty of opportunities to save with Alan's Factory Outlet. We're a leading supplier of garages, carports, and metal buildings in Arkansas. Customers love the quality and adaptability of our steel storage structures, and they also love that we install metal buildings in Arkansas for free.
Arkansas metal buildings can be built in different sizes depending on your needs. There are many reasons why a person would want a steel building in Arkansas, so when you're ready to buy metal building kits, you should consider what the structure is going to be used for and how much land you have for this type of building. Once the sizes of your Arkansas metal buildings have been selected, you can decide how you want to customize or upgrade the structure to add to its usefulness.
22′ wide x 31′ long x 10′ leg vertical metal garage Arkansas delivery and setup included on all orders. This metal garage has two 9×8 garage doors, optional 36″ single door and optional vertical ends and sides.
Metal Buildings' Arkansas Prices
When shopping for metal buildings, Arkansas prices will vary depending on what you're searching for. Alan's Factory Outlet has a large variety of styles, and our metal garages range in price from $3,445 to $8,825. Your price will depend on the style of metal building chosen and the size. We carry the regular roof, boxed-eave, and vertical roof styles and a wide range of sizes to suit your needs, from 12 by 21 feet to 24 by 41 feet. For more information on metal building prices in Arkansas, check out our price chart.
Metal Garage Arkansas 12×26 boxed eave metal garage with a 9×8 garage door, 36″ x 80″ walk-in door, and two 30″ x 30″ windows. The roof color on this metal garage is burgundy, with clay sides, and white trim.
Fast, Free Delivery and Setup
Once you order our steel buildings, Arkansas delivery will be scheduled as soon as possible. Metal garages can be delivered to all of AR, and our steel garages are shipped for free. We also include free installation. For quick installation of our metal building kits, the only requirement we have is that it must have a level area to be built on. As with any type of structure, like metal buildings, Arkansas property must be level to provide a solid foundation.
Ready to order one of our sturdy steel buildings for your property? Place your order today! Orders steel buildings and metal buildings for delivery in Fort Smith, Fayetteville, and Little Rock, Arkansas.
Beyond Arkansas, Other Popular Service and Delivery Areas
We deliver prefabricated metal buildings and carports in popular U.S. cities, including these locations:
Customize, Preview, and Order Your Metal Building Online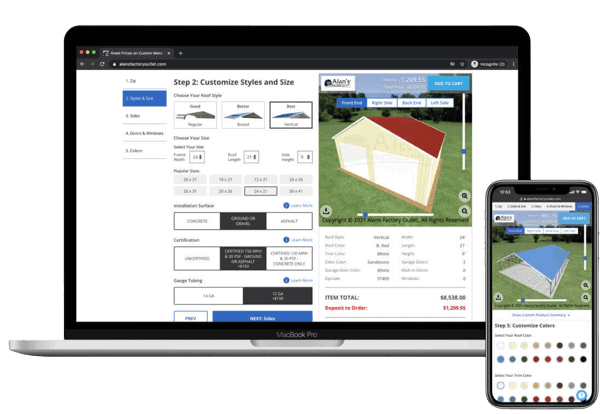 Price and Buy Online with Our 3D Builder, Plus Get Free Shipping and Installation!
Select a size to meet your needs
Choose roof, side, and trim colors
Add garage doors, windows, and walk-in doors
Customize additional options