Carport FAQ Questions:
Can I Build My Own Carport?
Yes, you can certainly build your own carport, but this isn't a recommended course of action – especially for those unfamiliar with construction to begin with. Though it may seem like a simple job at first glance, there's a lot of planning that goes into a carport before even purchasing any materials. One miscalculation during the planning phase can result in a lot of unnecessary spending to try and rectify the issue.
Design and Price Your Metal Carport or Garage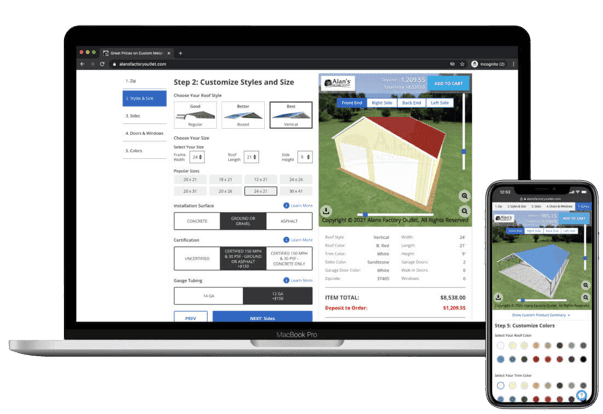 Customize Now
Are Carports Worth It?
Yes. In addition to the protection from natural elements, a carport can offer your vehicles, adding a carport to your home can also increase the property's value.
Is a Metal Carport Considered a Permanent Structure?
Not necessarily. Whether or not a carport is considered a permanent structure has more to do with how it's installed, rather than the materials it's made out of. If your carport is attached to a solid and secure foundation, then it is considered a permanent structure. However, if it is not attached to the foundation and you have the ability to relocate the carport from one section of your property to another, then it is not considered a permanent structure.
Can You Enclose a Metal Carport?
Yes, you can add metal siding or even concrete walls to a metal carport in order to enclose the structure. This makes sense if you already have a carport you wish to turn into a more traditional garage. However, if you don't yet have a carport, it's recommended you purchase a garage from the outset instead of attempting to convert it yourself later.
Do You Need Planning Permission to Erect a Carport?
Whether or not you need planning permission for a carport largely comes down to where you live. Some areas will require permission and others won't. It's always a good idea to review the building regulations of your local municipality before beginning construction on any project.
How Can I Make My Carport Look Nice?
It's understandable that someone would be interested in adding some more aesthetic appeal to their carport. After all, these structures are built for function far more than fashion. Some easy ways of sprucing up your carport include adding shrubs or flower gardens around its perimeter, or you can try hanging strings of lights around the roof.
Does Converting a Carport to a Garage Add Value?
Turning your carport into a garage can definitely add value to your property. Not only does it provide better protection for your vehicles than an open-air carport, but it can also increase the amount of living space offered on your property.
Do You Need Footings for a Carport?
No, footings are not required to install a carport. Carports can be secured using a few other methods such as rebar, mobile home anchors, or concrete anchors. Though, it is still recommended that you review local building codes to make sure they aren't mandated by your local municipality.
How Heavy is a Metal Carport?
Carports can range anywhere from a few hundred pounds to well over 1,000 lbs. Metal carports tend to be on the lighter side compared with their wood counterparts, but larger models can still become quite heavy.
How Do You Move a Metal Carport Without Taking it Apart?
The easiest way to move a carport without disassembling it is to jack up each side of the carport and place skidders underneath. You can then attach it to a vehicle and try sliding it. However, this isn't recommended. The frame of your carport can easily become bent in the process, so be sure to be extra careful if you decide to attempt this.
Does a Carport Need a Foundation?
Not necessarily, though it is highly advisable. While you can use a dirt floor for a carport, you may not be able to secure it as well as you would with a proper foundation. Not to mention, you'll have a hard time keeping your vehicles and equipment clean in that situation.
What is J Trim on a Carport?
J trim is added to exposed paneling on a carport in order to cover exposed edges and make the overall structure more aesthetically pleasing.
How Do You Assemble a Metal Carport?
Carports from Alan's Factory Outlet come in easy-to-assemble carport kits with pre-cut pieces and in-depth instructions on how they come together. However, if you're at all worried about putting the carport together yourself, we also offer free installation!
How Much Snow Can a Metal Carport Hold?
Our carports are designed and constructed with different regions in mind. Carports being delivered to the District of Columbia, Indiana, Maryland, Ohio, and Pennsylvania are specially designed to handle the heavy snowfall. Most are rated to handle 35 psf of snow, but they can be upgraded to withstand 65 psf.
How Do You Fix a Carport Leak?
You'll first want to remove the roof from the structure and then scrub away any old sealant in the leak's area. You'll then want to add a strip of repair cloth to the affected area and apply new sealant before placing the roof back onto the carport.
How Deep Should Footings be for a Carport?
The depth of your particular footings can be affected by several factors. The height of your carport, the wind speed in your area, and even the soil type can all play a role in determining how deep to make your footings. If you're unsure, it may be best to seek advice from an expert.
Metal Garage FAQ Questions:
How Long Will a Metal Garage Last?
Due to the materials' durability and resistance to fire, termites, and rot, you can expect your metal garage to last about 20 to 30 years. With proper care and upkeep, it's possible for you to extend your garage's lifespan even beyond that!
Do Metal Garages Add Value to a Home?
Yes. It has been shown that homes with a garage are generally considered to be much more valuable because of them. Compared to a similar home, you can increase your home's value by as much as 13% when you add a metal garage.
Are Metal Garages Worth It?
Absolutely. Metal garages are a simple and affordable way of adding more space to your home. Not to mention, the increase in value your home could receive by installing one.
Is it Cheaper to Build a Garage or Buy a Kit?
Metal building kits are less expensive than a prefab garage because, with a kit, you are doing the labor yourself. However, we do offer free installation of garage building kits, making either option a great deal.
Is a Metal or Wood Garage Cheaper?
Metal garages are a far more affordable option when compared to a wood garage. Metal garages average $14 per square foot of material whereas wood garage materials the same size come in between $35 and $65. When the job is done, a wood garage the same size as a metal one can easily end up costing you more than double the amount.
How Can I Make My Metal Garage Look Good?
If you're worried about your new metal garage looking too plain, there's plenty of things you can do to make it look nicer. When ordering your garage, you can use our garage builder to choose a color that appeals to you. You can also try planting a flower garden around its perimeter or hanging strands of lights from the roof to give it a gorgeous glow.
Do You Need Planning Permission for a Steel Garage?
It is entirely possible that you'll need permission from your town's planning department in order to add a metal garage to your property. However, since each municipality has its own requirements, it's advisable that you check with your local government officials to see whether any permits are required.
Is a Carport Cheaper Than a Garage?
Yes, carports on average are cheaper than a full garage due to more materials being required to construct a fully enclosed garage. You can compare prices of similar-sized garages and carports right here on our site using our pricing guides.
Can You Attach a Shed to a Garage?
Yes, it is possible to attach a shed to a garage. Many people choose to do so as it can save on space and consolidate all of their equipment into one area instead of being spread out across two separate areas.
Can You Attach a Detached Garage to a House?
No, we can not attach a metal garage to your house, building or any other structure. Please keep in mind we need 3′ open on all four sides to install the garage.
What is a Good Depth for a Garage?
A good depth for a garage is largely determined by what you're looking to store inside. At minimum, your garage should be at least 20 feet deep. However, if you're hoping to store larger equipment or use it as a workspace, you may want to consider one substantially deeper.
Is a 3-Car Garage Worth It?
If you have multiple drivers living in the same home, a three-car garage could prove to be a smart investment. If your family has three vehicles, but your garage can only accommodate two of them, one will always be left to the mercy of the environment and much more likely to incur damage.
How Many Square Feet is a 6-Car Garage?
In order for six cars to fit inside the garage, it should have slightly over 2,900 square feet of space. You can browse our selection of larger-sized garages to see if there is one that works best for your needs.
Should You Put Windows in a Garage?
In general, most people prefer to have some windows installed in their garage. It allows for more natural light to pour into the area and can give it a much more pleasing atmosphere within.
Can You Insulate a Metal Garage?
Yes, you can insulate a metal garage and it's a great way to protect any vehicles or equipment you're storing inside. Spray foam, fiberglass, and radiant barrier insulation are all viable methods of insulating your metal garage.
How Much Does a Custom Garage Door Cost?
You should always expect to pay more when choosing a custom option over a standard one. In general, you can expect to pay anywhere between $1,500 and $10,000 for a custom-built garage door.
Price and Design Your Carport or Garage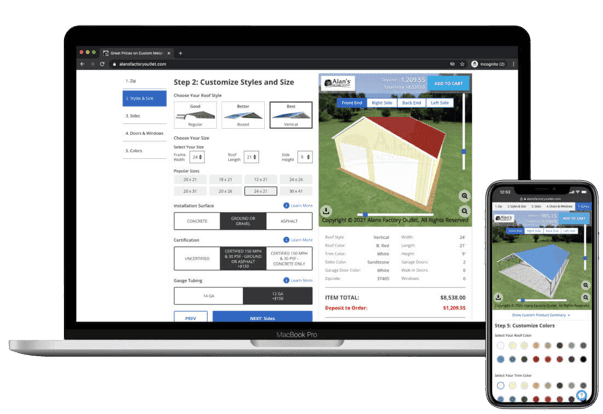 Customize Now