At Alan's Factory Outlet, we have a large selection of large metal buildings for sale. We can also customize a big metal building to match your exact size requirements.
We sell large steel buildings up to 60 feet wide and up to 300 feet long. Our buildings are built with heavy-duty steel-tube frames, making them extremely cost-effective and durable.
No matter how much storage space you need, at Alan's Factory Outlet, you can find sturdy, reasonably priced, large metal storage buildings that fit the bill.
Design and Price Your Big Steel Building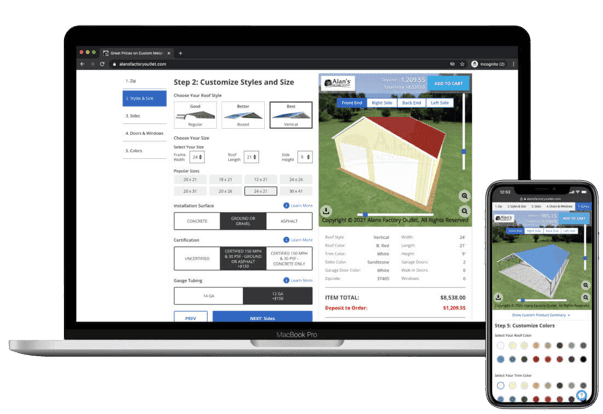 Go to Cost Calculator
Popular Sizes
Here are some popular sizes for large metal buildings:
Large Metal Buildings That Hold Up in Snow and Wind
All of our 32-to-60-foot-wide large prefab metal buildings have a vertical roof design that allows snow to slide off of the roof instead of weighing down your building. The roof, sides, and ends are made from 29- or 26-gauge steel sheeting that can protect your property from almost anything the weather can dish out.
Each large steel building has a special truss support at each bow. This makes them rated for either 170 mph wind and 35 pounds per square foot of snow or a heavy snow load of 65 psf and 105 mph winds, depending on your local code.
Sizes and Specs of Large Metal Buildings
These large metal storage buildings can be built with 14-gauge steel tubing or a thicker 12-gauge steel tubing. The 12-gauge framing comes with a 20-year rust-through warranty, but with routine care and maintenance your large metal building will last long beyond that.
Our 32-to-60-foot-wide metal buildings are securely anchored to your concrete pad with cement anchors. You can chose a custom side height for your large metal building. Our options are 8-, 10-, 12-, 14-, 16-, 18-, or 20-foot-tall sides.
Our 32-to-60-foot-wide metal buildings come standard with vertical sides and vertical ends. For the same price, you can get your steel building made with lap siding, like the red-and-while metal garage shown below, upon request. Lap siding is still metal siding, but its placement mimics the look of vinyl siding.
What Are Metal Buildings Made Of?
Our large metal buildings are made of sturdy corrugated steel. This is the best option for a strong structure that will hold up through years of weather. Steel is also fire-resistant and resists damage from mold and bugs, offering reliable protection for property inside your building.
How Much Do Large Metal Buildings Cost?
A 32x40x8 large metal building starts at a little more than $20,000. Prices will vary based on the specific size, your location, and the features of your structure. Use our online design tool to quickly calculate the exact price for the building you need.
The cost of foundation is separate. You will need to contact local concrete contractors to find the cost of a concrete slab for a large metal building in your area.
What Is the Most Economical Building Size?
Generally, the larger the building, the more economical it is per square foot. A 32×40 building with tall 16-foot sides starts at around $24 per square foot, but a 60×300 building with 16-foot sides costs as little as $13 per square foot. When you factor in the cost of a foundation, the cost-per-square-foot gap widens further, since large concrete foundations are also cheaper per square foot.
However, bigger isn't always cheaper per square foot. Our 30-foot-wide buildings are more economical than our 32-foot-wide buildings because more metal is needed to support the large spans of our extra-large buildings.
Also, it is more economical to make a long, narrow metal building than a wide, short building for example, a 40×60 metal building is much more economical than a 60×40 building, because the roof of the first building is much smaller.
Free Delivery and Installation of Large Metal Buildings
If you're wondering, "Where can I find an affordable large metal building for sale near me?" the answer is as close as your keyboard. Not only do we have great prices, but we include free delivery and installation with all of our 32-, 40-, 50-, and 60-foot-wide steel buildings, including carports and enclosed garages, in AL, AR, FL, GA, IN, KS, KY, LA, MD, MS, MO, NC, OH, OK, PA, SC, TN, TX, and VA. All of our metal carport buildings also come with a one-year workmanship warranty from the date of installation.
Note that you will need to provide a telescopic forklift during the installation. The lift needs to be capable of going 10 feet taller than the leg height of the building.
Place your order today to get the storage space you need at a price you can afford!
Design and Price Your Steel Building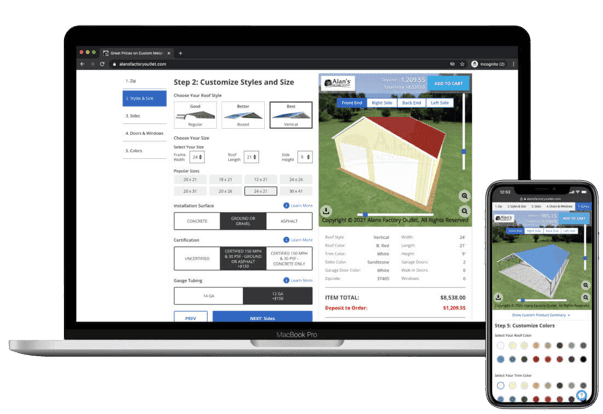 Go to Cost Calculator