America's Custom Carports, Garages, and Metal Buildings
10-17% deposit to order, final payment once installed.
Family owned, custom-made U.S. products.
Free delivery and installation.
20-year warranty on 12-gauge orders.
Easy contact via phone or website.
"Very quick to deliver, faster than the other guys online. Cheaper than the other guys and included the anchors. Best deal without a doubt! Recommend to anyone looking for a carport or easy garage."

– Ben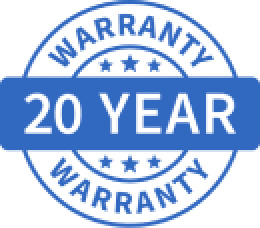 America's Custom Carports, Garages, and Metal Buildings
Price and Buy Online
1. Select a Delivery Area
2. Select Your Options
3. Get Your Custom Price
All of our buildings are custom-made and you only pay a small deposit to book delivery.
Our Carports and Garages Cover Everything You Care About Since 2003
Regular
Carports

Vertical Roof
Carports

Regular
Garages

Vertical Roof
Garages

Boxed Eave
Carports

Boxed Eave
Garages
Start With a Popular Configuration
Select one of our featured configurations to preload doors, window, and other options shown in the images below.
Build Your Own Metal Garage or Carport With Our 3D Builder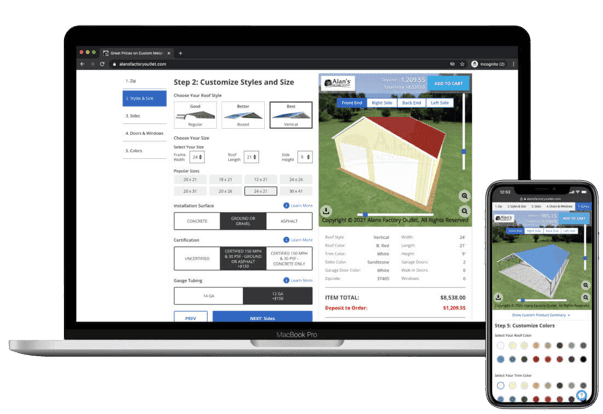 Price and Buy Online with Our 3D Builder Plus Free Shipping and Installation!
Select a size to meet your needs
Choose roof, side, and trim colors
Add garage doors, windows, and walk-in doors
Customize additional options
Customize Now
Carports and Metal Buildings
The metal carports and garages are custom-built and are available in many different sizes. Metal garages and carports can be made taller to help protect and cover an RV or motor home. We offer more than 16 different colors when you buy one of the steel carports or steel garages. Kits are also available and offer as much opportunity for customization of your storage structures.
When you buy a prefabricated metal carport or garage online, your credit card will be processed for a 10% to 17% deposit. The deposit can be paid with a credit card or check. The remaining balance is due once it has been built or installed and can be paid with either a credit card or check.
Why Shop Alan's Factory Outlet for Metal Buildings, Garages, & Carports
Buy it online
We are one of the few, if not only, companies/suppliers that offer a huge variety of designs for steel carports and garages you can customize AND buy, all online. And, if you need a little help over the phone, we do that too!
Made to Order In The USA
We are a family-run business with a personal touch. All of our metal garage/carport buildings are custom made to order based on your specifications to deliver you the best-built buildings and carports we can.
Free Delivery and Installation
Please check our 3D builder for pricing on the carports and metal garages.
75,000+ Customers and Counting
★ ★ ★ ★ ★ 4.8 Overall Store Rating
Based on 17,865 actual customer reviews
Made the right decision purchasing carport at Alan's Factory Outlet
Allen and Lisa Lewis, Missouri
Gazebo we got from you is MARVELOUS
Brenda Aloff
THANK YOU for being a man of your word
Gary
Carport Installed and couldn't be more pleased
John in Tennessee

Question? We're Here to Help
Help Center
Order by Phone
Email Alan
Estimated Delivery Time for New Orders
Current estimated delivery times on new orders vary depending on the manufacturer and zip code. Enter a zip code to make sure we service your location and for the estimated delivery time on new orders.
Helpful Resources
Carport Buyer's Guide
Everything you need to know before you buy.
Garage Buyer's Guide
How to make your dream garage a reality.
Metal Building Components
An inside look at why our buildings last so long.