Alan's Factory Outlet boxed-eave carports can be delivered and installed in more than half of the nation, including Alabama, Arkansas, Florida, Georgia, Illinois, Indiana, Kansas, Kentucky, Louisiana, Maryland, Mississippi, Missouri, North Carolina, Ohio, Oklahoma, Pennsylvania, South Carolina, Tennessee, Texas, Virginia, and West Virginia. When you purchase an A-frame carport from Alan's Factory Outlet, you don't have to worry about the hassle of setup. Just place your order and let us take care of the rest!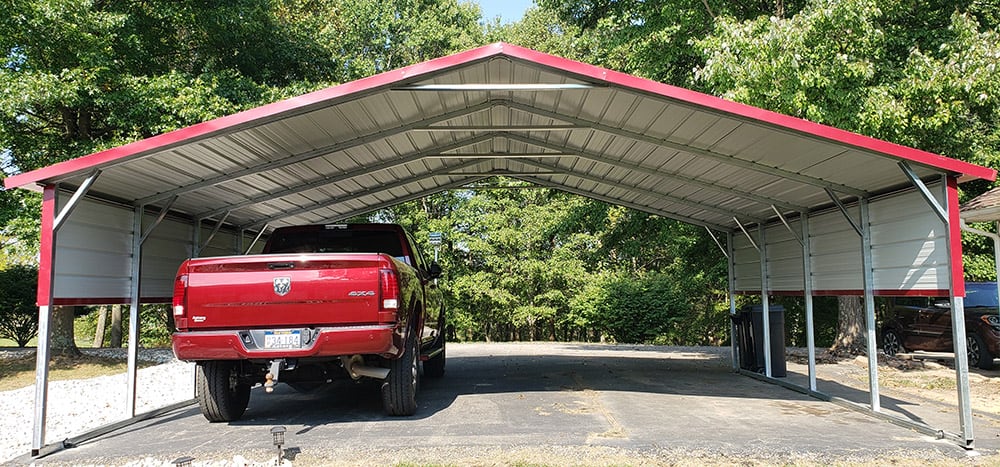 What Is a Boxed-Eave Carport?
A boxed-eave carport is built with an A-frame roof. Many homeowners choose this option to have a carport that will match the roof style of their home. With our A-frame carports, you don't have to worry about the design of your home being compromised. The box-eave carport that you purchase will blend seamlessly with the style of your home.
Vertical Roof vs. Boxed Eave: What's the Difference?
The main difference between a boxed-eave carport and a vertical-roof carport is the direction of the roof panels. On a boxed-eave carport the roof panels run from the front to the back. On a vertical-roof carport, the roof panels run from the peak to the edges, which makes it easier for snow and leaves to slide off the roof.
Regardless of which roof style you choose, both carport types offer the same level of protection from harsh elements and can prolong the life of your vehicle.
Customizing Your Boxed-Eave Carport
Our boxed-eave metal carports can be customized in many different sizes and heights. This ensures that you can find an A-frame carport that is the correct size for your needs. Whether you need an A-frame carport for a single car or one big enough to house multiple vehicles, Alan's Factory Outlet has the carport you need. You also can select the colors for your carport. We offer 16 different paint colors. With all of the colors, sizes, and designs available, it's easy to find a boxed-eave carport that will fit in with the design of your home, so you don't have to worry about your A-frame carport looking out of place.
Below is a picture of a fully enclosed boxed-eave metal carport, which has been turned into a boxed-eave metal garage. Fully enclosed boxed-eave metal garages offer even more protection from the elements than our open carports. In fact, our fully enclosed garages are perfect for areas with harsh weather conditions.
No matter which option you choose to protect your vehicle, we're sure to have what you're looking for at a great price. Place your order today!
Boxed Eave Metal Carports Video