Use our do-it-yourself metal building kit to build your garage, storage shed, or custom steel building. Install yourself or let us do it for free. Use our cost calculator to design and price for your metal building kit.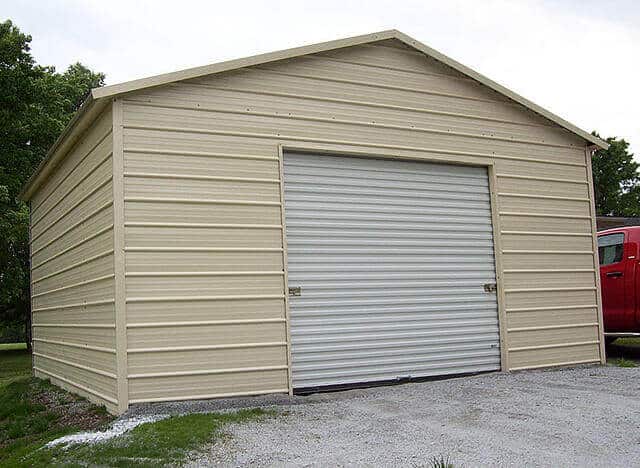 Getting a metal building is a smart idea if you're looking for a reliable structure to protect your valuable heavy equipment, tools, and other belongings. When you think of making this type of purchase, you probably envision a crew assembling the structure on your property. That's one way to do it. But have you considered the benefits of ordering a metal building kit and putting it together yourself? Many of our customers have discovered the variety of benefits that come with our DIY metal building kits.
Quality, Trustworthy Materials
The do-it-yourself metal buildings we sell are made of quality materials. We carry DIY steel buildings designed to stand strong and serve their purpose for many years. Plus, our buildings are easy to maintain, making them a positive addition to your property.
Protection From the Elements
Our DIY metal buildings are made to endure rainstorms, snowstorms, sleet, and hail along with other harsh weather conditions. This provides you with peace of mind about the safety of your farm equipment, tools, lawnmowers, motorcycles, and any other items you store in your structure. The building kits we offer for sale are made with many types of weather conditions in mind and are extremely durable.
Customization Is Key
Lots of our customers like the fact that they can customize their DIY metal building. You may want to choose a building design that echoes the appearance of your home, garden shed, or other buildings on your property. The process involves a few simple steps. First, browse our selection of building sizes to choose one appropriate for the dimensions of your property. Next, choose a color for your building and its trim as well as the type of roof you want. We have regular, boxed-eave, and vertical roofs. If you live in a state that receives a large amount of snowfall each year, you may want to think about selecting a vertical-style roof. This style doesn't allow snow to stay on it for long. Instead, the snow slides off the sides before can accumulate and add weight to the roof. All of our roof designs are durable as well as attractive.
Create a DIY Metal Storage Shed
When you buy one of our DIY steel building kits, you'll get to experience the satisfaction of building the structure with your own hands. We know some of our customers enjoy learning about the various parts of our DIY metal buildings and how they fit together to form a solid structure. If you're a DIY enthusiast, you're familiar with the feeling of satisfaction that comes with a successful project, and with our DIY steel buildings, you can get that as well as a reliable, useful structure.
We are happy to help you customize your order of a metal building kit. Contact us online or by phone and we'll answer any questions you have about the foundation for your building, delivery options, roof choices, or anything else about our products. We want you to be extremely happy with your new structure. Call now to order one of our sturdy storage buildings!