Use this metal building color visualizer to get color combination ideas for the exterior of your metal building, pole barn, shop, shed, or carport.
Metal Buildings and Carports Colors
We have two different manufacturers which have many of the same colors but a few different colors.
Colors look a little different on different screens, so the colors you see on your screen may not exactly match the actual colors on the metal building. For the best accuracy, your screen brightness should be fairly high.
If you want to visualize two-tone siding for a metal building, use our 3D design tool, which gives more options than the visualizer on this page.
Carolina Carports Color Chart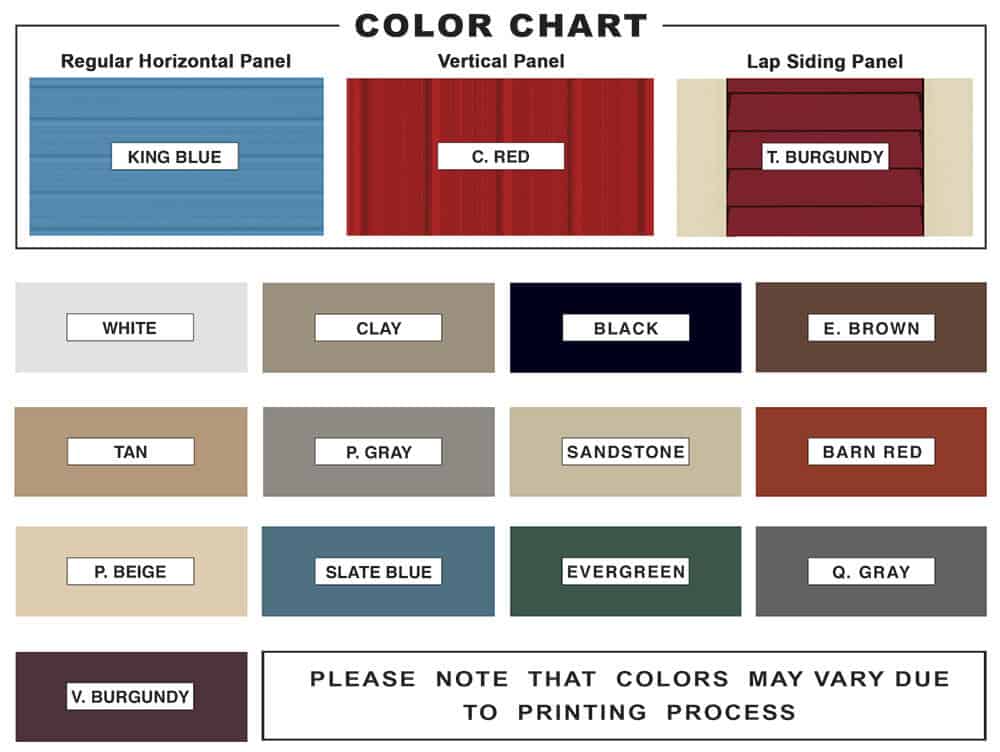 Metal colors are approximate and may vary.
Exterior Metal Building Color Schemes
With so many metal building color combinations to choose from, sometimes it helps to see the colors of metal buildings that others have chosen. Here is a showcase of some of our more popular color schemes.
Pewter Gray Metal Building
Pewter Gray is a medium color gray that is not too light or too dark. This color is one of our most popular options since it complements existing colors in any space and doesn't draw too much attention to itself.
Quaker Gray Metal Building with Black Trim (Like Charcoal Gray)
Our Quaker Gray metal buildings are another popular option. This option is very similar to a charcoal gray metal building, with a very pleasant dark gray color that fits into almost any setting.
The building shown here has black trim, which results in a classy look for the whole building.
Black and White Metal Building
A white metal building with black trim is a color combination that is hard to beat. A while metal building feels clean and shines brightly in the light of a full moon.
Brown Metal Building with Green Trim
This Earth Brown metal building with Evergreen trim blends perfectly into a wooded environment.
Slate Blue Metal Building with Gray Trim
Slate Blue is another popular choice for metal building siding. The building shown here has Quaker Gray trim, which nicely complements the blue building color.
Red Metal Building
Barn Red is the perfect color for agricultural buildings that need the classic charm of a rural farm. Add white trim for a clean and traditional look.
Neutral Metal Building Colors
We have many neutral colors to choose from, including Clay, Tan, Sandstone, and Pebble Beige. Earth Brown trim nicely complements all of these neutral earth-tone colors.
Colors for Metal Buildings
When you order a metal building such as a garage or carport from Alan's Factory Outlet, you're getting a lot more than a place to store your bicycles, vehicles, and other valuable property. You're getting a metal building featuring colors chosen by you. But how do you choose the trim, siding, and roof colors for a metal building? There are a few rules of thumb that can help you choose from our metal color chart.
Consider the Other Storage Structures on Your Property
Start by looking at our online chart of metal building colors. Then, think about any other storage structures you have on your property, including garden sheds or barns. Do you want to choose a color scheme for your metal building that matches the colors of your existing structures? When all of your storage structures are the same color, it adds a sense of harmony to the appearance of your property. Another option is to choose a different shade of the same color for your new metal building. It's worthwhile to consider lots of possible combinations of metal building colors to come up with one that flows with the current appearance of your property.
Consider the Façade of Your House
Looking at the color of your home is another good idea when you're considering metal building color schemes. For instance, if your house has white trim, you may want to go with that same choice of trim as a unifying element, regardless of the other metal building colors you choose. If your home's siding is bright blue or red, you may want to find a similar option on our chart of metal building colors so your storage structure complements your home. Alternatively, you could focus on matching a specific detail, such as your home's shutters. Selecting similar colors for a metal building is an easy way to tie together the whole look. Sometimes, just a small detail on your home can give you some great ideas for metal building color combinations.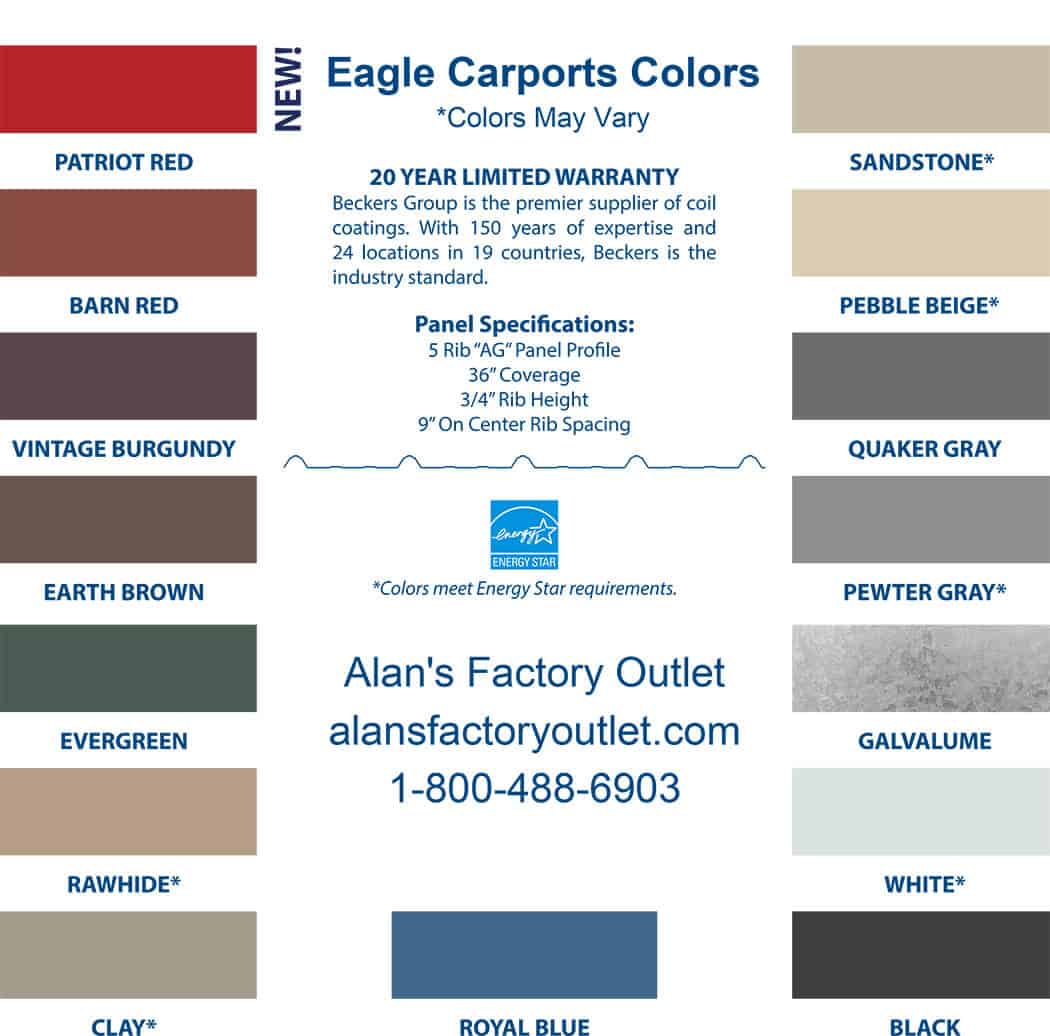 Go With Your Favorite
Considering our varied selection of metal building color schemes may prompt you to simply go with your favorite colors for your new metal building. If this is the first storage structure you buy for your property, it's an excellent way to establish a pleasing color theme. If you have an insignia for your farm or property, you might select a color scheme that highlights it. Compare schemes and ideas with our metal color chart to find your match.
Our team is happy to answer any questions you have about our metal building colors, roof styles, and other options. Call now and let us help you fulfill your vision for a new metal building on your property.
Price and Design Your Metal Building or Garage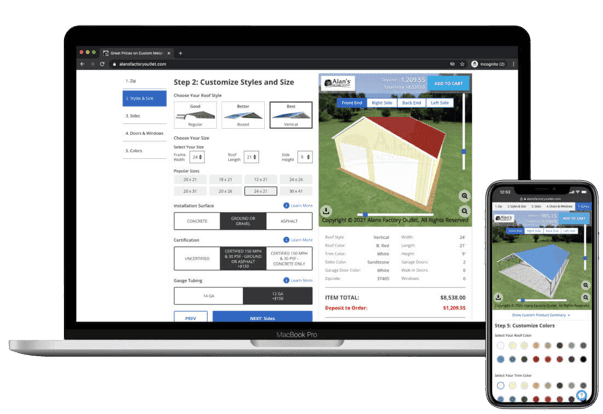 Customize Now