If you're looking for a space for livestock, heavy farming equipment, recreational vehicles, or anything else, it's a good idea to invest in a high-quality building. But which is better between metal buildings vs. pole barns?
The key difference between metal buildings and pole barns is that the former is made with steel and the latter is mainly made with wood. This results in metal buildings being more weather-resistant, sustainable, and an overall better investment compared to pole barns.
To help you understand the differences between these two building types, we've compared them across several important factors such as durability, maintenance requirements, and value.
Durability
While metal buildings typically use 14- or 12-gauge steel tube framing, pole barns are made with wooden poles, support beams, and metal exteriors. The former is fire- and weather-resistant while the latter is more susceptible to storms, water damage, and termite damage.
Since metal buildings are secured with screws, they also have sturdier joints than wooden frames that use nails and staples.
Metal buildings can rust if not properly maintained, but 12-gauge steel buildings from Alan's Factory Outlet include 20-year rust-through warranties. This means you're guaranteed to get your money's worth when you shop our metal buildings and barns.
Construction Difficulty
If you need your building built quickly, metal buildings are the way to go. Wooden barns require more labor overall, particularly for larger structures. This increases your price and lengthens the time it takes to build.
Our steel buildings also come prefabricated which simplifies the construction process and allows us to get right into building your structure. When you design a steel building with Alan's Factory Outlet, we include professional installation in our prices upfront.
Maintenance Requirements
Wooden barns require more maintenance than steel buildings since they can attract termites and are susceptible to weather damage. If rot or pests remain untreated for too long, it could destroy the structure you paid good money for.
In contrast, metal buildings can survive with minimal maintenance. Steel doesn't lend itself to pest infestations and stands stronger than wood. One of the only things you have to worry about when it comes to steel buildings is rust, but Alan's Factory Outlet provides a 20-year rust-through warranty for 12-gauge steel buildings.
Sustainability
Since any large manufacturing project will negatively impact the environment, the most sustainable option is the one that's most recyclable, requires the least amount of maintenance, and lasts the longest.
Steel is 100% recyclable and one of the easiest to repurpose. Steel buildings also require less energy for temperature regulation and are more durable and resistant to degradation.
Conversely, wooden buildings can be recycled and are biodegradable but wooden frames and sidings are single-use. If wood faces damage from pests or rot, it's not going to be able to be recycled.
Since steel is easier to repurpose but wood is biodegradable, we'd rank these materials as equally sustainable.
Design Limitations
There's a reason why skyscrapers are made from metal and not wood. Wooden buildings have design limitations that prevent them from being built efficiently at larger sizes. Once you try to erect a building with a clear span greater than 60' or an eave height greater than 20', pole barns become more complex, costly, and unreliable.
For steel structures, however, there's almost no limit to the size of your building. Metal buildings can have taller eave heights, gutters, longer building lengths and wider clear spans without complicating the construction process.
If you're looking for a smaller building, however, it's worth comparing the pros and cons of wood vs. metal sheds.
Value
On average, metal buildings are less expensive to build than wooden buildings and last longer. The larger the building, the more economical it is to invest in a steel structure, since wooden structures are more complicated to build past a certain size.
Steel buildings also increase your property's value, require less maintenance and cost less to insure since they are more damage-resistant than wood. The durability of metal structures means you're paying for a more long-term investment than wooden buildings that can rot, warp, or attract pests.
Overall Look
Whether or not you prefer the look of a metal or wood building is up to your preference. Wooden buildings give more of a warm, classic look, while metal buildings offer a cool, modern vibe.
Regarding customizability, Alan's Factory Outlet's metal buildings can't be beat. Our buildings come in 16 different colors and an abundance of different sizes, so you can create the perfect structure to fit your needs visually and functionally.
Which Option Is Best for You?
Across the board, metal buildings from Alan's Factory Outlet outmatch pole barns. Our steel buildings are more durable, faster to construct, and more valuable than any wooden structures on the market.
Ready to solve your storage needs? Use our 3D builder to customize the metal building of your dreams and receive a price estimate that includes installation costs.
Get an instant price for your new metal building.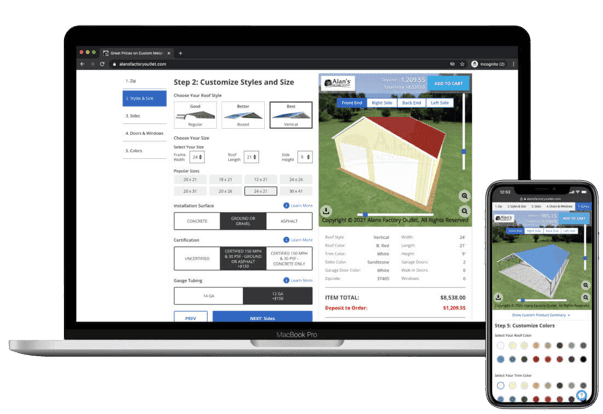 Price and Buy Online with Our 3D Builder Plus Free Shipping and Installation!
Select a size to meet your needs
Choose roof, side, and trim colors
Add garage doors, windows, and walk-in doors
Customize additional options
Customize Now