A garage can add significant value to a home compared to those without one. On average, homes with a garage can recoup about 65 percent, roughly adding about $34,000 to a home's resale value,1 as opposed to those without one. Additionally, a whopping 72 percent of home buyers prefer a house with a garage.2
From those numbers, it makes sense why garages are one of the most requested home features. Even if you decide not to sell your home, there are plenty of advantages to having garage space, including profitable opportunities.
In this guide, we'll cover the benefits of having a garage as well as ways your garage space can add value.
Creates Secure Parking for Vehicles
A driveway is good for parking space, but when it comes to preventing car theft and shielding your car from winter frost, garages take care of both. As a covered and enclosed structure, a garage protects vehicles from weather elements at all angles, lowering the risk of scratches, dings, and paint damage.
In addition to weather protection, garages also create security for your vehicle and other property. With your car and belongings stored and locked inside, they're safe from theft and vandalism.
Offers More Living Space
As for functionality and versatility, garages are unmatched. The additional square footage has various uses, depending on how you customize it.
Garage conversions are popular home improvement projects, where many homeowners are turning their garage into a home office for the convenience of working remotely. You can also use your garage as a spare bedroom or family room for entertaining guests.
Depending on the clearance and design, you may be able to add a loft area above the garage. This way, you can use the additional space and still have a secured parking area. The loft can be a bonus room for guests or even a rental unit that brings in extra income.
Adds Curb Appeal
The outside of your garage can contribute almost as much to your home's value as the inside. Exterior features, like your landscaping, garage door, and driveway, all factor into the attractiveness of your home. A clean and well-maintained property makes a strong first impression, and your garage design plays a role in this.
Even with a minimalist home design, elements like a new garage door instantly boost your property's curb appeal and resale value. Simple garage accessories such as outdoor lighting can also create eye-catching focal points and make your home stand out.
Provides Extra Storage Space
From seasonal decorations to large appliances, many homeowners turn to their garages for functional storage space. If you're a business owner, having a garage can be a convenient, cheaper alternative to storage units for your products and merchandise.
Certain garage sizes make it possible to still park your vehicles inside alongside storage items, but organization is key. Clever garage organization hacks, such as wall-mounted racks and pegboards, can help maximize floor space for parking and keep it decluttered.
FAQs
Is it a good idea to convert my garage?
Yes, a garage conversion can be an attractive feature of a home, depending on the design and intended use. Even the lowest-cost garage makeovers, can inspire people to start using the space in new ways.
How much does it cost to add a garage to my home?
The average cost to build a garage is $28,000, but the price varies depending on the size, materials, customizations, and labor fees. Whether or not it is an attached or detached garage also plays a role in cost, where attached garages sometimes require less time, materials, and labor.
Which is better value, an attached or detached garage?
Both garage styles add value to a home due to the versatile use of their space. A detached garage may cost more than an attached garage, considering the additional materials and labor you'll need. It all comes down to the homeowner's individual needs and preferences.
Is adding a garage a good investment?
Yes, garage additions can be good investments, given the numerous ways you can use the space. Garages also make it easier to sell your home to prospective buyers.
Save Money with a Detached Garage Addition
If privacy and noise reduction are top of mind for you, you might find more value in a detached garage. Unlike attached garages, detached versions have more flexibility for customization and use, such as for a workshop or personal gym. They provide the freedom to do personal projects or activities that don't disturb the rest of the household.
With our prefab metal garages, you can reap the benefits of a detached garage for a fraction of the cost of building one from scratch. From workshops to hobby studios, use our design tool to customize a garage that fits your needs.
Get an instant price for your new carport or metal garage.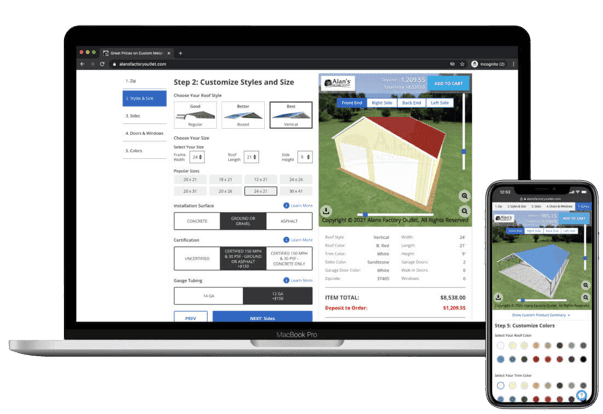 Price and Buy Online with Our 3D Builder Plus Free Shipping and Installation!
Select a size to meet your needs
Choose roof, side, and trim colors
Add garage doors, windows, and walk-in doors
Customize additional options
Customize Now
Sources:
Remodeling by JLC. "Cost vs. Value Report 2015," 2015. Accessed August 28, 2023. https://www.remodeling.hw.net/cost-vs-value/2015/.
Waterworth, Kristi, Dawn Bradbury, and Barri Segal. "Is It OK to Buy a House without a Garage?" US News & World Report, June 29, 2023. https://realestate.usnews.com/real-estate/articles/is-it-ok-to-buy-a-house-without-a-garage