It's pretty difficult to feel at ease if you know your belongings are at risk of theft. Garage door security is a key part of increasing the safety of many homes and businesses—in fact, the International Association of Certified Home Inspectors (InterNACHI) estimates that almost one in every ten home burglars enters through a garage door.
Luckily, there are several ways to secure your garage door that'll cause thieves to second-guess their choice to steal your belongings. We'll explore nine different tactics to make your garage door tougher to bypass, and we'll also share the best doors for garage security depending on your lifestyle.
If you'd like to read these tips as an infographic, you can do so here.
1. Opt for an Automatic Garage Door
No matter how large your garage is, if your garage has an automatic door opener, you're already one step ahead when it comes to door security. Automatic garage doors might not need an external lock since they function with a motor.
This means you won't need to remember to lock the door, a bonus since many thieves enter through unlocked garages. Plus, they're convenient for access, whether you use your garage for parking, storage, or something else.
2. Consider a Smart Garage Door Opener
A smart opener takes an automatic garage door to the next level. With a smartphone, you can easily open or close your garage from anywhere as long as you have a reliable Wi-Fi connection. This way, you won't have to worry about forgetting to close the garage door. Some automatic openers keep you fully in the know with alerts when your garage has been opened without the use of the remote.
3. Keep Your Door Remote Close
If you have an automatic garage door, you already know how convenient it is. This is especially true if you often open the door from the comfort of your car before going inside.
However, be careful about keeping the remote on your visor or anywhere else in your car, for that matter. Thieves may be on the lookout for easily visible, low-hanging fruit like this to convince them that a break-in is worthwhile. Keep your remote with your keys so you don't forget either when you head out.
4. Lock Any Entry Points to the Garage
A garage door isn't always the only access to what's inside. Many homes have attached garages that lead directly into the house. Others have garages with doors and windows that you might not always remember to lock.
It's simple, but going above and beyond to make sure you've locked up tight can mean the difference between a secure garage and a vulnerable one. You can even replace the side door's strike plate with a thicker, more protective one to reduce the chances of someone kicking it in.
5. Light It up with Motion Sensors
It's much more difficult to be sneaky during a break-in without the cover of darkness. Motion-sensing lights can alert you to suspicious activity near your garage door. Even if you have a garage alternative like a shed or carport without a garage door, motion-sensing lights can help boost security and your sense of safety.
They'll also come in handy if you're working late out in the garage or unloading your groceries after dark. What's not to love about a little added safety and convenience?
6. Install a Camera or Other Security Tools
According to the home security experts at ADT, security cameras are the number one way to stop burglars in their tracks. An outside camera that gives away a thief's facial features, body language, and clothing is going to put them at greater risk of capture, meaning they might think twice about choosing to target your garage.
Some security camera systems now come with impressive features like motion activation, night vision, and memory cards that can save hours' worth of video in the event you're out of town.
7. Cover Any Windows in Privacy Film
Keeping valuables out of sight is a simple way to avoid encouraging thieves. But what if you don't have the space to keep all your belongings tucked away? It's not always an option to cover up your garage windows entirely since you could need them for garage ventilation.
Security window film makes it difficult to see inside your garage windows without blocking natural light. And depending on its thickness, a security film can provide more than privacy—it can help make a window more shatterproof by bonding to broken glass rather than giving in.
8. Secure Your Emergency Door Release
If you have an automatic door, chances are you've seen the emergency release dangling above your head in the form of a red cord. Did you know that thieves can use the emergency release to gain easy access to your garage? All they need to do in some cases is fish a coat hanger above the door to grab the release cord and pull.
Fortunately, you can guard your emergency release with a zip tie, making it impossible for thieves to reach it. You can also purchase a lock shield that fits over your automatic opener and blocks the cord from view (and from reach).
9. Remember to Close the Door
It may sound too easy. But how many times have you noticed that one of your friends or neighbors accidentally left their garage door open when they appear to be out of the house? And how many times have you done so yourself?
There's no shame in being a little forgetful—just write yourself a note! Post a sticky note on your car visor or set a reminder on your phone to make sure the door is completely closed when you leave. As an added bonus, it's a much more cost-effective method than purchasing a smart opener.
Best Garage Doors to Improve Garage Security
There are several ways to change the design of your garage to complement your home or improve your curb appeal. However, some of these choices (like the type of garage door you choose) can also have an impact on security. Let's explore which garage doors are the safest and which are the least secure.
Automatic
As we already mentioned, automatic garage doors are an effective way to make sure your garage is secure. They're convenient to close and they lock automatically, so you can worry less about forgetting to do so. These doors are also harder to lift without the use of the electric opener, meaning they're not easy for thieves to bypass.
Roller
Roller garage doors are very secure and don't provide a convenient access point for thieves to get through. These doors have several small slats that allow the door to roll into a cylinder as it opens up.
Our metal garages use top-quality roller doors to secure your belongings from the moment you start using your new garage. You can even convert a roller garage door into an automatic door, further increasing its security.
Sectional
Sectional doors are among the most popular options for garages—and for good reason. They're secure, and they can be outfitted with different materials or colors. The most important factor when it comes to securing a sectional garage door is creating a tight seal around it so thieves can't fish inside to pull your emergency release cord.
Side-Hinged
Side-hinged garage doors can elevate a garage's appearance with their sophisticated look. However, these swinging doors are a little less secure than the other options above. If you have a side-hinged door, make sure it's made from heavy, durable material with a strong frame.
Up-and-Over
Up-and-over-style garage doors look similar to sectional ones, but they open in one piece rather than in smaller sections. These garage doors are less secure than the options above since they typically only have one lock, and it's not too difficult for thieves to access them with the help of a drill or similar tool. If you have an up-and-over garage door, think about adding multiple locking points to make it tougher to break into.
Garage Door Security FAQ
Here are some of the most common questions about making garage doors more secure.
How Can I Make my Garage Door More Secure?
You can make your garage door more secure by installing an automatic opener or more garage door locks. Both will make your garage door more difficult for thieves to open. If your garage door has windows, cover the windows with security film to reduce thieves' ability to see inside. Security cameras may also scare thieves away before they have the chance to break in.
What Is the Best Garage Door to Prevent Theft?
The best garage door to prevent theft is typically an automatic door because it requires a code or signal to open and will lock instantly when closed.
Why Is it Important to Have a Secure Garage Entry Code?
You should have a secure garage entry code to make sure that no one can easily guess it. If you have to share it with friends or family members, make sure they can easily memorize the code. Don't keep your garage door code written down in a place where thieves can find it, such as under a rock near the door.
Consider a Secure Metal Building for Storage
If you're in search of top-quality garage protection, there's no better place to start than with one of our custom metal garages and buildings. They're made either from steel or a comparably strong metal, and they feature roller doors for maximum peace of mind. You may even be able to fit them to an automatic door opener.
Get an instant price for your new metal garage.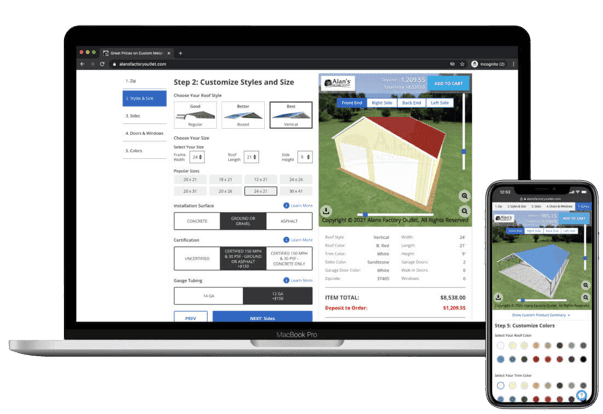 Price and Buy Online with Our 3D Builder Plus Free Shipping and Installation!
Select a size to meet your needs
Choose roof, side, and trim colors
Add garage doors, windows, and walk-in doors
Customize additional options
Customize Now