What does the perfect garage look like for you? Maybe it has a hidden loft, ample space for your collection of luxury cars, or a full-blown home movie theater. Whether or not you can afford the cost of building your custom garage, there's no hurt in dreaming.
When you build or revamp a garage, it's important to prioritize both functionality and aesthetics. To help you brainstorm your ideal space, we've outlined our 20 favorite dream garage design ideas below.
1. Install Luxury Floors
A shiny new floor could be the perfect addition to tie your luxury garage together. Mix and match patterns and textures to achieve a unique look that matches your personality. Maybe you decorate with interlocking black and white floor tiles or implement flooring made from sandstone or graphite.
If these options are too expensive, you could also revamp your floors with a new epoxy or polyaspartic coating to give them a sophisticated gleam.
2. Build Underground
There's nothing cooler than an underground garage. Every time you park your car, you'll feel like you're in a movie. While this option isn't cost-effective, there's no arguing its luxuriousness. Plus, if it's underground, it's likely to be an extremely secure garage.
3. Install Glass Doors
For a modern look, glass garage doors are a must. Because they allow natural lighting to come through, they are an eco-friendly alternative to traditional garage doors. If you're worried about privacy, you can opt for a more opaque glass door.
Just keep in mind that glass isn't as weather-resistant as steel or wooden options. This is important to note if you live in a location subject to extreme weather.
4. Add Car Lifts
If you're running out of room for your car collection or want more storage space, car lifts can help organize your vehicles and declutter your garage. Keep in mind that for storage purposes, four-post lifts are usually ideal. This is because other lifts, such as scissor lifts, don't give you the option to park below the vehicle you're storing.
Since the standard garage size might not accommodate car lifts, implementing this garage plan could require elevated ceilings.
Decorating with wooden accents adds a rustic feel to your garage. Whether you add wooden beams, ceilings, walls, doors, or cabinets, they will help add a warm and inviting atmosphere to your space.
Additionally, wooden garage doors complement both log cabin–style homes and homes with stone exteriors. They are a great way to change the look of your home and elevate its curb appeal. Just remember to reseal your wooden doors annually to maintain their sophisticated appearance.
6. Go Big or Go Home
Sometimes, the bigger the better. The larger your garage, the more you can do with the space. Not only can it be used to store vehicles, but your garage can also double as a music studio, personal gym, or a second home.
If you're interested in buying a large garage to fulfill all your storage needs, check out our 40×40 metal buildings.
7. Transform Your Space Into an Office
With remote work more common than ever, more and more people are including home offices in their garage plans. To perfect your setup, make space for a desk, your computer, and any other accessories you might need for work. Make sure your space is well-lit with natural and artificial light so it doesn't feel like you're working in a dungeon.
8. Organize Your Tools With Cabinets
The most comfy and useful garage designs are those free of clutter. To organize your tools and keep your space open, it's a good idea to install cabinets that fit your needs. If you're going for a rustic look, wood-grain cabinets are a great fit. If you're looking for a more durable option that won't fade over time, powder-coated cabinets might be for you.
9. Build Slat Walls
Slat walls are a great way to declutter your dream garage. This will give you a place to organize larger items like weed whackers, shovels, bikes, and lawnmowers. Just be mindful to choose the right slat material for your space.
Metal slat walls are durable and come in a variety of colors, but give a more industrial look. Other resilient slat materials include vinyl and PVC, which give off a softer look for a cheaper price.
10. Embrace the Retro Aesthetic
Bring a retro feeling to your garage decor by hanging neon signs and license plates with classic cars on display. Fully embrace the look by adding a vintage fridge and a jukebox.
11. Add a Splash of Color
Vibrant colors help add visual appeal, create a fun environment, and express your personality. You can add color via your cabinets, tools, flooring, or garage door. While lighter colors are better for reflecting light and illuminating your room, darker colors require less maintenance to keep looking clean.
12. Unleash Your Inner Artist
One of the best ways to elevate the comfort of your garage is to decorate with hand-picked pieces of art. Hang paintings of vintage cars for a retro vibe or show off your art skills with some of your own work. Just make sure that the pieces you choose coordinate with your garage's overall theme and color palette.
13. Design a Personal Getaway
When designed right, garages can become the perfect entertainment space to get away from your day-to-day responsibilities. You might install a table for foosball, pool, or air hockey along with a home arcade system or a home theater.
Just make sure to be realistic when designing your space. If you try to include too many fixtures, it could lead to a shortage of room to sit.
You might enjoy your new getaway space so much that you opt to build a carport to house your vehicles and make more room for activities.
14. Let There Be Light
Finding the right light system can elevate the look of sophistication of your garage. Go modern with LED lighting on your ceiling or vintage with antique pendant lights. You could even give your garage a retro glow with classic neon signs.
But your space shouldn't only rely on artificial sources of light. Don't forget to open your space to natural lighting with windows, skylights, or glass garage doors.
15. Set Up a Home Gym
The garage is an ideal place to assemble your dream gym. You might fill your space with resistance bands, dumbbell racks, kettlebells, and a workout bench. Just make sure that you invest in durable flooring that can withstand any weights you're handling.
You could even make room for a recovery space and install a sauna in your garage. This move will transform your space into the ideal fitness location.
16. Modernize With Monochrome
Choosing one color to coordinate with helps give your space a feel of elegance. Opt for cooler hues like silver and white for a modern look, or accent with warmer colors like red, yellow, or orange for a comfier vibe. Since your cars are the focal point of your garage, take their colors into consideration when choosing your color scheme.
17. Install Pegboards
When tools are strewn about, it can get in the way of enjoying your garage. Pegboards offer a solution to hang your tools, offering better accessibility and clearing your space. For a more elegant look, buy or DIY magnetic tool holders to keep your tools in place.
18. Design a Playroom for Kids
Tired of your kids running around the house and making a mess? Maybe you need to repurpose your garage into a playroom to fulfill their needs. Add a television for movies and video games along with a board game section for family bonding time.
If you go this route, be sure to rid your garage of any tools or other dangerous objects that you wouldn't want your kids to get their hands on. Once your space is fully child-proofed, you can let the fun begin.
19. Make Room for Music
If music is your passion but you're not sure where to unleash your inner Mozart, the garage is the perfect place to start. Store your instruments and any other necessary musical accessories in the garage. You can even decorate the walls with guitars and pictures of your favorite musicians to complement your space.
20. Build a Bar
Building a bar transforms your garage into a perfect space to lounge with friends. Add leather barstools, a dartboard, and some hanging lamps to complete the space. With a fridge to store alcohol and wine glasses at the ready, your garage will become the envy of friends and family.

Whether you want to install luxury floors, glass doors, or a built-in bar, there are limitless possibilities when it comes to building your dream garage. Ready to get started? Use our custom garage designer to make your dreams into a reality.
Get an instant price for your new carport or metal garage.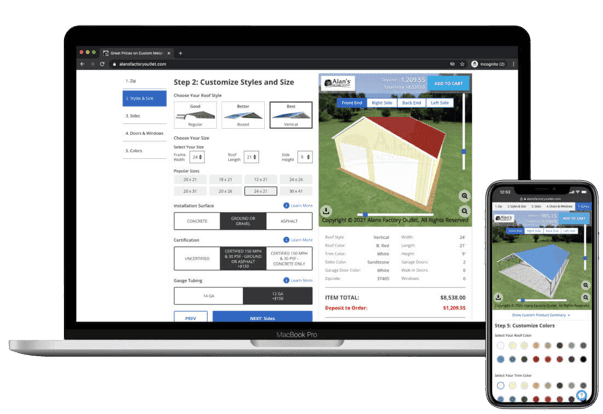 Price and Buy Online with Our 3D Builder Plus Free Shipping and Installation!
Select a size to meet your needs
Choose roof, side, and trim colors
Add garage doors, windows, and walk-in doors
Customize additional options
Customize Now