Are you looking to purchase a large storage building? Consider building your own warehouse. For 10,000 square feet of space, a warehouse can cost anywhere from $350,000 to $500,000.
Warehouses are ideal for anyone needing a large and secure storage space, for things like factory equipment or business products and merchandise. There's also an excellent opportunity to invest in them now that e-commerce is popular. With storage spaces increasing in demand, there's a huge need for warehouses.
The cost to build a warehouse from start to finish can vary depending on the design, materials, square footage needed, and other customizations.
In this guide, we'll break down the warehouse costs from the ground up!
Warehouse Cost by Square Feet
Steel is the most common building material for storage buildings. Factoring in the cost of steel, labor, customizations, and additional considerations, you can expect to pay closer to $35–$50 per square foot to build a warehouse. Here are a few warehouse costs based on size:
Warehouse spaces, such as 60×80 buildings, are a good starting size for commercial buildings. Smaller sizes like 20×30 metal buildings are great storage additions to residential properties, where they can function as a mini-warehouse for your personal business as well as a workshop space or garage.
Size and Design Components
While base warehouse costs are calculated by their square footage, design necessities such as building permits and storage accommodations also add to the overall price.
For example, depending on how you intend to use the space, you may decide to have an office or restroom area in the building. Weather resistance and location of your warehouse will also play a role in design, requiring certain roof styles and interior layouts to consider in your budget.
Warehouse Cost Factors
Similar to garage building costs, you have to factor in common additions and features after the basic construction. These will contribute to the overall cost.
Materials
Choosing the best type of building material is important, as it can impact maintenance costs in the long run. Steel is typically the go-to material for warehouse buildings due to being energy-efficient and durable, but its price changes frequently.
Another material option is insulated concrete forms (ICF). Similar to steel, this material is durable and energy-efficient. Warehouses made of mixed materials, like those that include wood, usually cost more to build.
Below are the most common roofing materials and their average costs per square foot:
Metal roof: $10–$20
Asphalt shingles: $4–$6
Concrete roof: $3–$5
Foundation
A sturdy foundation for your warehouse building needs good elevation. The most common foundation for warehouses is concrete, costing around $4–$8 per square foot. If your property also requires grading and leveling, these will be additional labor costs.
Labor Costs
Generally, labor costs an additional $4–$8 per square foot for constructing large buildings. To best estimate labor fees, they typically range from 20% to 40% of  the overall project. Fortunately, you can cut labor costs by choosing prefabricated steel buildings that require less time and materials.
Interior Finishing
It's also necessary to have climate control and proper ventilation for warehouses, since some storage items or inventory must remain dry and cool for safety reasons. Adding insulation, HVAC installations, and electrical wiring can amount to about $2 per square foot or more. 
Customizations
Don't forget to consider window and door installations, building color preferences, shelving and racks, security equipment, and anything else you'd want for your warehouse.
In addition to the above factors, warehouses generally also have ongoing operation expenses. Below is helpful breakdown of these costs:
Frequently Asked Questions
How can I reduce construction costs?
Choosing prefabricated buildings over site-built ones will significantly reduce the amount of materials you use and cut labor costs. Also, choosing durable materials to build your warehouse, such as steel, which has more damage resistance than other building materials.
What is the best material to build a warehouse?
As a low-maintenance and incredibly durable material, metal is a great option when building a warehouse. Not only does it withstand extreme weather conditions, but it's rot and fire-resistant, protecting storage items inside. Last but not least, metal is recyclable, making it an eco-friendly option.
How long does it take to build a warehouse
It can take three to four months to build a warehouse from start to completion. However, factors like labor availability and supply and demand of materials can extend the process.
Choose Alan's Factory Outlet to Build Your Next Warehouse
To save money and construction time, look no further than our quality steel buildings. Since our buildings are prefabricated, they use less materials and are cost-efficient.
We use quality galvanized steel—a low-maintenance, energy-efficient material that is durable, recyclable, and good for the environment. Also, we'll handle the shipping and installation for free!
Customize your new warehouse how you see fit using our 3D building tool below.
Get an instant price for your new metal building.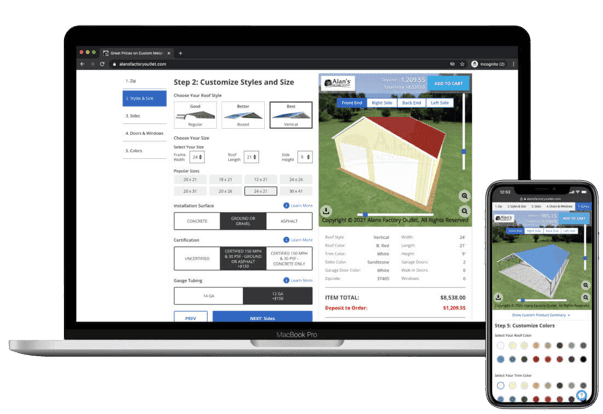 Price and Buy Online with Our 3D Builder Plus Free Shipping and Installation!
Select a size to meet your needs
Choose roof, side, and trim colors
Add garage doors, windows, and walk-in doors
Customize additional options
Customize Now