Great lighting can make or break your garage looks and function, and there are a number of garage lighting ideas to choose from.
Different light fixtures and bulbs are designed for different benefits, so you may want a few different garage lights to meet all of your needs. Explore the types of garage fixtures available and bulb types to inspire your garage design.
Shop Lights
The classic single-bar fluorescent shop light is an affordable and easy-to-install favorite for garages everywhere. They typically hang from the ceiling, but flush mount lights are also available.
Shop light fixtures are made for LED and fluorescent bulbs, so you can choose which works best for your shop projects. They're a good choice for decent light spread and life span.
Pros:
Inexpensive
Easy to install
Several bulb options
Cons:
Negative impact on vertical space
Increased eye strain
Unattractive
Flush Mount Ceiling Lights
Flush mount lights install directly against your garage ceiling for a polished finish that doesn't take up valuable workspace. These lights are unobtrusive fixtures for tight spaces that come in a variety of styles and bulbs so you can choose what works best for your shop.
Pros:
Space-saving
Versatile
Several bulb options
Cons:
Mixed light spread
Varied light intensity
LED High Bay Lights
High bay lights are designed to provide bright, even light spread from ceilings 20 feet and higher. These fixtures can support LED, fluorescent, and other light bulbs, and use precise angles and reflectors to efficiently spread light from tall heights.
They're not a fit for every residential garage, but are a good option for pole barns and auto shops with tall hydraulic lifts. Low bay lights offer similar benefits for shorter ceilings in the 12–20-foot range.
Pros:
Energy-efficient
Long-lasting and durable
Great for large and tall spaces
Cons:
High wattage
Inefficient for detailed work
Recessed Lights
Recessed fixtures install into a ceiling or wall so that the fixture is hidden and doesn't stick out. These lights are great for a sleek look and don't take up any room space, but the light spread isn't ideal.
Recessed lights have a narrow focus and aren't usually very bright. So while they look great if you're just enjoying time in the garage, they're not very helpful for detailed work, so you'll want to supplement them with other lights.
Pros:
Space-saving
Modern and polished look
Cons:
Low light spread
Complicated installation
Wraparound Lights
Wraparound lights are another space-saving solution that install level with the ceiling for maximum vertical space. The main feature difference is its wraparound shade that permits light to shine in multiple directions for better visibility and light spread.
Wraparound lights are easy to find in most home improvement stores and are relatively inexpensive, and the improved light performance is ideal for garage work.
Pros:
Space-saving
Good light spread
Cons:
Natural Light
Natural light won't help you work after dark, but it is great for your eye health and easy on your wallet. A large skylight or garage door windows can flood your space with soft sunlight that allows you to see the details of your project without harsh artificial light.
Natural light is a nice touch for your garage design, too. Choose light-colored walls and ceilings to reflect light and improve visibility throughout your garage.
Pros:
Inviting garage design
Reduced eye strain
Cons:
Inconsistent light depending on time and weather
Workbench Lights
Workbench lights are mounted near a workspace to provide direct light for detailed work at your shop bench. They come in a number of styles, watts, and bulbs, including clamp mount fixtures, under-cabinet flush lights, or wall-mounted fixtures.
They're extremely versatile to meet different individual needs for your space, though they won't light your whole garage.
Pros:
Versatile designs for different needs
Easy to install and adjust
Focused light spread for detail work
Cons:
Motion Sensing Lights
Modern lights of all designs offer many high-tech benefits like motion sensors. Motion-activated sensors are common for security floodlights outside your garage, but interior ceiling-mounted lights can also come equipped with sensors.
These are ideal for security and convenience, since any movement will activate the lights. If you're often working in the dark or moving large loads in and out of your shop, hands-free lighting is hard to beat.
Pros:
Convenient
Improved security
Versatile designs
Cons:
Increased energy costs in high-traffic areas
Inconsistent lighting without motion
Work Lights
Work lights are mobile fixtures that often come with a telescoping stand and can pivot to direct light where it's needed most. They're usually wired and include a hook or handle so they can fit on a stand, hang from a workbench, or just sit by themselves.
They're super adaptable and are available in cool-to-the-touch LEDs as well as traditional tungsten and halogen bulbs.
Pros:
Adaptable design
Inexpensive
Mobile and easy to store
Cons:
Limited light spread
High heat with non-LED lights
Best Bulbs for Your Garage
Garage light fixtures come with various design and benefit choices, including adaptations for different light bulbs. Each type of bulb's lifespan, intensity, and color are different, so read more below to choose between long-lasting LEDs or bright and efficient fluorescents.
LED Garage Lighting
LEDs are available everywhere and are growing in popularity for their high efficiency and extremely bright light. They're extremely energy-efficient, with life spans exceeding 25 years.
They stay cool to the touch and can produce a variety of colors in different intensities, so there's an LED bulb for nearly any interior or exterior need.
Fluorescent Lights
Fluorescent lights are exceptionally bright, which made them a go-to commercial light for decades. Most people recognize these tube lights from grocery stores, hospitals, and schools.
They're more energy-efficient than incandescent or halogen bulbs, and more affordable than LEDs, so they're also popular in residential garages. Fluorescent lights do have a reputation for being harsh, so they're not for everyone.
Halogen Lights
Halogen bulbs have pretty short life spans compared to other popular bulbs, but their bright daylight color and dimmable design remains popular. The biggest drawback is that they produce a lot of heat, which can become a fire hazard or personal safety concern in tight spaces.
Incandescent Lights
Incandescent bulbs are commonly used in interior lighting because they produce a warm, gentle glow. They're not as long-lasting or energy-efficient as other bulbs, but they are affordable and compatible with many fixtures.
They're not super bright and only last about a year, so they're not the best fit for many garage applications. But they work well with a lamp or ceiling fixture if you just need a little bit of light.
Enjoy a Custom Garage
A custom garage designed for your work is the dream of any tradesperson or creative. From your ideal ceiling height and roof style to illuminating garage lighting ideas, plan your perfect garage today to see what's possible.
Get an instant price for your new carport or metal garage.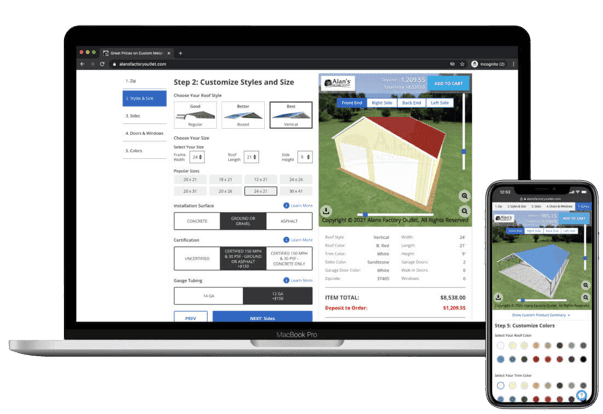 Price and Buy Online with Our 3D Builder Plus Free Shipping and Installation!
Select a size to meet your needs
Choose roof, side, and trim colors
Add garage doors, windows, and walk-in doors
Customize additional options
Customize Now