Alan's Factory Outlet does not offer financing—but here are several ways you can finance your carport, garage, or metal building.
We don't get any commission from the lenders we list here. We just suggest some of the best options we know of to help you out.
Holding Your Order with a Deposit
Even if you don't have your financing worked out yet, you can hold your order by paying a refundable deposit. This allows you to lock in your final price while you apply for financing. This is a good way to protect yourself from possible price increases due to inflation and the rising prices of steel.
The deposit is 10-17% of the total, and can be paid with a credit card. You can cancel your order for any reason and get your full deposit back.
Carport Financing
If you know you'll be able to pay off the total in less than two years, a zero-interest credit card is simple, low-cost financing option. Some cards don't charge interest for up to 21 months. Be sure to check the terms carefully, and make sure that your credit limit will be large enough to cover the necessary expenses.
If this sounds like a good option, just do a web search for "21-month no interest cards" to see what you might qualify for.
If you need more time to repay, consider the options in the next section.
Metal Garage Financing
For a larger purchase that will take two years or more to pay off, there are several options.
Personal Loan
The easiest way to finance a garage is with a personal loan.
If you are looking for a great rate, you should consider the LightStream Home Improvement Loan. You can see their best rates on their website without entering any personal information.
LightStream offers loans from $5,000 to $100,000, with repayment terms of 2 to 12 years.
Pros:
Good rates if you have a good credit score
No origination, prepayment, or late fees
Loans funded in a couple days
Available in all 50 states
Cons:
Limited customer service
They do a hard-pull on your credit
You can't change your payment date
Visit the LightStream website for details.
Home Equity Line of Credit
If you want a better interest rate, or you also plan to do other home improvement projects in the future, a home equity line of credit (HELOC) is usually a good option.
Often a good place to get a HELOC is with your bank or credit union.
If you want to get a HELOC online, Figure is a popular online lender that has a fairly quick and easy application process.
Pros:
No appraisal required
Faster funding than most HELOCs
No annual fee, prepayment penalty, or early closure fee
Cons:
Minimum loan amount of $15,000
Origination fee of up to 5%
Not available in Iowa, Kentucky, Maryland, South Carolina, Texas, Wester Virginia
Visit the Figure website for details.
Cash-Out Refinance
If you have a high interest rate on your mortgage, a cash-out refinance could provide the funds you need for your garage and lower your interest rate. You might even be able to lower your mortgage payments. Remember that you'll have to pay closing fees though, which can be expensive.
Metal Building Financing
For a large purchase, like a metal building, you may want a traditional mortgage.
New Century Bank specializes in mortgages for steel frame buildings, so they are a good lender to contact about financing your barn, metal building, or large garage.
It is best to lock in the price for your carport, metal garage, or metal building at Alan's Factory Outlet before you apply for financing, so you'll know the exact amount you need to borrow and won't have to worry about possible price increases.
Price and Design Your Carport or Metal Garage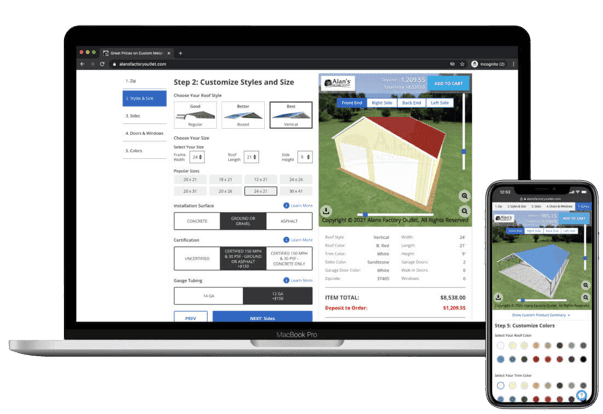 Customize Now