Our metal RV carport shelters are ideal for storing, covering, and protecting your RV, camper, or travel trailer. Use our cost calculator to get an instant price.
A metal RV carport from Alan's Factory Outlet is easy to set up and protects your vehicle from damage caused by An RV is a big investment, so it's important to take good care of it. At Alan's Factory Outlet, we can help you do just that with our high-quality, affordable RV storage solutions. We have a wide selection of metal RV covers for sale that can help you protect your vehicle from the elements, and we can also customize RV carport kits to suit your needs. Whether you choose to take advantage of our free installation or do it yourself, you'll get a sturdy trailer cover that you'll be able to count on for years to come. Order online today and you'll see how simple and affordable it can be to create a safe parking spot for your RV with our motor home and trailer storage structures!
An RV carport with a vertical-style roof, an optional 3-foot panel on both sides, and an enclosed back end protects this mobile home. We strongly recommend a vertical-style roof for any shelter that is 40 feet long or longer.
Price and Design Your RV Carport
Customize Now
Create and Price Your RV Carport
Designing and buying covered RV storage is simple when you use our 3D carport builder tool: Just pick out the options you want and you'll see your new trailer cover take shape. The tool also estimates the price as you go. We offer a wide range of customization options for our motor home and camper covers, so you can buy an RV carport that's exactly what you're looking for. Choose the size, pick a color, and add any extras that you want, like partially or fully enclosed sides.
You'll also be able to choose from three metal carport roof styles: regular, boxed eave, or vertical. We recommend the vertical style for larger carports, especially those longer than 41 feet, since the sheeting on this style allows snow to slide off easily.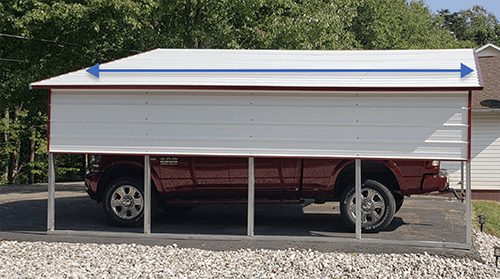 Avoid Buyer's Remorse!
Get a free buyer's guide to help you plan the perfect carport for your needs.
Find out:
How to save a lot of money
If a metal carport is right for you
How to choose the right size
What you need to know about foundations
And much more...
How Big Should Camper Covers Be?
Covered RV storage usually needs to have at least 14 feet of clearance and should be at least 12 to 16 feet long. The most popular sizes for our motor home covers are 12 by 35 feet, 18 by 35 feet, 12 by 40 feet, and 18 by 40 feet, but we strongly recommend measuring your RV before you buy an RV carport: The right choice for you will depend on the dimensions of your RV.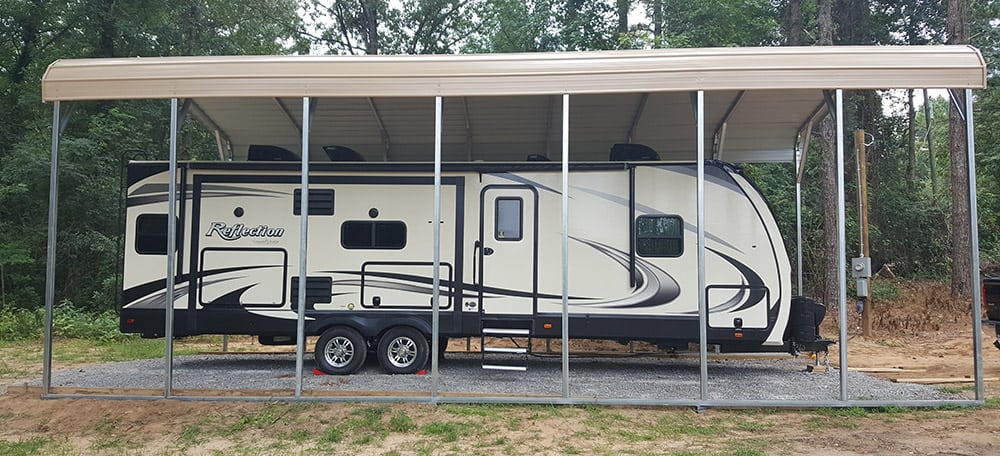 What Does it Cost to Build a Metal RV Carport?
Metal RV storage buildings in our inventory start between $1,794 and $9,234, depending on the size of the travel trailer storage structure and its roof style. No matter which style or size of RV roof cover you choose, you'll find that it's surprisingly cheap for such a high-quality product. We work hard to keep our motor home covers affordable!
How Much Is RV Shelter Delivery?
We'll deliver your steel RV carport and install it for free in these states:
Buy a High-Quality RV Carport at a Low Price
How do you know that you can feel confident about the quality of our camper storage products?
We'll anchor your metal RV cover to the ground, asphalt, or concrete at no charge.
There's a 20-year rust-through warranty on the metal framing of camper covers with optional 12-gauge tubing.
Mobile home anchors can be used if you choose to buy certified metal carports for campers that are rated for 140 mph winds and a 30 psf snow load.
Each camper carport comes with a one-year workmanship warranty from the date of installation.
Regular Roof System Center Brace Clearance & Peak Height
| Width | Center Brace Clearance | Peak Height |
| --- | --- | --- |
| 12′ | 2′ 3″ | 2′ 9″ |
| 18′ | 2′ 9″ | 3′ 3″ |
| 20′ | 2′ 8″ | 3′ 4″ |
| 22′ | 2′ 8″ | 3′ 6″ |
| 24′ | 3′ 1″ | 3′ 11″ |
| 26′ | 2′ 5″ | 4′ 6″ |
| 28′ | 2′ 4″ | 4′ 6″ |
| 30′ | 2′ 4″ | 4′ 9″ |
Example 2: Boxed-Eave or Vertical Roof
The boxed-eave and vertical-style carports both have A-frame gable roofs, and both styles feature the same headroom clearance. The styles do differ in other ways; the vertical-style carport roof has sheeting that goes up and down while the boxed-eave style has sheeting that runs the length of the carport. Vertical roof styles have the advantage of having rain and snow slide off them easily. So let's say you are looking to buy a 12'x36′ boxed-eave or vertical-roof carport with 12′ legs to store your RV. With the 12′ legs, the headroom clearance in the middle of the carport is 1'7″ taller, for a total height of 13'7″. The top peak at the top of the truss is also 2'2″ taller, for a total height of 14'2″.
Boxed-Eave and Vertical Roof System Center Brace Clearance and Peak Height
| Width | Center Brace Clearance | Peak Height |
| --- | --- | --- |
| 12′ | 1′ 7″ | 2′ 2″ |
| 18′ | 2′ 8″ | 3′ 2″ |
| 20′ | 2′ 6″ | 3′ 4″ |
| 22′ | 2′ 5″ | 3′ 6″ |
| 24′ | 2′ 7″ | 3′ 8″ |
| 26′ | 1′ 3″ | 3′ 9″ |
| 28′ | 1′ 2″ | 3′ 11″ |
| 30′ | 1′ 2″ | 4′ |
But despite the high quality of our outdoor storage structures, we always work hard to keep our prices as low as possible. When you need covered RV storage near you, there's no better choice than Alan's Factory Outlet. Place your order today!
Updated by Alan Bernau Jr.