Alan's Factory Outlet is a leading seller of custom metal carports in Southern Illinois. Our 3D Carport Builder allows you to design your own carport, and instantly see how much it will cost.
How Much Does a Metal Carport Cost?
The price of a metal carport starts at around $1,800. Use our 3D Carport Builder to get instant pricing for your own custom carport.
Carport Sizes
Here are some popular carport sizes we sell (click for details and pricing):
Do You Install Metal Carports Near Me?
We install metal carports in the southern half of Illinois.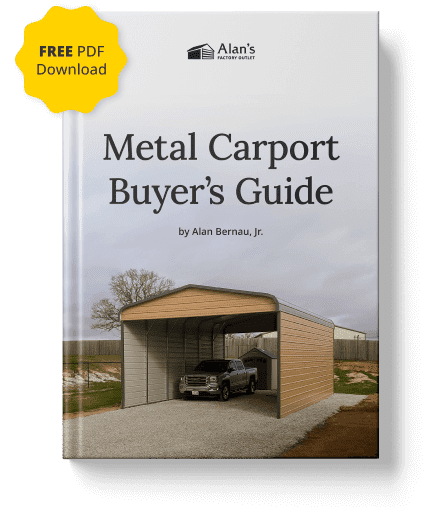 Avoid Buyer's Remorse!
Get a free buyer's guide to help you plan the perfect carport for your needs.
Find out:
How to save a lot of money
If a metal carport is right for you
How to choose the right size
What you need to know about foundations
And much more...
75,000 Satisfied Customers and Counting
"I compared your metal carport to others and no one comes close in price or quality. Completely satisfied customer. Thank you very much."

Carl C.
"top notch company great experience wonderful people to work with Thank You Alan`s Mike"

mike P., Illinois, January 2019
"The carport that I ordered was installed well within the delivery time that was advertised. The quality is great and the installation crew were professional, polite, and cleaned up everything when they were finished. I am very happy with this carport and have already received compliments from the neighbors. Thank you for a great product at a reasonable price. Regards, Bruce in Illinois"

Bruce, Illinois, December 2018, 24×35 Regular Style Carport
"I needed a place to store my boat to get it out of the sun and weather. This carport fit the bill nicely. It is sturdy and of good quality."

Matthew T., Illinois, September 2018, 20×30 Regular Style Carport
"I was very satisfied, it was every thing I thought it would be. You have a good crew doing the set up, they were on time, friendly, and did good work."

Lawrence Q., Illinois, May 2018
"Was installed before 60 days! The installation crew were absolutely pure business and very friendly. They cleaned up like they had never been here. Highly recommend Alan's Factory Outlet if you need a carport."

Robert D., Illinois, March 2018
See our estimated delivery times to see how long delivery might take in your area.
"These guys are fast, they got there and BOOM they were done and it looks great"

Ruth M., Illinois, December 2017
"Process was quick and painless. Installers were on time and did an excellent job. Works well with my enclosed trailer."

Michael S., Illinois, October 2017
"Generally straight-forward process….even for a computer-challenged old man!!! After set-up, realized that the height I selected was slightly too tall, but if I ever get a larger/taller camper, I'll be all set!!! Installation crew were polite and courteous,and VERY quick and thorough with the set-up and assembly. I had the site prepared before they arrived (leveled and measured), so total time from arrival to drive-away was 3 hours, and that included me going and getting Taco Bell for the guys!!(They paid for their own dinners…) I like the carport I bought, and would recommend Alan's to everybody looking for carport-style RV semi-enclosed protection from the elements."

Willie, Illinois, September 2017
"Love the carport. Have not had to scrape my windshield once. The crew that put it up were fantastic. They did it quickly. They cleaned up when they were done. Very happy with Alans."

Steve W., Illinois, January 2017
"Operator's were very friendly and helpful with all my questions, and very quick in responding. The installers we very polite and fast . They put my 18 x 26 carport up in about 1hour and 20 minutes , I couldn't believe they were done so quickly. They were about 3 hours early which worked out better for me. The whole process from ordering the car port to getting it installed was 2nd to none .. Thank's all of you at Alan"s for doing such a great job. I would defiantly buy again and Refer people to Alans."

ALEX L., Illinois, December 2016
"Very easy website to navigate. The installers were very professional and did a great job"

Jonathan M., Illinois, August 2016
About Alan's Factory Outlet
Alan's Factory Outlet is owned and operated by Alan Bernau Jr and wife Julie Bernau. When you buy a carport from Alan's you are supporting a small, family-run business, and you get the excellent customer service you expect from a family-operated business.
The steel carports are available in many different sizes and styles with many different heights to meet your needs.
Carports give your car, truck, boat, RV, farm equipment and other valuables the perfect protection from the rain, hail, ice, snow, wind and sun.
Alan's Factory Outlet steel carports in IL are available in many different sizes starting in a single carport or single garage at 12×21 with other widths of 18′, 20′, 22′ and 24′ Wide. The next longer size in length after 21′ is 26′, 31′, 36′, 41′ and we can even make the metal carports and metal garages longer in 5′ increments to the length that best suits you.
Looking for a metal building wider than 24′ we've got you covered there also with our triple wide carports which come in 26′, 28′ and 30′ Wide.
The metal carports are also constructed as metal barn lean to buildings which are 36′, 42′, 44′, 46′ and 48′ wide with the lengths starting at 21′ long and available in 5′ increments longer to the size you need.
The Illinois carports are delivered in southern IL.
Metal Carports Illinois
Triple Wide Carports Illinois
Metal Barn Lean To Illinois Carports
RV Carports in IL
32 to 40 wide steel carports in Illinois


Metal Carports and Garages come in 3 different styles:
A Frequently Asked Question: What is the difference between the Boxed Eave and the Vertical Roof Style? On the Boxed Eave Roof the sheeting on the roof goes length wise and on the Vertical the sheeting is side to side or you could say up and down which helps snow slide off of your roof.