If you have a big storage problem, steel buildings are the perfect solution. Steel is a high-quality, fire-resistant metal, making it a great option for building durable garages and storage structures. Best of all, prefab steel buildings costs around $10 to $20 per square foot.
The lowest-priced option, an open-sided carport, has a base price of $6,795 for a 32×20 structure. That said, the price of large metal buildings will vary depending on the size, style, and customizations you choose.
In this article, we'll guide you through costs of different building sizes that affect steel building prices. You'll also learn about what factors impact the overall price, helping you choose the best steel building within your budget.
Start With a Popular Configuration
Select one of our featured configurations to preload doors, window, and other options shown in the images below.
Prices by Building Size
While some factors aren't in our control, such as material or fuel costs, we work hard to keep our prefab metal building kits affordable.
Prices listed below are for open-sided steel carports with 8-foot legs delivered to Alabama, Arkansas, Florida, Georgia, Illinois, Indiana, Kentucky, Kansas, Louisiana, Maryland, Missouri, Mississippi, North Carolina, Ohio, Oklahoma, Pennsylvania, South Carolina, Tennessee, Texas, Virginia, and West Virginia.
*Additional cost to fully enclose and add garage doors, walk-in doors, and windows.
Free colored screws on orders over $10,000
10% off orders over $10,000, 15% off orders over $15,000 and 20% off orders over $20,000. Limited time, restrictions may apply.
3% Freight Fee on orders over $60,000.
| | 40' wide | 50' wide | 60' wide |
| --- | --- | --- | --- |
| 20' long | $8,795 | $11,495 | $14,995 |
| 24' long | $9,995 | $12,795 | $16,295 |
| 28' long | $11,295 | $14,195 | $17,595 |
| 32' long | $12,495 | $15,495 | $18,995 |
| 36' long | $13,795 | $16,795 | $20,295 |
| 40' long | $15,095 | $18,095 | $21,595 |
| 44' long | $16,295 | $19,395 | $22,895 |
| 48' long | $17,595 | $20,795 | $24,195 |
| 52' long | $18,795 | $22,095 | $25,595 |
| 80' long | $30,190 | $36,190 | $43,190 |
| 100' long | — | $42,890 | $49,790 |
| 120' long | — | — | $73,180 |
| 200' long | — | — | $99,580 |
| 300' long | — | — | $149,370 |
Open-Sided and Enclosed Steel Building Prices

Please see a complete list of options, accessories and pricing in the attached PDF
Additional Cost Considerations
Let's walk through a few factors and details that affect steel building prices to get a better estimate of how much your custom structure will cost.
Location
The geographic location of your steel building can play a role in the price. Depending on your state or region, your building may require specific roof styles and insulation to suit the weather and wind conditions.
Customizations
Functional features like windows and insulation are common additions that contribute to the overall cost. Custom features, such as garage door openers, are more expensive additions. However, these can be a good return on investment, since they add value to your property.
Construction / Installation
The complexity of construction and labor also factor into steel building prices, which can account for about 20% to 40% of the total cost. This includes erecting, installing, and delivery. If you want to save on labor costs, you can get a metal building kit or take advantage of the free installation and delivery we offer for all of our metal buildings.
Building Permits
Adding any type of building to your property most likely requires a construction permit, which should be factored into the overall cost. Depending on your city's building codes, you may only need an inspection permit for small garages and sheds.
Steel Building Price Estimator
When searching for a large steel building at an affordable price, we've got you covered. Using our dual 3D builder and price estimator, you can custom design your new metal garage, carport, or storage building and stay within your budget. Best of all, when you order from us online, you'll receive free delivery and installation.
Shop with Alan's Factory Outlet today and see how easy it is to buy the perfect large metal building for your property. We have some of the best steel building prices you can find.
Get an instant price for your new metal building.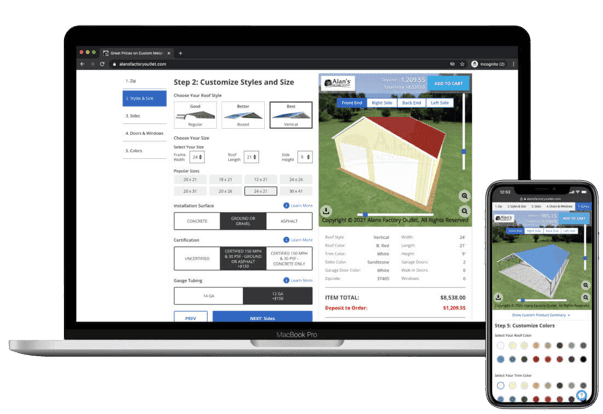 Price and Buy Online with Our 3D Builder Plus Free Shipping and Installation!
Select a size to meet your needs
Choose roof, side, and trim colors
Add garage doors, windows, and walk-in doors
Customize additional options
Customize Now
Upon ordering, a 17% deposit is due via credit card, with half of the balance due when the structure is scheduled for delivery. This payment structure helps keep our metal building prices low.