Alan's Factory Outlet is the #1 seller of custom, prefabricated metal garages in Alabama. Our 3D Metal Building Designer allows you to quickly design your own metal building, pole barn, storage building, or metal garage, and instantly see how much it will cost.
Sizes
We sell buildings up to 60 feet wide and 300 feet long. Here are some popular sizes of steel buildings we sell (click for details and pricing):
If you plan to get a metal garage, our Ultimate Garage Buyer's Guide will show you how to calculate the perfect size of garage for your needs.
Pricing: How Much Does a Metal Building Cost in Alabama?
Use our 3D Building Designer to get instant pricing for your custom metal building or garage.
Avoid Buyer's Remorse!
Get a free buyer's guide to help you plan the perfect garage for your needs.
Find out:
How to save a lot of money
If a metal garage is right for you
How to choose the right size
What you need to know about foundations
And much more...
More than 75,000 Satisfied Customers
"Perfect building for what ever your needs. I'm going to use mine for a small shop and storage. Wish I would have gotten a wider garage door."

Dale C., Alabama, May 2020, 18×20 Regular Style Metal Garage
"Great Product! Fast Installation! Hassle Free Ordering! Easy Customization! Love my new building!

"I am really happy with my metal Building from Alan's Factory Outlet. After shopping around I found that Alan's had the best product for the best price. The build your own building program on the website was easy to navigate. After purchase I was contacted by the Alan's team to verify the details. They were courteous and very helpful, they wanted to ensure the details were right. Once delivery was set up the building was fully erected in about 12 hours. I love my new building"

Michael, Alabama, December 2019, 24×35 Vertical Roof Metal Garage
"I have discussed the professionalism that every employee I had contact with was exceptional. I like the fact that the person handling my purchase was excellent on follow-up emails, phone calls, etc. I did a lot of shopping around and found your prices to be the most competitive.

"The installers were very professional and courteous while erecting the building. I have had several of the neighbors come over and 'inspect' the workmanship and quality of materials, and asked about pricing.

"I would recommend your company to anyone and everyone. the time it took to receive the building is my only 'complaint' that I have, it took almost 90 days, and I do understand, the way the company works out details for installs is cost effective for them.

"I would like to thank you for ensuring my building was exactly what I wanted, I went back and forth several times during the design phase to ensure correctness.

"Thank you……"

Roger T., Alabama, February 2017
See our estimated delivery times to see how long delivery might take in your area.
Do You Install Metal Buildings Near Me?
Yes! We install metal buildings in all parts of Alabama.
The cities we deliver and install in include Alabaster, Albertville, Anniston, Athens, Auburn, Bessemer, Birmingham, Cullman, Daphne, Decatur, Dothan, Enterprise, Fairhope, Florence, Foley, Gadsden, Helena, Homewood, Hoover, Huntsville, Madison, Millbrook, Mobile, Montgomery, Mountain Brook, Northport, Opelika, Oxford, Pelham, Phenix City, Prattville, Prichard, Selma, Tillmans Corner, Troy, Trussville, Tuscaloosa, Vestavia Hills, and more.
Price and Design Your Metal Building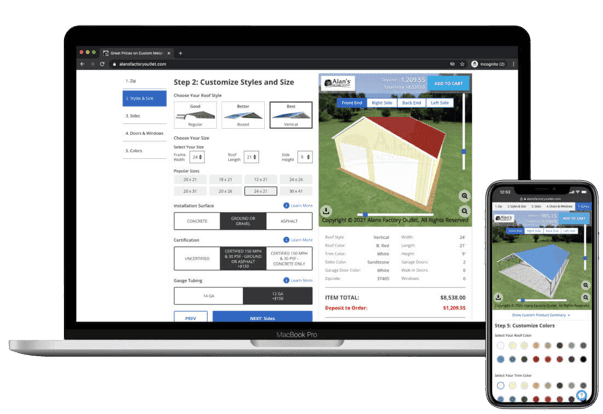 Customize Now
Alan's Factory Outlet
Whether you're living in Birmingham, Montgomery, Bessemer, Dothan, Wetumpka, Clanton, Tuscaloosa, Mobile, Foley, Dothan, Huntsville, or elsewhere in this great state, there are many advantages to having a metal building that provides extra storage on your property. The outdoor lifestyle that many Alabama residents enjoy often comes with sporting equipment, yard tools, and other valuables that need protection from the elements in steel buildings. North Alabama farms are also popular places to use these sturdy storage structures, which are great for protecting tractors and other equipment. No matter what your needs may be, our metal buildings for sale in Alabama deliver.
Whether your home does not have an existing garage or you need more room for storage, with our portable storage buildings, Alabama residents can get a cost-effective way to add space. When they buy our portable buildings, Alabama homeowners also often find that it increases the value of the property. And better yet, these customizable structures always come with free delivery and installation. Place an order with us and you'll soon see why we are one of the most trusted garage-builders in Alabama!
Buying Custom Metal Garages
In Alabama, we offer several sizes and styles of steel buildings North Alabama residents and people all over the state can use for a variety of purposes. When selecting a metal building, Alabama property owners should make sure to look at all of our different options for metal garages, as customers can choose from a wide range of sizes, styles, and colors.
When you purchase a prefabricated metal building from Alan's Factory Outlet, you'll be able to choose from 16 different colors and select the size that best meets your needs. Our Alabama metal buildings can be:
12, 18, 20, 22, or 24 feet wide
21, 26, 31, 36, 41, 46, or 51 feet long
We also offer three roof styles for our metal garages. Alabama homeowners can choose a regular or boxed-eave roof for their structure, but many customers choose the vertical roof option, which allows rain (or even snow, should there be any) to slide off more easily. In addition, you can choose features like walk-in doors, garage doors, and windows, and you'll be able to dictate where they're placed on the structure.
For instance, this vertical-style metal garage is 24 by 41 feet and has three 9-by-8-foot garage doors on the side, a single door, and three windows. This building also has optional vertical sheeting on the sides and ends, which is an option for metal garages in AL. This building has a pewter gray roof and sides with white trim.
When it comes to customizing a metal building, Alabama residents have lots of opportunities to create something perfect for their property. And with these portable storage buildings, Alabama homeowners also can choose whether they want their new garage anchored to the ground or to a concrete pad.
Alabama Metal Buildings on a Firm Footing
One of the reasons we're among the most trusted makers of portable buildings Alabama has to offer is because of our knowledge of construction. From Huntsville to Foley, you can trust us to answer your questions about foundation requirements, helping you to create a solid space for your new steel garage.
One important thing to remember is that the ground must be level prior to installing a metal garage. If you choose to use gravel instead of cement, you will need to make the gravel pad 2 feet wider and longer than the base of the garage. It is possible to place a prefab metal garage directly on the dirt or grass, but this is not as stable.
Fast Delivery in Alabama
At Alan's Factory Outlet, we offer free delivery and installation with every order of metal garages in Alabama, so you can save even more money on your order and enjoy hassle-free setup. For fast, free shipping and setup of metal buildings, Alabama residents can count on us. Place your order today and you'll see why we're the top choice for steel buildings in Alabama!
Beyond Alabama, Other Popular Locations We Serve
Popular cities we deliver to include:
Price and Design Your Metal Building or Garage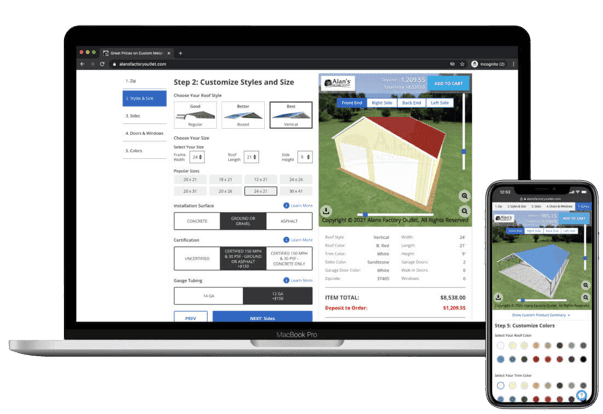 Customize Now