An Alan's Factory Outlet 20×40 vertical-roof metal garage is 20′ wide by 40′ long and has 800 square feet of fully enclosed storage space. It includes 9′ legs as the standard, but you are given the option of making them taller for an additional cost.
Each 20×40 garage is constructed using 2 1/2″ by 2 1/2″ 14-gauge square tubing for sturdy and reliable framing. Customers may also upgrade to 2 1/4″ by 2 1/4″ 12-gauge tubing that comes with a 20-year rust-through warranty.
Our free anchoring process for each 20 x 40 vertical-roof metal garage uses rebar and mobile home anchors to secure it to the ground, rebar to secure it to asphalt, or concrete anchor bolts to secure it to concrete. This installation process, when combined with our tight screw pattern used in our 20×40 steel building construction, certifies it for 140 mph winds and 35 psf.
In order to install the 20×40 vertical-style metal garage, its flooring must be level or within 3″ of it.
All of our 20 by 40 steel buildings are custom-built to accommodate the options, style, and size you choose. Customers may select from a wide variety of options to create the garage they need. These options include taller legs for increased height, garage and walk-in doors, windows, and more. You can even choose from 16 different colors for the sides, roof, and trim of your new garage.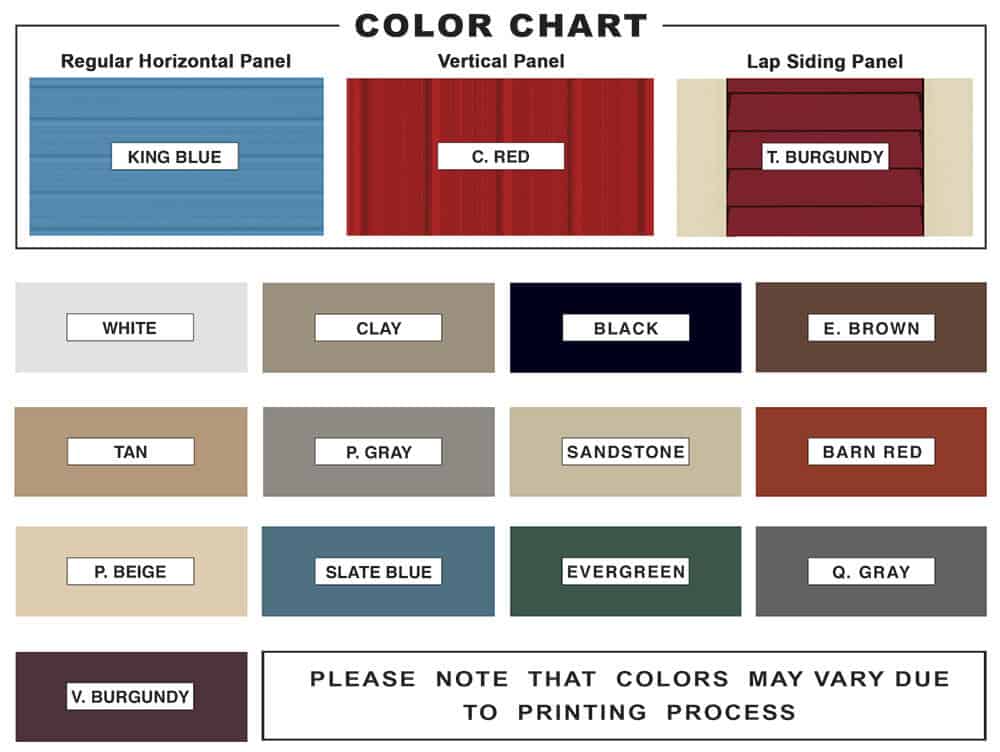 The color selection is an approximate representation, and choices may vary.
Every 20×40 steel garage order also comes with both free delivery and installation in Alabama, Arkansas, Georgia, Indiana, Kentucky, Kansas, Louisiana, Maryland, Missouri, Mississippi, North Carolina, Ohio, Oklahoma, Pennsylvania, South Carolina, Tennessee, Texas, Virginia, and West Virginia. Delivery may be restricted in certain regions.
When you place your order for a 20×40 vertical-style metal garage, you'll only be responsible for a deposit of 10% to 17% of its total cost. The remaining balance for your order won't be due until the metal building has been delivered and installed. You may make your payment either with a credit card or a check. We will also email you a copy of the order once it's been submitted for you to review prior to delivery.
*Prices of metal garages are subject to change without notice.
In addition to a copy of your 20 x 40 metal garage order, blueprint drawings of your garage are also available via email upon request for those who need to obtain building permits. These blueprints will take 3 to 4 business days to be delivered once your request has been filed.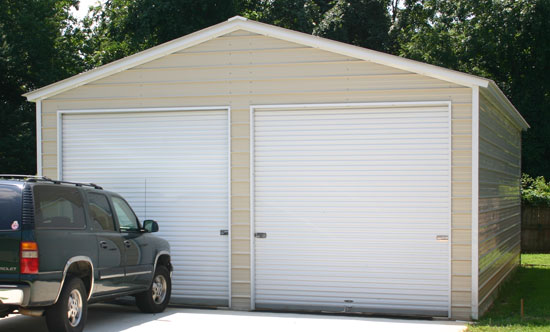 This metal garage was built using two optional garage doors.
The vertical roof style is specifically designed to make it easier for snow and rain to slide off in order to prevent any buildup.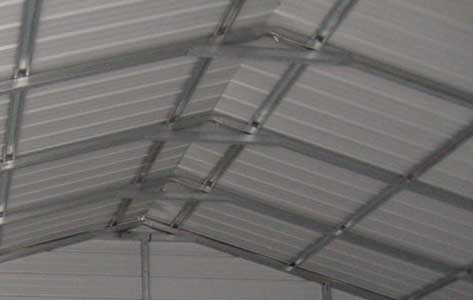 We use metal cross bracing to install your garage's vertical roof, which makes it the most durable metal building style we offer.
Customize and order your brand new 20×40 vertical-roof metal garage online now, or feel free to give us a call at 1-800-488-6903.