Get your custom garage and get our best prices plus Free Shipping and Installation!
Metal Garage Kits for Less
You can save thousands on a metal garage kit from Alan's. Our factory-direct prices are hard to beat, and we offer free installation if you want to avoid the risk, effort, and cost required to build your own garage.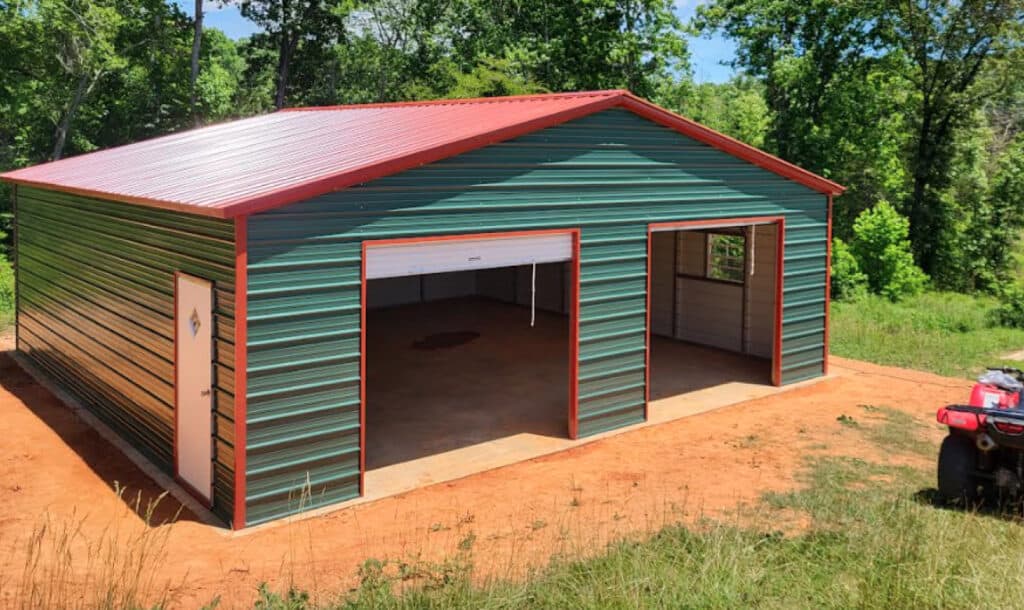 4.8 Stars from Over 17,800+ Customers
Based on more than 17,865 unfiltered reviews on Shopper Approved, an independent website.
The website is fantastic for allowing you to choose what you want and model the product. No pressure from a salesperson and plenty of upgrade options.
The 3D builder makes the shopping experience so easy.
very easy to use web site and extremely helpful. I could not believe how helpful the staff is as well.
The website works good very easy to build and order and Alan always has the best price, everyone loves free delivery and installation so what's not to like.
Karen and Rachel answered all the questions I had before I placed my order, they helped make the process so much easier and I really appreciate that!
well designed site. very easy to customize and order
Easy to navigate and add the options that you want.
Thank you for your business, this is by far the best experience I have had on ordering a building, thanks again!!
So easy to design and order what I needed. Great quality and nice buildings.
I had a question about height. I called and the lady answered almost immediately. great customer service.
Why Our Metal Garage Kits Cost Less
Many of our competitors pad their prices to cover the high cost of shipping a heavy steel garage kit direct to your house.
We do things differently.
All of our metal garage kits are delivered on cost-saving routes. One truck delivers several buildings in the same general area, saving you thousands of dollars. The crew that delivers your prefab garage kit can also set up your prefab garage kit in a few hours. That means we can charge less and deliver more.
What You Get When You Order from Alan's
Unbeatable Prices
Dozens of Customization Options
Easy Online Ordering
Free Delivery and Installation
When you realize how little you pay for how much you get, buying a metal garage from Alan's is an easy decision.
The Easy Way to Build Your Own Garage
Design your metal garage online
Order online with a small deposit
Get a permit, if required
Get free delivery and installation
Is It Cheaper to Build a Garage or Buy a Kit?
If you have some DIY building experience, you may assume that you could save a lot by building your own garage from scratch.
On the surface this makes sense. Since you're doing all the work yourself, you don't have to pay someone else for their labor.
But if you crunch all the numbers, you'll find out that buying a metal garage kit is cheaper than building a garage all by yourself.
Here's why:
Cost of Materials. Metal garage kits are prefabricated in big factories that get deep wholesale discounts on their materials. If you buy the exact same materials at Lowe's or Home Depot, you have to pay a lot more.
Wasted Materials. If you buy a prefab garage kit, you get exactly what you need. Nothing is wasted. When you build a garage yourself, you have to buy extra materials and cut them to size, which wastes materials and money.
More Expensive Materials. When you build your own garage, you will probably end up framing it with lumber instead of steel, because wood is easier to work with. Using wood will save you some time, but it will drive up the total cost of your project.
So buying a metal garage kit is actually cheaper than building a garage yourself without a kit unless you already have most of the materials you need.
How Much Can You Save by Setting Up Your Garage Kit Yourself?
With metal garage kits, you have two options:
Buy a garage kit that you set up yourself
Buy a garage kit that is installed by a crew
At Alan's all of our prefab garage kits come with free installation. Since you can customize your garage any way you want, each garage is unique, and our metal garage kits don't come with instructions. So installing it yourself isn't an option.
But the funny thing is that almost all of the build-it-yourself garage kits that our competitors sell cost more than our garage kits that come with free installation.
So when you buy elsewhere, you get the privilege of paying extra to build it yourself.
Customize, Preview, and Order Your Metal Building Online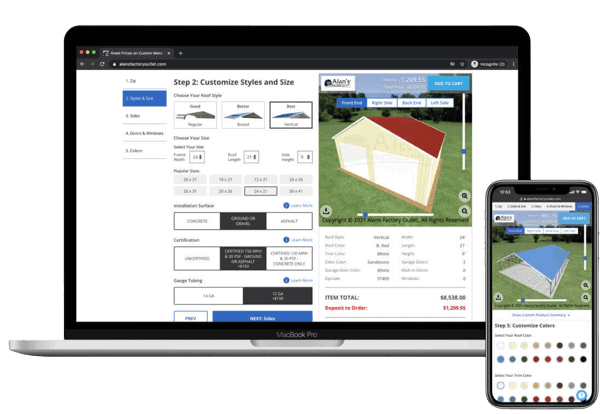 Price and Buy Online with Our 3D Builder, Plus Get Free Shipping and Installation!
Select a size to meet your needs
Choose roof, side, and trim colors
Add garage doors, windows, and walk-in doors
Customize additional options
2-Car Garage Kits
3-Car Garage Kits
Designing Your New Garage
The first thing you'll need to do when you design your own garage is to consider what you want to do with it. Many people store vehicles or lawn equipment in their garage, but plenty of people have an alternative in mind, like creating a home gym to house their fitness equipment. Our one-car garage kits for sale are a great choice for this type of use. Or you might want to create a spacious workshop for yourself with all of your tools organized the way you want. How you want to use your new garage will help you determine how big it needs to be, a key consideration in the design process. If you want to build a garage, shop for kits that meet your size and design needs. We have a wide variety of garage kit packages to choose from.
Not only can you customize your new structure's design, but you can also choose the color scheme of your garage. Shop for kits in a range of colors that can match or complement your house and other storage structures on your property to perfection. You might also like your garage to have the same type of roof design as the other buildings on your property. Our garage building kits for sale let you customize all of these options, so you can create a garage with just the right look.
Do You Need Planning Permission to Build a Garage?
When building a garage, you will generally need a permit. The type of permit will vary by location, so you'll want to check with your local zoning department before starting your project. Many times, the need for a permit depends on the size of the building: Our one-car garage kits for sale may not require a permit in your area, but a two-car garage could require one.
Building a Garage Made to Last
When you order one of our DIY garage kits, you know you'll be getting a structure made of quality materials, so whether it's windy, snowy, or pouring rain outside, you can enjoy peace of mind knowing that your metal garage is designed to withstand those conditions. Your custom garage kit will allow you to build a structure that can hold up against frequent use and harsh weather for years of reliable use.
Customize, Preview, and Order Your Metal Building Online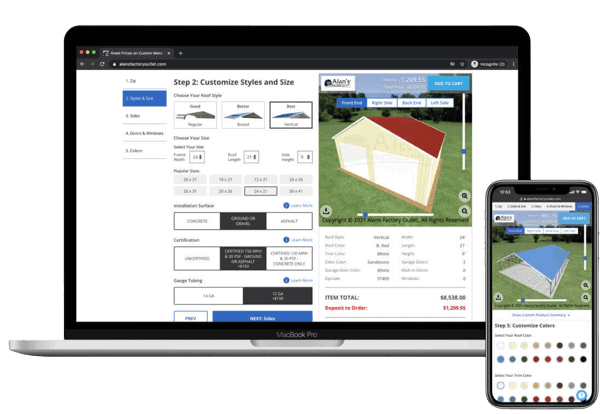 Price and Buy Online with Our 3D Builder, Plus Get Free Shipping and Installation!
Select a size to meet your needs
Choose roof, side, and trim colors
Add garage doors, windows, and walk-in doors
Customize additional options