Get the best possible price on a one-car garage with our factory direct pricing. When you order your garage from Alan's, you get:
Free delivery and installation
Easy online customization and ordering
Money-back guarantee on your deposit
"Best price, best product. Could not be more satisfied. You will not be sorry with any product you buy from this company."

Gregory K., Tennessee
One-Car Garage Size and Dimensions
A typical one-car garage is 12 feet wide and 20 feet deep. This size is large enough to park one normal-sized vehicle. If you have an extra-long pickup truck or an RV, then you'll need to measure your vehicle to determine how deep your garage should be.
If you need to store tools, equipment, and other stuff in your garage along with your car, you should consider getting an 18×20 or an 18×25 garage so you will have extra storage space on the sides and in the back of your garage. Most people find the extra space is well worth the small increase in cost.
One-Car Garage Cost
Here is a quick chart showing the base cost of our most popular one-car garages:
Our one-car garages are cheaper than almost any one-car garage kit you can find, and we offer free delivery and installation. We are able to save you lots of money by delivering your garage on a route with other customers in your area.
Design and Price Your Dream Garage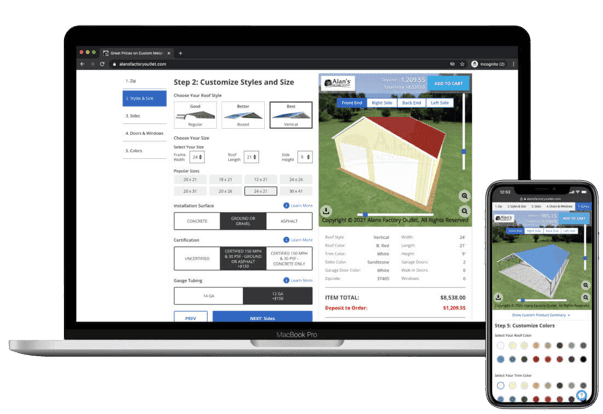 Design and Price Now