We have two different base plans for a 4-car garage. The first is a 4-bay design. The second is a tandem (double-deep parking) design. These detached, prefab metal garages are fully customizable, and either one is a cost-effect way to protect your growing car collection.
4-Bay, 4-Car Garage
Our 4-bay design has four separate garage doors on the side of the garage. This is a good layout if you have plenty of space on your property and want a separate garage door for each vehicle for easy access.
The minimum dimensions for a 4-car garage are 20×40. The garage doors should be placed on the side of the building instead of the front end. The reason for this is architectural: a 20-foot-wide building has a roof that is much smaller and less expensive than the roof of a 40-foot-wide building.
Our 20×40 4-car garages start at about $13,500. Use our online design tool to get the exact price for your location and options.
If you have any larger vehicles or if you want additional storage and workspace in your 4-car garage, I would recommend a floorplan that is at least 24×50. This design has 1200 square feet of space, which is 50% more than a 20×40 garage. You will definitely notice the difference.
Our 24×50 4-car garages start at about $18,000.
4-Car Tandem Garage
If your property is not wide enough for a 4-bay garage, a tandem garage may be right for you. With the tandem design you park one car behind another, so you only need two single garage doors. The disadvantage of this plan is that you need to move the cars parked in the front before you can drive the cars in the back of the garage. However, if you have a driveway behind your garage, you can add garage doors on the back side to create a drive-through design.
If you choose a tandem design, I recommend making it at least 24 feet wide so you will have plenty of space to walk around your largest vehicles. If you also need storage space or a place to work on your cars, you can make your design longer or wider.
A 24×40 tandem garage starts at about $14,000. Use our online design tool to get the exact price for your location and options.
How Much Does a Concrete Slab for a 4-Car Garage Cost?
A concrete slab for a small 4-car garage (20×40) will probably cost $7,500 or more, depending on the local cost of labor and who you hire to pour the foundation.
A slab for the 24×40 tandem garage design will usually cost at least $8,000.
A slab for the roomy 24×50 garage will probably cost at least $10,000.
About Our Metal Garages
Alan's Factory Outlet is a family-run business that provides high-quality, custom steel garages. The garages we sell are prefabricated in the USA and are delivered and installed for free.
Our online design tool allows you to choose from dozens of customization options and immediately see the exact price you need to pay for your garage. If you have a growing car collection that you need to protect, here are a few ideas for you as you design your 4-car garage:
Choose light colors for maximum energy efficiency. Light colors reflect heat and will keep your garage cooler.
Consider adding insulation to the roof or the whole garage. Insulation on the roof will help prevent water from condensing on the bottom side of the metal roof in cool weather. This will help keep your cars dry.
Upgrade to 12-gauge steel tube framing if you live in an area with strong winds, or if you want the 20-year rust-through warranty on the frame.
Price & Design Your Custom Garage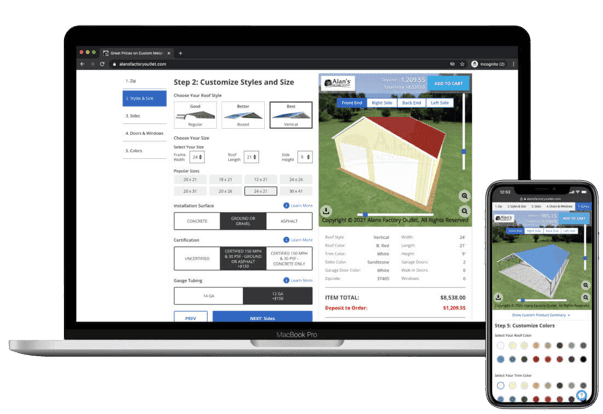 Customize Now