Are you looking to buy a storage building? A 40×60 metal building is a popular size for commercial use, large garages, and warehouses. With 2,400 square feet of space, you have plenty of room for storing equipment, housing multiple vehicles, and even having an on-site workshop. Here's a walkthrough of our 40×60 metal building costs with custom features and price factors to consider.
Start With a Popular Configuration
Select one of our featured configurations to preload doors, window, and other options shown in the images below.
While our 40×60 buildings are 2,400 square feet, the steel frame of a metal pole building is 2.5 inches thick, so the actual floor space is about 2,358 square feet.
Customizable features:
Roof style
Color of roof, trim, siding, and door
Garage doors
Walk-in doors
Windows
Insulation
How Much Does a 40×60 Metal Building Cost?
The base cost of a fully enclosed 40×60 metal building with 8-foot sides is about $35,000. That price includes delivery and installation for our products. Keep in mind that prices may differ where you live, as the cost of materials and labor varies by region.
Custom features, such as walk-in doors, windows, and garage doors, will also factor into the total price.
Construction
You'll also have to consider labor costs to build and install the structure, which is usually an additional $5 to $10 per square foot. You can opt for a prefabricated kit if you prefer to install it yourself and cut costs. Fortunately, if you order a metal building kit from us, all of our products include free delivery and installation.
Foundation
Unless you're designing an agricultural building, such as a horse barn, we recommend that you install your 40×60 metal building on a 41×61 concrete slab, which is 2,501 square feet. A slab should be at least 4 inches thick, but if you plan to store any type of heavy equipment, it should be at least 6 inches thick. Concrete slab costs around $8 per square foot, or about $20,000.
Concrete isn't very expensive, but the cost of labor to have the concrete slab poured can be steep. The cost of labor varies widely from area to area. To get accurate quotes for a concrete foundation, you can check with a local contractor.
Accessories
Features and accessories, such as windows, doors, and roofing styles, will factor into the price. The more accessories you add, the higher the overall cost.
Frequently Asked Questions
Should I insulate my metal building?
That depends on how you will use the building and where you live. If you live in a wet, humid area, insulation can help prevent water condensation from dripping into your metal building. Insulation can also keep the interior building warm during the winter season if you're in a colder climate.
Fortunately, we offer two types of insulation for metal buildings. You can also add your own insulation, such as spray foam, after installation.
Is it cheaper to build or buy a metal building?
Since metal costs less than wood, it is cheaper to build or buy a metal building rather than a wooden one. You can expect the shell of a wood building to cost about twice as much as that of metal. Also, since metal buildings are durable and low-maintenance, they're usually a good return on investment.
Do the buildings come with structural plans?
Yes. Generally, local building departments want to see the building plans before they approve your building permit. After you place an order for your 40×60 metal building, we can send you a copy of the metal building plans.
Customize Your 40×60 Building
From a storage warehouse to a multi-vehicle parking garage, a 40×60 metal building is a great investment for multipurpose use. When you're ready to find the perfect steel structure, you can use our 3D custom builder below to design a metal building size and style to fit your needs and budget.
Get an instant price for your new carport or metal garage.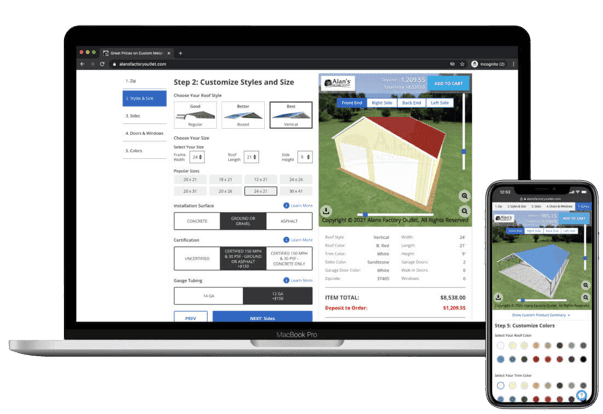 Price and Buy Online with Our 3D Builder Plus Free Shipping and Installation!
Select a size to meet your needs
Choose roof, side, and trim colors
Add garage doors, windows, and walk-in doors
Customize additional options
Customize Now
Alan's Factory Outlet is a family-run business with more than 20 years of experience selling metal buildings, we've serviced over 75,000 satisfied customers. You won't find a more reliable, customer-oriented business to supply your metal building. We also have friendly, supportive staff who you can call at any time for help.