Eagle Carports has Free Delivery and Installation on Carports and Metal Garage Prices in Alabama AL, Arkansas AR, Georgia GA, Illinois IL, Indiana IN, Kentucky KY, Louisiana LA, Mississippi MS, Missouri MO, North Carolina NC, Oklahoma OK, South Carolina SC, Tennessee TN, Texas TX, Virginia VA. The carports and metal buildings come standard certified 35 psf and 140 mph.
*Prices subject to change without notice
We are currently in the process of updating our website to allow online ordering for Eagle Carports Products but until then please call for help pricing and ordering:
Call Alan's Factory Outlet to Price and Order at 1-800-488-6903
12′ to 24′ Wide Carport Prices
12′ to 30′ Wide Metal Garage Package Prices
26′ to 30′ Wide Triple Wide Carports
32′ to 40′ Wide Commercial Grade Carport Prices
Our team is happy to answer any questions you have about our metal building prices, colors, roof styles, and other options. Call now and let us help you fulfill your vision for a new carport or garage on your property.
Eagle Carports Metal Colors
*Colors may vary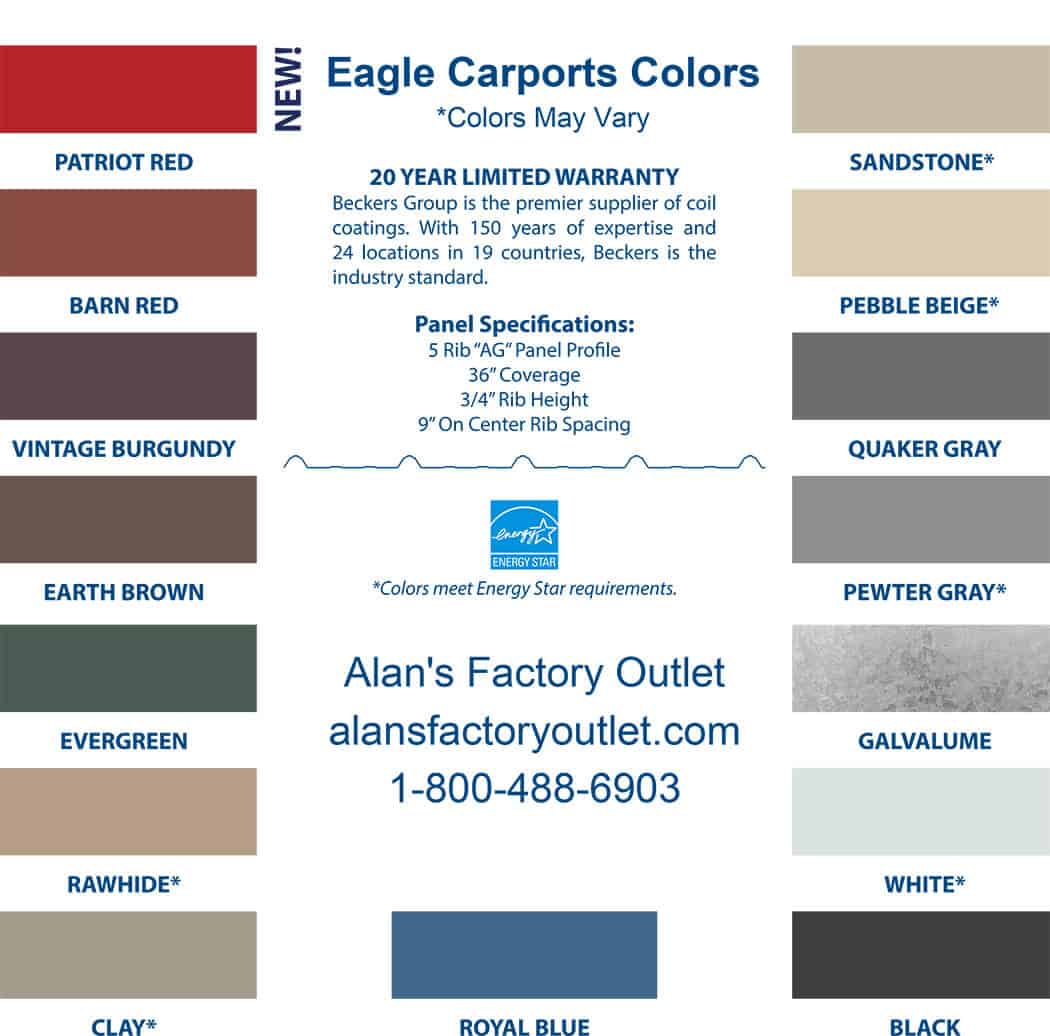 Eagle Carports is one of the largest manufacturers of metal carports in the U.S. They manufacture over 50,000 buildings per year between their 6 manufacturing facilities. With 1000's of different configurations and combinations of sizes, colors and layouts to choice from.
Please keep in mind there are a few states where Eagle Carports only services portions of the state. The states that are not fully serviced are Illinois IL, Indiana IN, Missouri MO and Texas TX.
Eagle Carports Estimated Delivery Time for Carports and Garages
80% of Orders are Delivered within 3 to 4 weeks
15% of Orders are Delivered within 6 to 8 weeks
5% of Orders are Delivered within 8 to 10 weeks
The estimated time frame is for New Orders with Eagle Carports Inc and it is not a guarantee but simply forecasted based on current trends. Additionally, during winter months there is a greater chance of exceeding the above delivery times due to common winter storms in many locations.