Some portable metal buildings come with a huge risk: they might get blown away in a storm. All of our prefabricated metal buildings are securely anchored to the ground by a trained building crew. This ensures that your building isn't going anywhere—unless you want it to.
Our metal buildings can be disassembled and moved. This is not a simple process, and it will void the warranty, but it does give you some flexibility if you need a portable metal building that can be relocated in the future.
Another option for our smaller metal buildings is to lift and slide the whole building to a new location.
What Are Portable Metal Buildings Good For?
Our portable storage buildings can be easily customized to meet a variety of needs. Small utility buildings and larger metal garages are great places to store precious belongings, equipment, vehicles, and other things you want to protect. Outdoor portable metal carports can be moved to wherever you need them on your property to shelter cars and trucks from the elements. Or you might choose to buy a metal barn to protect your animals from the cold and sun. We can help you put a roof over just about anything with our customizable, portable storage buildings for sale!
It's simple to design your own portable metal storage buildings with our 3D builder tool. Just click whether you want an open-sided carport or a garage-type building with enclosed sides; you can also start with a carport and then partially enclose it. Pick the width, length, and side height for your new utility building, and decide on a roof style: We have three great designs to choose from. Then, choose the other options you'd like and you'll be able to watch your new metal modular building take shape! You'll also see a price estimate that changes as you refine your portable building's design, helping you to stay within your budget.
If you have any questions while you're using our free design tool, please don't be afraid to contact us online or pick up the phone. Our customer service staff is here to help guide you through the process of buying portable storage buildings for sale near you, from placing your order to taking delivery of your new metal building.
Why Are Portable Steel Buildings Better?
Metal is a great material for portable sheds for numerous reasons:
Metal buildings are lighter than wood buildings.
As lumber decreases in availability and increases in price, metal portable storage buildings offer an economical alternative.
Metal is an incredibly easy material to work with, making it possible to create affordable portable buildings in a range of styles and sizes.
A portable metal building can withstand the sun's heat, rain, wind, and humidity, and since metal is incredibly tough, it will never be damaged by termites or other bugs.
Metal utility sheds are low-maintenance. Your one-time purchase is exactly that: one time.
Portable Storage Building Prices: How Much Do Mobile Structures Cost?
Portable buildings' prices start at around $1,300, but the cost of any particular structure can vary greatly depending on the size and configuration of your metal or steel building. Our 3D builder tool can give you a better idea of what your project will cost, as can our detailed pricing guides. You're sure to be impressed by how affordable our high-quality portable storage buildings can be!
Contact us today to find out how we can help you find the perfect portable buildings to fit your needs and your budget. When you're searching for affordable portable buildings near you, you can feel confident that you've found the right choice with Alan's Factory Outlet.
How Can You Customize Portable Buildings?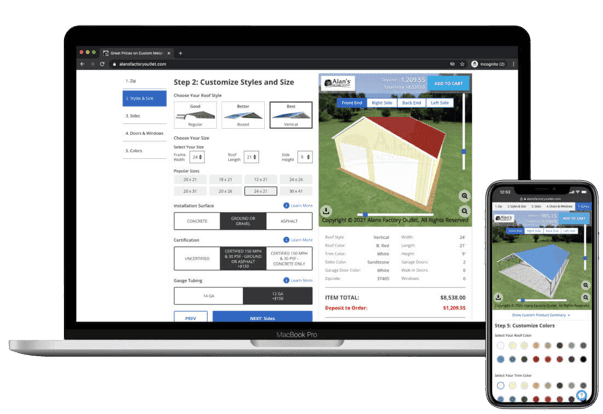 Customize Now