I checked repo storage buildings for sale in 16 states to find out how to get the best deal and how much you can save. The results were very surprising. The states I checked for repo storage buildings are Alabama, Arkansas, Georgia, Illinois, Kansas, Kentucky, Louisiana, Mississippi, Missouri, North Carolina, Oklahoma, South Carolina, Tennessee, Texas, Virginia, and West Virginia.
Here is what I found.
Finding 1: Discounts on Repo Storage Buildings are Tiny
Some companies listed an original price and a discounted price for their repossessed storage buildings, garages, and sheds. The discounts ranged from 2% to 32%. The average discount was only 12%.
That isn't much of a discount for a used storage building that usually comes with defects. In fact, it is hardly enough to cover the cost of transporting the storage building to your house.
Finding 2: Most Repo Buildings Cost More than a New Building
Here at Alan's Factory Outlet we sell prefab storage buildings at factory-direct prices, so I know what metal storage buildings should cost. Almost all of the repossessed storage buildings I found cost a lot more than the brand-new, custom storage buildings we sell.
Of the 29 used storage buildings I compared, only one was cheaper than a comparable storage building that we sell–and the savings was only 6%.
The other 28 buildings I compared were all more expensive than the building we sell. In fact, on average, the repo storage buildings were 42% more expensive than a new metal storage building of the same size!
Why such a big difference? I have a few guesses. For one, most of the used storage buildings I found were wood sheds and garages. Since wood buildings cost more than prefabricated metal buildings, the repo storage sheds were naturally more expensive than a comparable metal building. We also have some of the lowest prices you can find for storage buildings, so even the used metal buildings I found were more expensive than the new metal storage buildings we sell.
Finding 3: Repo Storage Buildings Are Hard to Find
In several states that I checked, I didn't find any repossessed storage buildings for sale at all. Many times I clicked on websites advertising used or repo storage buildings only to find that they didn't have any used buildings available.
If you can even find a repo storage building in your state, it is probably hours away from where you live, and it probably isn't the right size for your needs. Because of these considerations (and the unreasonably high prices), I think that searching for a repossessed storage building is a waste of time for most people.
Finding 4: Most Repo Storage Buildings Are Very Small
In most states, the largest repossessed storage building I could find was a 12×20 or 12×24 storage shed. The few larger buildings that I found didn't exactly look portable, so I have some doubts about whether they were actually repossessed or not, but I included them in my research anyway.
Methodology
Here is how I collected data for this study.
The first step was to do a Google search for the following phrases:
Repo storage buildings for sale Alabama
Repo storage buildings for sale Arkansas
Repo storage buildings for sale Georgia
Repo storage buildings for sale Kansas
Repo storage buildings for sale Kentucky
Repo storage buildings for sale Louisiana
Repo storage buildings for sale Mississippi
Repo storage buildings for sale Missouri
Repo storage buildings for sale North Carolina
Repo storage buildings for sale Oklahoma
Repo storage buildings for sale South Carolina
Repo storage buildings for sale Tennessee
Repo storage buildings for sale Texas
Repo storage buildings for sale Virginia
Repo storage buildings for sale West Virginia
I didn't search for storage buildings in Illinois, but I found a few repo buildings from there in the search results, so I included them in this study.
For each search, I scanned through the first page of results looking for relevant links. I clicked on each link that appeared to offer repossessed or used buildings or sheds, and looked for used buildings for sale on those websites.
As I found used storage buildings for sale, I added the size, details, and price information to a spreadsheet for buildings 12×20 and larger. Then I calculated the percentage of discount for all of the buildings that included an original price.
Finally, I used our 3D Building Designer to calculate the price of a similar building that we sell, and calculated the difference in price for each building.
I hope this study has been helpful to you in your search for an affordable storage build. I was a bit surprised to only find one repo storage building that was cheaper than the new buildings we sell. But naturally, I'm glad to know that our storage buildings are a better deal than any of the used repo storage buildings for sale near you.
Design Your Own Storage Building and Get Instant Pricing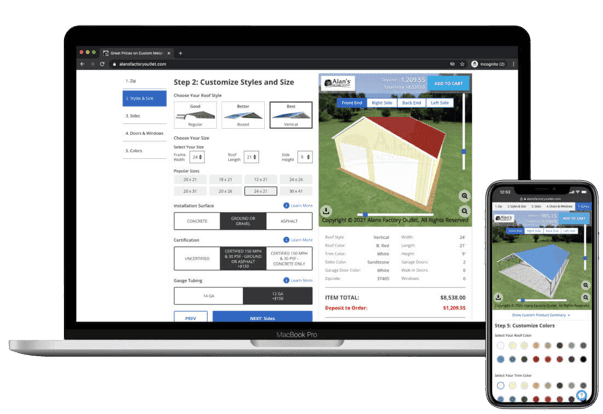 Customize Now