Get your custom garage and get our best prices plus Free Shipping and Installation!
Get a Metal Building for your Business, Farm, or Hobby
Low, Transparent Prices
Certified Metal Buildings
Free Delivery and Installation
4.8 Stars from Over 17,000 Customers
Based on more than 17,046 unfiltered reviews on Shopper Approved, an independent website.
The two installers did a nice job putting up my new carport. It looks great and is made of very sturdy materials.
Customer service was great
At 7:30 am the crew of three arrived and did a fantastic job, working very efficiently. At 12 noon they were done, had the work site cleaned up of all scrap and were heading out of the driveway. Many thanks.
I have not received my carport as yet but was impressed with the order process and pricing for this style of carport.
The website is great, I love the visual aid when selecting the carport and options. The carport itself I am totally satisfied with as well as the installation. A large crew was in and out in under 3 hours, cleaned up all their mess and just operated like a well oiled machine.
Easy to order. Hadn't actually got the carport yet, but so excited for it to get here. Best price around!!
This is exactly what I was wanting, the price was less than I expected and delivery was prompt and FAST!!! They weren't playing around when they went to work on it!! Thanks for the great shopping experience!!!
Instant Transparent Pricing
At Alan's, we have nothing to hide. Get instant pricing online. No contact details required. No unwanted sales calls.
Reasonable Lead Times
Most of our large metal buildings are installed within one to two months from the time the site is ready. Delivery and installation are free.
Certified Metal Buildings
Get a 1-year craftsmanship warranty plus a 20-year rust-through warranty on optional 12-gauge framing and most roof panels.
Risk-Free Guarantee
We guarantee a 100% refund of your deposit until the day your building is delivered. We don't know anyone who will match our guarantee.
Customize, Preview, and Order Your Metal Building Online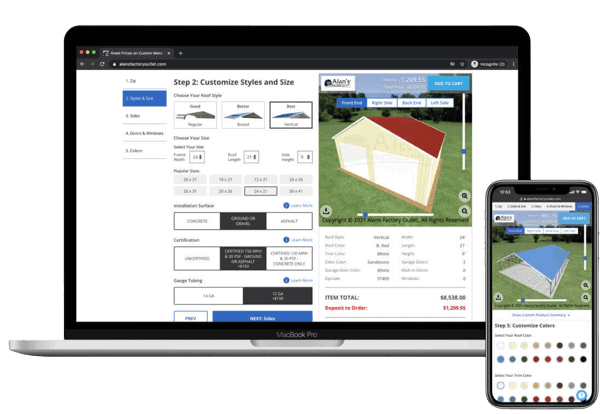 Price and Buy Online with Our 3D Builder Plus Free Shipping and Installation!
Select a size to meet your needs
Choose roof, side, and trim colors
Add garage doors, windows, and walk-in doors
Customize additional options
Popular Sizes
We sell custom metal buildings up to 60 feet wide (or more, with lean-tos), 300 feet long, and 20 feet tall. Here are some popular sizes
Affordable Custom Steel Buildings
Prefab steel buildings cost about half as much as other types of buildings. At Alan's you can get a storage shed, metal garage, shop, barn, or custom metal building for your business, farm, or hobby. We can match almost any size and design requirements, including barn-style lean-tos, partially enclosed structures, and custom frame-outs. If you can't find an option you want in our 3D design tool, just give us a call.
Free Delivery and Installation
Your building will be delivered and installed by an efficient building crew that will install several buildings on a single route. Because of this, we are able to offer free shipping and installation, saving you loads of money.
Available in 21 States
We deliver to Alabama, Arkansas, most of Florida, Georgia, southern Illinois, Indiana, eastern Kansas, Kentucky, Louisiana, Maryland, Mississippi, Missouri, North Carolina, Ohio, Oklahoma, Pennsylvania, South Carolina, Tennessee, Texas, Virginia, and West Virginia.
Reasonable Lead Times
Most large buildings are delivered within two months after the site is ready, which is a typical lead time in the steel building industry. For lead times in your area, see our current estimated timeframes.
Installation usually takes one to three days.
Comprehensive Insurance
The crew that will install your building carries comprehensive insurance to protect you from liability during installation.
Minimal Requirements
The only things you need to provide are a suitable foundation and a building permit. If your building is more than 32 feet wide, you will also need to rent a telescopic forklift for the crew to use during installation.
Great Customer Service
Most customers love our easy online design and ordering process. But if you prefer to call us, our friendly building specialists are happy to help with anything you need.
3 Reasons Not to Buy from Alan's Factory Outlet
Hey there. I'm Alan, the owner of Alan's Factory Outlet. I want you to be 100% satisfied with the metal building you get from us, so let me be honest with you. We sell great buildings at great prices, but our metal buildings aren't perfect for everyone. Here are a few reasons why you might not want to buy from us:
1. If you want a metal house, don't buy from us
Our buildings are designed to be used as garages, storage buildings, farm buildings, and dozens of other purposes that involve few or no human occupants. If you want to live in your metal building, you should get a building that is designed specifically for that purpose.
2. If you live outside our service area, don't buy from us
Unfortunately we aren't able to ship outside of our service area.
3. If you have specific requirements we can't meet, don't buy from us
Our metal buildings can be customized in hundreds of ways, but here are a few customizations we can't do:
Custom roof pitch. Most of our buildings come with a 3:12 pitch, and the roof pitch can't be changed.
Extra-wide. If you need a building more than 60-feet wide we can add a 12-foot lean-to to each side to make an 84-foot wide building. That is the widest we can go.
Two-stories. The metal frames of our buildings are not designed to support a second floor. If you need a loft or second floor in your building, you will have to add internal framing after it is installed.
Skylights. You might be able to add skylights after your building is installed, but we don't have any skylights available.
75,000+ Happy Customers
I looked at and spoke to dozens of manufacturers before I found Alan's. He had the fairest pri

This will be my third building from Alan's. They are great. It may take two months to get your building but it's worth the wait when necessary. Very good quality, installed exactly as desired.

We enjoyed being able to build our building the way we wanted. Liked knowing how much it was going to cost, no hidden fees. We liked that we could build this in the privacy of our home. It was delivered in the time that they allowed for delivery. Our overall experience was great.

Everything was just as expected. The buildings look great. The installation crew were very fast and efficient in their assembly and were nice. Very pleased with the entire experience.

Wonderful folks to work with. Helped out whenever I needed it.

[Web]site made picking out my building simple. The 3D garage builder was great for getting an idea of how it would look. All of my questions were pretty much answered on the Q&A from the site. I was getting updates from sales people along the way and got any questions I had taken care of. I highly recommend Alan's Factory Outlet for your metal building needs.

I am really happy with my metal Building from Alan's Factory Outlet. After shopping around I found that Alan's had the best product for the best price. The build your own building program on the website was easy to navigate. After purchase I was contacted by the Alan's team to verify the details. They were courteous and very helpful, they wanted to ensure the details were right. Once delivery was set up the building was fully erected in about 12 hours. I love my new building

This will be my third building from Alan's. They are great. It may take two months to get your building but it's worth the wait when necessary. Very good quality, installed exactly as desired.

We love our new metal building from Alans! It took us awhile to decide what we wanted … I called Alans many times and each time they were super friendly and helpful! The installation crew was great! Even in 100 degree weather they got the job done!

Wonderful folks to work with. Helped out whenever I needed it.
Customize, Preview, and Order Your Metal Building Online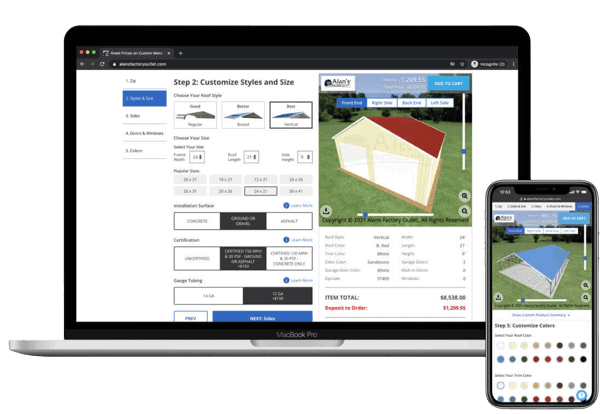 Price and Buy Online with Our 3D Builder Plus Free Shipping and Installation!
Select a size to meet your needs
Choose roof, side, and trim colors
Add garage doors, windows, and walk-in doors
Customize additional options
A Guided Tour Inside Your Metal Building
Here is a quick look inside the high-quality metal building you will get from Alan's Factory Outlet.
Sturdy Steel Framing
Your metal building will be made from premium steel studs. You can choose between 14-gauge framing, which is suitable for general-purpose buildings, or heavy-duty 12-gauge framing. The 12-gauge steel framing provides additional strength for withstanding severe weather and comes with a 20-year rust-through warranty. A well-maintained metal building can last for well over 50 years, so if you're planning on using your building for decades to come, the 12-gauge framing is a good investment.
Our extra-wide buildings require sturdy steel trusses in order to safely bridge the wide open span of the buildings without any columns. Below is a visual comparison of the framing of a building up to 30-feet wide (left), vs the framing of a building more than 30-feet wide (right):
Below is a photo of the frame of a 60-foot-wide building before the roofing and siding have been installed.
Durable Roofing
For roofing, you can choose between 29-gauge steel panels or thicker, commercial-grade 26-gauge panels. The 29-gauge sheeting is suitable for buildings in mild climates. The 26-gauge sheeting is ideal for areas that regularly get snow or harsh weather, and for customers who want to maximize the lifespan of their building.
Large buildings always come with a premium vertical roof. If you are purchasing a small building and need to save money, we also have two other roof styles which are less expensive but require more maintenance to keep clean.
Classy Siding
The siding of your building will be made from the same gauge of steel panels as the roofing. You can choose between horizontal and vertical siding, depending on which style looks better to you.
Garage Doors, Walk-in Doors, and Windows
We have a variety of roll-up garage doors available from 6'x6' up to 16'x16' in size. Chain hoists are also available. If you want an electric garage door opener, you can add a chain-drive garage door opener after the garage is installed.
For easy entry for people, we offer two styles of walk-in doors: one with a window, and one without. We also have two different styles of windows available.
Frame Outs and Lean-Tos
If you want to install your own garage doors, walk-in doors, or windows, we can do custom frame-outs for a small fee.
We are also able to add custom lean-tos on either side of your main structure.
For any customizations that aren't available in our 3D builder, just call or email our friendly building specialists to discuss options and pricing.
Insulation
You have three options for insulation:
No insulation
Double-bubble insulation to control condensation
R-17 insulation for temperature and moisture control
Gutters
Most customers don't need gutters on their metal buildings. If you want to add gutters after installation, you can contact a local gutter professional for details.
Color Options
You can choose between a wide selection of colors for your roof, trim, and siding. We also offer a two-tone (wainscot) option on the siding if you want a different color on the lower portion of your sides for a classy look.
Other Building Components
If you need information on any other part of your metal building, use our Building Components Visualizer.
Concrete Slab Size and Cost
Most metal buildings are installed on a concrete slab. Unfortunately, we are not able to have the foundation installed for you. You will need to prepare the foundation of your building before installation can be scheduled. Your local planning or building department will be able to let you know the foundation requirements for metal buildings in your area.
In most areas, your slab will be slightly larger than your metal building. You can use our concrete pad size calculator to determine the correct pad size for your location. If an extra ledge is required in your area, the ledge can be sloped or lowered to prevent water from pooling next to the base rail of your building.
In most areas, it will cost at least $8 per square foot to have a concrete foundation for a small metal building poured. For larger metal buildings, the cost per square foot will probably be $4 to $10 per square foot. You can also save a lot of money by pouring the foundation yourself (if you know how) since concrete is fairly inexpensive.
Payment, Scheduling, and Financing
Deposit
After you customize and price your building, you can order your building by paying a deposit of 16-17%. This deposit is fully refundable up until your building is delivered. If you want to cancel for any reason, my friendly support staff will give you a prompt refund.
Scheduling
If you need standard pre-engineered building plans to get a building permit, we can provide those within a few days. Once you have your building permit and foundation ready, you'll contact us to let us know you are ready for your installation to be scheduled.
Payment
You will get a call about a week before your delivery date to let you know when your building will be installed. If the cost of your building is more than $15,000 you will need to pay 50% of the balance at that time. Otherwise, the full balance will be due when your building has been installed.
Credit Cards
Your deposit can be paid by credit card. The balance can also be paid by credit card if you want, but a 2.5% processing fee will be added. You can avoid this fee by paying the balance with a cashier's check or money order.
Local Taxes
The installers must be licensed and insured in every state we service, and local taxes must be collected where applicable. Sorry!
Financing Options
We don't offer financing, but our financing guide mentions several financing options that might work for you.
Metal Building Uses
Here are some common–and less common–uses for a metal building from Alan's Factory Outlet:
Frequently Asked Questions
If you have any questions I didn't answer on this page, please visit our FAQ page where you can find answers to many more questions, or contact us by phone or email.
You may also want to read our article, 26 Things to Know Before Buying a Metal Building.
I wish you the best in your search for the perfect metal building!
Sincerely,
Customize, Preview, and Order Your Metal Building Online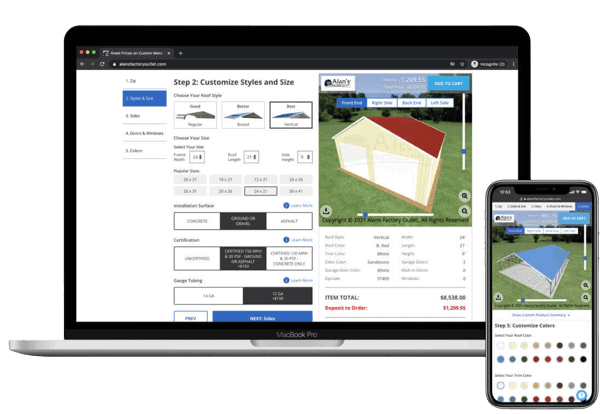 Price and Buy Online with Our 3D Builder Plus Free Shipping and Installation!
Select a size to meet your needs
Choose roof, side, and trim colors
Add garage doors, windows, and walk-in doors
Customize additional options