Metal Buildings in Florida at Factory Prices
Low, Transparent Prices
Certified Metal Buildings
Reasonable Lead Times
100% Satisfaction Guarantee
More Than 12,000 5-Star Reviews
Excellent product … great install crew …. AAA+++
Very good installation, the crew is very professional. Very happy with the product
This was the second building I had installed, we were very happy with both experiences.
easy to order, fast service, great product
Get factory-direct prices on a custom metal storage building, shop, barn, or commercial building and get free delivery and installation by professional metal building contractors in Florida and beyond. We serve all of Florida except a few counties.
Metal Building Sizes and Prices
A metal building in Florida costs anywhere from $5,000 to over $100,000, depending on size and options. The cost of a concrete slab is extra, and can cost anywhere from $4 per square foot to over $10 per square foot.
Approximate Base Cost of Popular Building Sizes
Design and Price Your Metal Building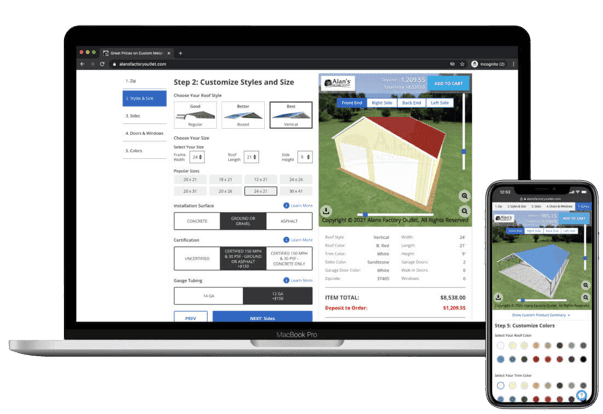 Go to Cost Calculator

Metal Building Manufacturers
When we say "factory direct pricing," we mean it. Your building will come straight from the factory to your site and will be set up by a very efficient building crew. So our prefabricated metal buildings cost less than the cost of a metal building kit, and we offer free delivery and installation.

With a prefab building, the metal building construction process is simple. A team of metal building erectors will bring the prefabricated pieces to your site and assemble your building in a few days. The building contractors carry all the required insurance so you don't have any liability during construction.

Can Your Metal Building Survive a Hurricane?
Our Florida metal buildings can be certified for wind gusts up to 170 mph.
For the sake of comparison, here are the four strongest hurricanes on record to hit the US:
| Hurricane | Year | Estimated Intensity at Landfall |
| --- | --- | --- |
| "Labor Day" | 1935 | 185 mph (Florida Keys) |
| Camille | 1969 | 175 mph (Mississippi) |
| Andrew | 1992 | 165 mph (near Miami) |
| Michael | 2018 | 160 mph (Florida Panhandle) |
If your metal building is in the direct path of a category 5 super-hurricanes, then it might be blown away, along with your house, trees, and everything else on the face of the ground.
Fortunately, extreme wind speeds like these are quite rare, even in Florida. Even if you live in an area that is prone to hurricanes, your chances of a direct hit by a category 5 hurricane are extremely slim, so our 170-mph wind gust certification can give you peace of mind.
Our Florida metal buildings are not certified to withstand asteroids, volcanoes, or blizzards. If you are worried about those, I hear that the rates on blizzard insurance in Florida are quite affordable.
Regional Building Recommendations
Most counties in Florida have strict building codes to ensure that any buildings that are erected are ready for severe storms. Our buildings are designed to meet or exceed these local codes. To help you get a permit, we can provide you with a standard set of building plans a few days after you place your order. If "wet seal" plans are required by your local planning department, these can be sent to you by mail.
Here are some additional tips for specific regions in Florida:
The Panhandle
If you live in a coastal area of the Florida Panhandle that gets strong winds, like Pensacola, Milton, or Panama City, be sure to get our 170 mph wind gust certification and consider upgrading to the heavy-duty 12-gauge frame to give your building some additional strength to withstand whatever might come your way. If you are further inland, like in Marianna or Crestview you have less to be concerned about.
North Central Florida
The North Central region–including Tallahassee, Live Oak, Lake City, Gainesville, Starke, and other towns–is the safest part of Florida. In this region, your main concern is high temperatures.
Consider choosing light colors that reflect sunlight for your roof and siding. If you plan to work in your building, insulation is a must in the hot Florida sun.
Jacksonville and Northeast Florida
Need a metal building in Jacksonville or the surrounding towns like Callahan, Orange Park, Macclenny, Middleburg, or Yulee? Consider our deluxe two-tone siding option for a classy look.
Central Florida
From Tampa to Plant City to Lakeland, up in Brooksville or down in Sebring, we have lots of custom options for you. If you don't like our garage doors, walk-in doors, or windows, you can add custom frame-outs and have the doors and windows of your choice added after your building is installed.
South Florida
There is one word for Fort Myers, Naples, and the rest of South Florida: Hot! Down in this part of Florida, you will want all of our upgrades: 170-mph wind gust certification, a 12-gauge frame, and insulation for your whole building. You should also consider customizing your building with light colors that reflect the intense South Florida sun.
Cities We Serve
Here is a partial list of cities we can deliver metal buildings to. If your town isn't on the list, don't fear. There are only five counties we don't serve (Broward, Marion, Miami-Dade, Monroe, and St. Johns).
Just enter your zip code on our 3D Building Tool to verify whether we can deliver to your location.
Some of the towns and cities we deliver to are: Baker FL, Brandon FL, Bronson FL, Brooksville FL, Callahan FL, Clermont FL, Crawfordville FL, Crestview FL, Crystal River FL, Dade City FL, Deland FL, Fort Myers FL, Gainesville FL, High Springs FL, Homosassa FL, Inverness FL, Jacksonville FL, Kits Lake City FL, Lake City FL, Lake Wales FL, Lakeland FL, Live Oak FL, Macclenny FL, Marianna FL, Melbourne FL, Middleburg FL, Milton FL, Naples FL, Navarre FL, Okeechobee FL, Orange Park FL, Pace FL, Palatka FL, Panama Beach FL, Panama City FL, Pensacola FL, Plant City FL, Sebring FL, Starke FL, Tallahassee FL, Tampa FL, Titusville FL, Valrico FL, and Yulee FL.
Common Uses for Metal Building in Florida
Garages
Because of the warm climate, many homes in Florida were built without a garage. If you need to add a detached garage to your house, a prefab metal garage is the most cost-effective option available.
Workshops
If you need space to repair cars, work on your boat, or do woodworking and other crafts, a metal shop building is a great option. Add insulation, lighting, and air conditioning to create a comfortable place to work out from under the sun.
Farm Buildings
Florida has the perfect climate for growing warm-weather crops like tomatoes, bell peppers, oranges, and grapefruit. Whether you raise produce or cattle, you have tools and equipment that need to be stored in a secure place. Our metal buildings can be used as barns, storage sheds, livestock shelters, and a variety of other agricultural purposes.
Advantages of Metal Buildings in Florida
Metal buildings offer several advantages in Florida, including their durability and resistance to harsh weather conditions, energy efficiency, customizable design options, quick construction time, and low maintenance requirements. These structures are particularly suited to the state's climate, as they can withstand heavy rains, strong winds, and extreme heat.
Durability and Resistance to Weather Conditions
Metal buildings are known for their durability and resistance to weather conditions. As Florida often experiences tropical storms and hurricanes, metal structures can provide excellent protection for belongings. The high-quality metal construction is designed to withstand high winds, heavy rainfall, and hail.
Energy Efficiency and Cost savings
In addition to weather resistance, metal buildings also offer energy efficiency and cost savings. They can be built with insulation and reflective roofing, which reduces heating and cooling costs. Furthermore, metal buildings require less maintenance compared to traditional buildings, translating to fewer expenses.
Customizable Features and Design Options
Another advantage of metal buildings are the customizable design options. These metal buildings can be tailored to fit a range of needs, from small storage sheds to large industrial warehouses. With various color and architectural details available, metal buildings can be customized to meet any desired design.
Quick Construction Time
Metal buildings also offer a quick construction time. The pre-engineered components of metal buildings are manufactured off-site and assembled on-site, making the construction process more efficient and cost-effective.
Low Maintenance Requirements
Lastly, metal buildings require minimal maintenance, saving you time and money. They do not require painting, sealing, or other regular maintenance required by traditional buildings.
More Information
To get more information about our metal buildings, including design options, visit our metal building information hub. You can also use our contact form to ask a question, or you can call one of our building specialists to help you get the building you need.
For pricing information, use our 3D Design Tool to select your options and see an instant price for your metal building in Florida.
Build Your Own Metal Garage or Carport With Our 3D Builder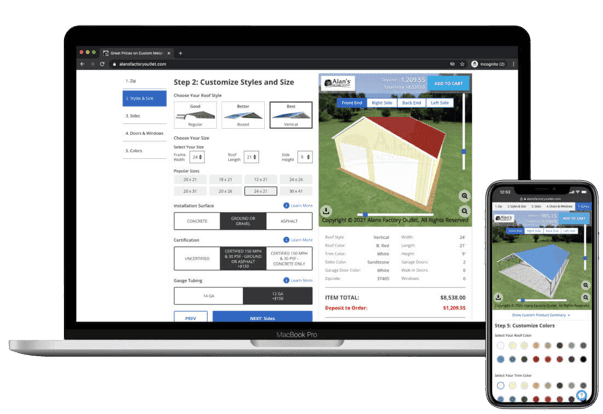 Price and Buy Online with Our 3D Builder Plus Free Shipping and Installation!
Select a size to meet your needs
Choose roof, side, and trim colors
Add garage doors, windows, and walk-in doors
Customize additional options
Customize Now