Get your custom garage and get our best prices plus Free Shipping and Installation!
Large Outdoor Storage Sheds for Sale
Get a great deal on a big storage shed for all of your backyard storage needs. Our large outdoor storage sheds cost less than many smaller sheds, and have plenty of space for your bikes, tools, lawn mowers, ATVs, golf carts, kayaks, and more.
Customize your metal storage shed with windows, garage doors, custom colors, and more, and get free delivery and installation.
Large Storage Shed Sizes
Outdoor Storage Shed Uses
Outdoor Bike Storage Shed
A bike storage shed needs to be secure so that thieves can't steal your bikes from your backyard when you are away from home. With our 3D shed design tool you can design a custom bike shed with a roll-up garage door that you can lock to secure all of your bikes.
Even if you have four, five, or six bikes, our large 12×20 sheds have plenty of space for storing all of your bikes in a horizontal or vertical rack with room to spare for your canoes and other outdoor equipment.
General-Use Backyard Storage Shed
Almost every homeowner needs a storage shed for tools, lawnmowers (especially riding lawnmowers), leaf blowers, snowblowers, and all the other equipment that you need to maintain your yard and garden. A large backyard storage shed will meet all of your backyard storage needs for many years to come.
ATV Storage Shed
If you have a few ATVs, you know how much trouble it is to find a good place to store them. In the garage they take up too much space, and most sheds are too small to comfortably part an ATV. Our customizable ATV storage sheds are the perfect solution. We have small, 6×6 roll-up doors as well as standard-size garage doors which you can place anywhere you want to build the perfect ATV shed for your property.
Golf Cart Storage Shed
If you need a storage shed for a golf cart, our custom outdoor storage sheds are a great fit. Some people also like to install a golf simulator in their metal shed, so they have a separate space to perfect their golf skills.
Storage Shed for Kayaks and Canoes
If you don't have a good place to hang your kayaks in your garage, a large shed is an ideal place to store your kayaks and other outdoor sports equipment. Our 12×20 storage sheds have plenty of space for all of your kayaks and canoes. In fact, even a small trailer can fit inside. If you have jet skis or a boat, check out our boat storage sheds.
Outdoor Storage Shed Types
Storage Shed with a Porch
If you need a storage shed with a porch, we can build a shed with a porch that is five feet deep and the same width as your building.
Storage Shed Kits
Storage shed kits are popular for people who need a shed right away and don't need a custom solution. Most shed kits tend to be for small sheds that can be assembled in your backyard. These can be purchased at a home improvement store or online.
Customizable Storage Sheds
A custom storage shed is best for you if you want to design your own shed to meet your exact needs and match the colors of your storage shed to the colors of your house. With our 3D design tool you can design a storage shed with windows, a garage door, and other custom options. You can also select the perfect colors for your outdoor shed. Our custom-built storage sheds can also be insulated if you want.
Prefab Storage Sheds
Our custom outdoor storage sheds are prefabricated at a factory from quality US steel and delivered in pieces directly to your location. Once the installation crew arrives with the shed, your storage shed will be built on-site. The delivery and storage shed installation are free when you buy a shed from Alan's Factory Outlet.
Why Buy an Outdoor Storage Shed From Alan's?
Quality Custom Sheds
When you buy a shed from Alan's you get full control over dozens of customization options.
Factory-Direct Prices
Our large outdoor storage sheds are among the cheapest storage sheds you will find anywhere because they come directly from the factory to your home.
Free Delivery and Installation
Get free delivery and installation on all of our storage sheds.
What Customers Say about Their Storage Sheds
It would be very difficult to find an equivalent quality building at anywhere close to the price of this building. We expect it will give us many years of use…

Nice attention to detail from the team that came to finish off the shed after delivery.

This company provides great customer service; which is seldom seen or heard of these days. We are truly impressed with this company's products and customer service that we would highly recommend them to anyone looking for a carport or shed.

Great site, I loved the build your own garage feature. Prices are cheap too. My shed was worth every penny and is very heavy duty.

The pictures on line don't do justice to what you buy. I was very surprised and over happy with what they built. The shed was built a day early looks great. Gonna be a awesome man cave.
Do You Sell Outdoor Storage Sheds Near Me?
We deliver to Alabama, Arkansas, most of Florida, Georgia, southern Illinois, Indiana, eastern Kansas, Kentucky, Louisiana, Maryland, Mississippi, Missouri, North Carolina, Ohio, Oklahoma, Pennsylvania, South Carolina, Tennessee, Texas, Virginia, and West Virginia.
How to Get Your Large Storage Shed
Order your shed with a small deposit
Check if a building permit is required in your area
Prepare a level site (ground, gravel, concrete, or asphalt)
Get free delivery and installation
Customize, Preview, and Order Your Metal Building Online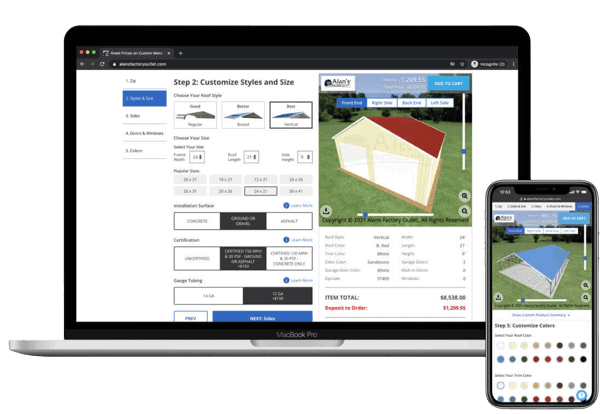 Price and Buy Online with Our 3D Builder, Plus Get Free Shipping and Installation!
Select a size to meet your needs
Choose roof, side, and trim colors
Add garage doors, windows, and walk-in doors
Customize additional options